Patron – Sick list, Mule falling on man, and a murder in the April 11, 1907 at Epes, Alabama
(Transcribed excerpts from The Sumter Enterprise, Epes, Sumter County, Alabama, April 11, 1907)
Mrs. Loucenda Lowry is on the sick list.
Rev. L. Brown and wife are on the sick list.
Miss Lougenia Madison is on the sick list this week.
Mr. Lom Dew has been very sick, but is on the mend.
Miss Indiana R. Roberts of Livingston is on the sick list.
Mrs. Jennie Brown is on the sick list this week. Hope she will soon be out again.
Among other good resolutions, let us colored people trade with the merchants that advertise in our paper, for if they patronize us let us show our appreciation by first giving them our trade before we trade with people who do not patronize us.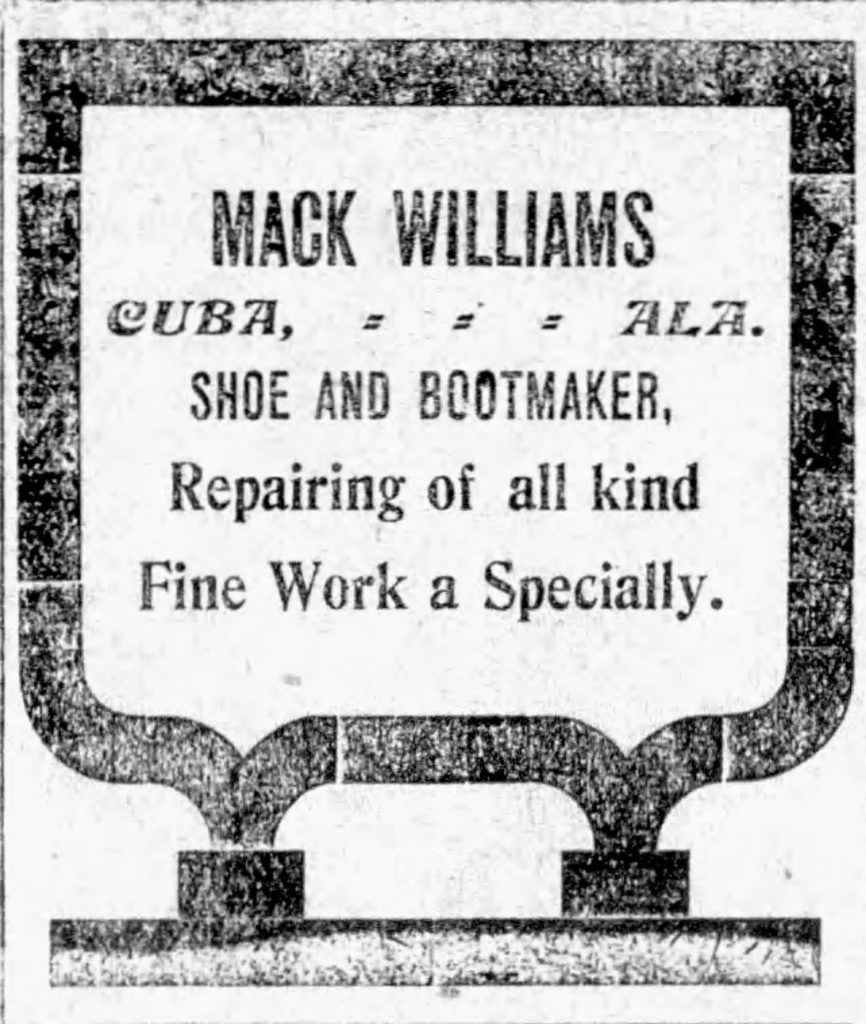 We were sorry to learn of Mr. Ed Brown's mule falling on him, resulting in a slight injury.
We want five hundred subscribers like Mr. C. M. Campbell. Subscribe for the Enterprise for one year.
Mr. Eddie Gray, Jr. and Mr. Lazarus Campbell of Livingston were pleasant visitors of Miss Pearlie Brown recently.
Mr. David Hood went south Sunday with the fair sex, driving a swift steed. Must be some attraction; will watch the movement.
Rev. P. F. Ware of Gainesville called by to see us Monday while returning home from Livingston, where he is pastor of the first Baptist church.
We had a grand time at Jones Creek church Sunday last. The Lord's Supper was given. Bro. A. Gibbs and Sister A. Wreen were with us at church.
Mr. Wm. Purtle of York was in town Saturday. He is D. D. G. C. for Sumter county K. of P. He was up to install Benjamin Ward Lodge, No. 157 K. of P., Epes, Ala. The lodge is doing fine.
Miss H. C. Brown attended services Sunday at the Antioch Baptist church. There she sold a good many copies of the Enterprise and also got several subscribers. Rev. J. Stanson preached a soul-stirring sermon. He also gave Miss Brown a hearty welcome.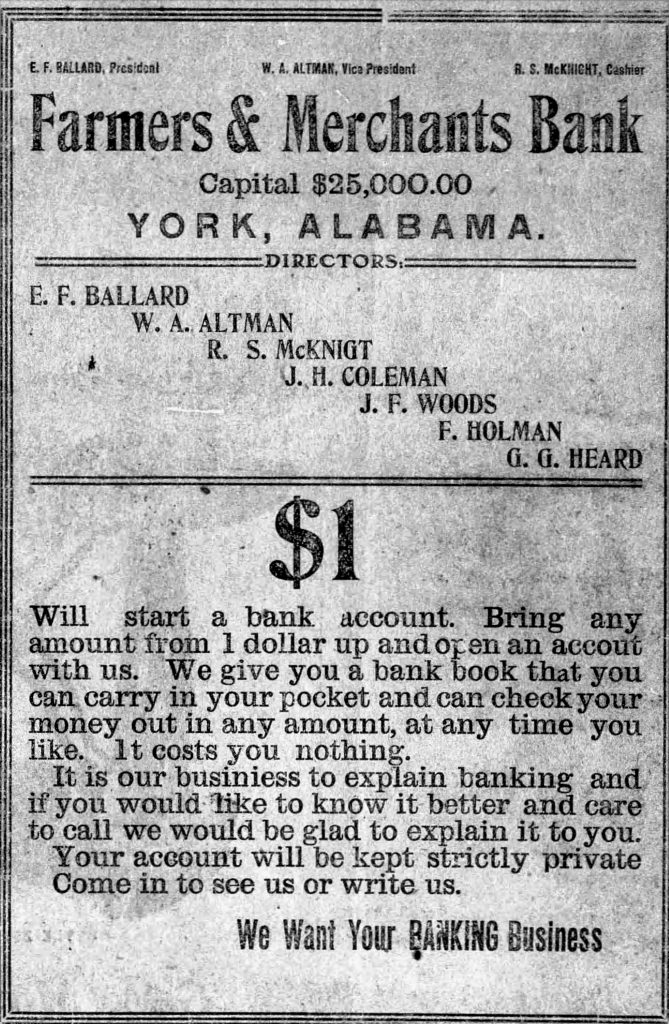 The Sunday school elected officers Sunday, which are as follows: Superintendent, J. S. Idrell; assistant superintendent, E. R. Mack; secretary, J. S. Lewis; No. 3, E. L. Brown; No. 4, F. J. Harrison. We have a Sunday school that can't be surpassed.
Quite a crowd gathered on the streets in Epes Saturday evening to see the fulfillment of the Bible, that says, "Before the end of time father against son and son against father." The incident was that of a man who had his son tied up with a rope carrying home. Children, obey your parents and the Lord that your days may be long upon the earth which the Lord thy God giveth thee.
We were glad to receive the communication from Rev. W. C. Kennard of Livingston. All the readers of the Enterprise are acquainted with Charlie Garner, the desperate negro who killed his wife in her mother's house. From what we can learn, Charlie was guilty of polygamy and his wife left him and went to her mother and refused to go back with him. Now, we want to see justice take place. "The way of the transgressor is hard." Life has gotten to be too cheap. It is not valued highly enough.
A CURIOSITY
Bro. R. B. Porter informs us that there was a chicken in his neighborhood with four legs, a curious object that created a great deal of amusement.
Table of Contents
Introduction
PEOPLE IN THE FLORENCE TIMES DAILY December 15, 1894
NEWSPAPER ABSTRACTS from The Florence Times October 6, 1905
GENEALOGY QUERIES published in 1940