This is an excerpt from ALABAMA FOOTPRINTS: Confrontation (Story continued below)
The power of the Creek Nation was crushed at the Battle of Horseshoe Bend. Before leaving the Tallapoosa country, entirely which had now become historic, General Jackson took the occasion to plant the American colors on the spot where a century before under the orders of Cadillac had been erected Fort Toulouse when the French were in possession of the country. The old French garrison became the site of new fort manned with a strong block-house and outer walls. The fort received the name Jackson, and it was here that large deputations of Creek warriors constantly came to make formal surrender.
Peter McQueen and Josiah Francis along with several other chiefs fled to Florida, but the greater number of the Creek leaders preferred to remain and sue for Jackson's clemency. To them Jackson replied that he had no further desire to make war, but peace would not be granted to the nation until Red Eagle—or William Weatherford, should be brought to him bound hand and foot. It was his intent to hang Red Eagle as a punishment for the massacre that took place at Fort Mims. General Jackson was unaware of Red Eagle's attempt to make the affair a battle, not a massacre.
Word of Jackson's determination reached Red Eagle and he was encouraged to flee the country and make his escape to Florida. There he would be safe and beyond the jurisdiction of General Jackson and the United States Government, but Weatherford refused. Instead, he mounted his famous gray horse which had carried him over the bluff at Holy Ground, and he rode away alone toward Jackson's camp.
With a daring inconceivable he suddenly appeared at the fort on his splendid charger, with a deer killed on the way swung across his saddle. The daring and utterly fearless Weatherford, dark, sinewy and tall, shrewd and eloquent and handsome, was a most conspicuous figure at the fort.
Though a Creek in every instinct and aspiration, he affected little of the manners and customs of his people. His dress, of the pioneer variety and fashion, had none of the barbaric adornment characteristics.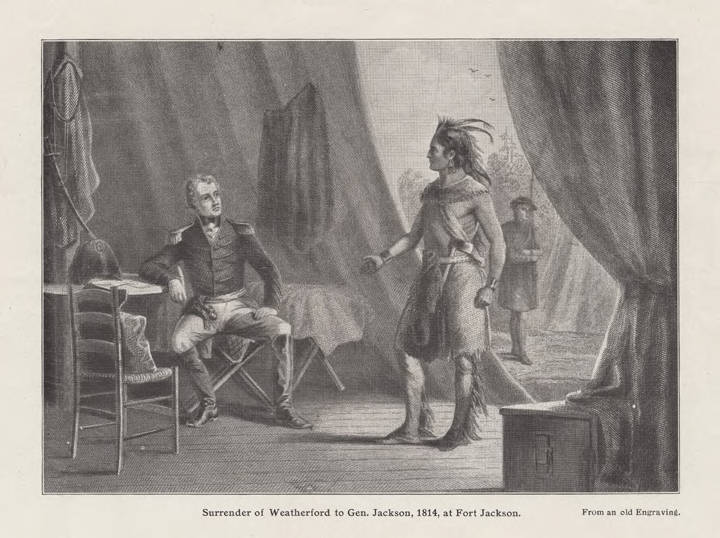 The following account of what took place is from Albert Pickett's History of Alabama who stated that it comes from Red Eagle's own narrative in conversations had with him:
He rode within a few miles of Fort Jackson, when a fine deer crossed his path and stopped within shooting distance, which he fired at and killed. Reloading his rifle with two balls, for the purpose of shooting the Big Warrior, should he give him any cause, at the fort, he placed the deer behind his saddle and advanced to the American outposts. Some soldiers, of whom he politely inquired for Jackson's whereabouts, gave him some unsatisfactory and rude replies, when a grayheaded man a few steps beyond pointed him to the marquee. Weatherford rode up to it and checked his horse immediately at the entrance, where sat the Big Warrior, who exultingly (sic) exclaimed:
"Ah! Bill Weatherford, have we got you at last?"
The fearless chieftain cast his keen eyes at the Big Warrior, and said in a determined tone:
"You traitor, if you give me any insolence I will blow a ball through your cowardly heart."
General Jackson now came running out of the marquee with Colonel Hawkins, and in a furious manner exclaimed:
"'How dare you, sir, to ride up to my tent after having murdered the women and children at Fort Mims?"
Weatherford said:
"'General Jackson, I am not afraid of you. I fear no man, for I am a Creek warrior. I have nothing to request in behalf of myself; you can kill me if you desire. But I come to beg you to send for the women and children of the war party, who are now starving in the woods. Their fields and cribs have been destroyed by your people, who have driven them to the woods without an ear of corn. I hope that you will send out parties Who will safely conduct them here, in order that they may be fed. I exerted myself in vain to prevent the massacre of the women and children at Fort Mims. I am now done fighting. The Red Sticks are nearly all killed. If I could fight you any longer I would most heartily do so. Send for the women and children. They never did you any harm. But kill me, if the white people want it done.."
At the conclusion of these words many persons who had surrounded the marquee exclaimed:
'"Kill him! kill him! kill him!."
General Jackson commanded silence, and in an emphatic manner said:
" Any man who would kill as brave a man as this would rob the dead!."
He then invited Weatherford to alight, drank a glass of brandy with him, and entered into a cheerful conversation under his hospitable marquee. Weatherford gave him the deer, and they were then good friends.
Eggleston states that, "Mr. Pickett discredits the accounts of this affair which were given by persons who were present at its occurrence, but they have been accepted by so many writers of repute, including Eaton and Meek, whose opportunities for learning the truth were as good as his, that Mr. Parton regards them as trustworthy at least in their main features."
Following is the remainder of the conversation between Jackson and the heroic chieftain provided by Eggleston as Jackson told Weatherford what terms he had offered to the Creeks, and added:
"As for yourself, if you do not like the terms, no advantage shall be taken of your present surrender. You are at liberty to depart and resume hostilities when you please. But, if you are taken then, your life shall pay the forfeit of your crimes."
Straightening himself up, the bold warrior answered:
"I desire peace for no selfish reasons, but that my nation may be relieved from their sufferings; for, independent of the other consequences of the war, their cattle are destroyed and their women and children destitute of provisions. But I may well be addressed in such language now. There was a time when I had a choice and could have answered you. I have none now. Even hope has ended. Once I could animate my warriors to battle. But I cannot animate the dead. My warriors can no longer hear my voice. Their bones are at Talladega, Tallushatchee, Emuckfau, and Tohopeka. I have not surrendered myself thoughtlessly. While there were chances of success I never left my post nor supplicated peace. But my people are gone, and I now ask peace for my nation and myself. On the miseries and misfortunes brought upon my country I look back with the deepest sorrow, and wish to avert still greater calamities. If I had been left to contend with the Georgia army I would have raised my corn on one bank of the river, and fought them on the other. But your people have destroyed my nation. General Jackson, you are a brave man; I am another. I do not fear to die. But I rely upon your generosity. You will exact no terms of a conquered and helpless people but those to which they should accede. Whatever they may be, it would now be folly and madness to oppose them. If they are opposed, you shall find me among the sternest enforcers of obedience. Those who would still hold out can only be influenced by a mean spirit of revenge. To this they must not and shall not sacrifice the last remnant of their country. You have told us what we may do and be safe. Yours is a good talk, and my nation ought to listen to it. They shall listen to it."
Jackson was too brave a man not to discover the hero in this courageous, self-sacrificing man, who, knowing that an ignominious death had been determined upon for him, calmly refused to save himself, and boldly placed his life in his enemy's hands for the sake of his people. When two men so brave as these meet there is fellowship between them, because there is brotherhood between their souls.
ALABAMA FOOTPRINTS Confrontation: Lost & Forgotten Stories (Volume 4
is a collection of lost and forgotten stories that reveals why and how the confrontation between the Native American population and settlers developed into the Creek-Indian War as well as stories of the bravery and heroism of participants from both sides.
Some stores include:
Tecumseh Causes Earthquake
Terrified Settlers Abandon Farms
Survivor Stories From Fort Mims Massacre
Hillabee Massacre
Threat of Starvation Men Turn To Mutiny
Red Eagle After The War