(Transcribed from The Guntersville Advertiser, Guntersville, Alabama June 9, 1914)
PERSONAL NEWS
Mr. Allan Todd went to Huntsville today.
Prof. Creel of the High School has been on the sick list.
Mr. Luke Walker, of Red Hill, was in to see us Saturday
Mr. Tom McNaron was down Monday from Albertville.
Dr. A. W. Heden spent Sunday with homefolks at Summit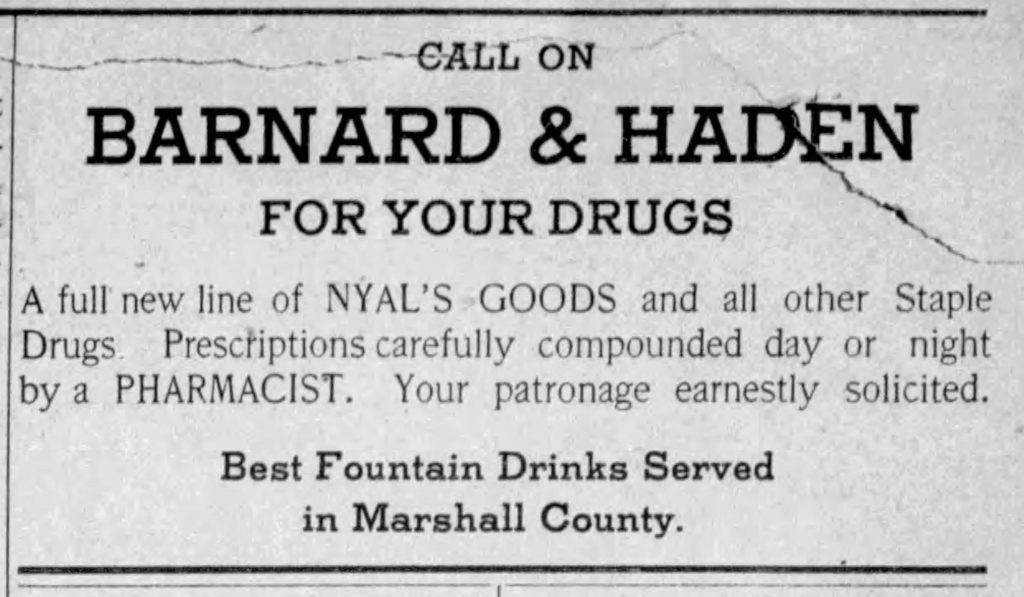 Mr. D. W. Brewer, of Grant Route 1, was in town Wednesday
Mr. P. W. Copeland, of Boaz Route 3 was in town Wednesday.
Mr. W. C. Simpson spent Sunday with homefolks at Albertville.
Mrs. Oliver Riggins returned Saturday from a visit to Red Hill.
Circuit Clerk J. E. Nix spent Wednesday in Albertville on business.
Mr. and Mrs. E. D. Lusk made a trip to Gadsden Tuesday in their automobile.
Mr. Fred H. Manning, of the Alberville Banner force, was in town Saturday.
Mrs. R. M. Reeves and daughter, Miss Rosa, expect to leave for Talladega this week.
Mr. and Mrs. L. E. Skidmore spent a day or two with relatives at Arab last week.
Mrs. J. A. Morgan returned Wednesday from a few days' visit to relatives at Summit.
Mr. W. T. Smith, of Albertville Route 2, called in Friday and subscribed for the Advertiser.
Miss Jennie Moore has returned to Gadsden, after a two weeks visit to Miss Esther McKinstry.
Mr. Sol Bodine, of Route 1, called at this office Saturday and subscribed for the Advertiser.
Miss Johnnie Coleman and Miss Elzora Wright of Joppa, are attending the Summer Normal here.
Messrs. W. D. and P. H. Clay, J. C. Click and J. T. Anderson, of Grant Route 1, were in town Thursday.
Messrs. Hubert Walls, John and Simp Seibold and Roy Kracke returned from Auburn College Thursday.
Prof. Oscar Horton spent a few days last week in Montgomery attending a conference of the high school principals.
Prof. B. E. Alldridge and Mr. Albert O. Smith, of Pocahontus, Blount county, were in town Wednesday on business.
Messrs J. W. Noble and L. P. Johnson, of Route 2, visited this office Friday. Mr. Noble had the Advertiser sent to him.
Mr. and Mrs. Jno. T. Graden, of Albertville, were in town Saturday, enroute to their farm at Kirbly Town for a short stay.
Mrs. J. A. McKinstry returned from Birmingham Saturday, bringing her little grand-daughter, Elizabeth Wharton with her.
Aimy, the twelve year old daughter of Mr. and Mrs. John W. Clay of Grant Route 1, is improving, after a severe attack of appendicitis.
Rev. F. M. Barnes returned Monday morning from Tuscaloosa, where he attended the commencement exercises at the University.
Messrs. O. D. Street and C. B. Kennamer attended a meeting of the State Republican Executive Committee in Birmingham last week.
Mr. W. B. Stallings, of Albertville, was in town Thursday on business. He contemplates moving his family back to Guntersville this fall.
Mr. Chas. J. Haden spent last week in Huntsville on business. Mr. H. H. Haden, of Summit, filled his brother's place in the drug store during his absence.
Mrs. and Mrs. Joe Owens returned from Chattanooga Wednesday, where they have been for several days at the bedside of Mrs. Owen's brother, who died later from a stroke of paralysis.
Mr. L. M. Connally, of Meltonsville, passed through town Wednesday on the way to see his brother, Mr. Joe Connally, who is very sick at his home on Mr. W. M. Kirkland's place.
Mrs. J. F. Roberts and little daughter, of Birmingham, are visiting her father, Mr. H. C. Huckaby, and other relatives in Guntersville. Mrs. Roberts ordered the Advertiser to go to her address.
Shelby County Alabama Pioneers Volume I
This Volume reveals the relationships between the ACTONS, BAILEYS, CLOWER, CROWSON, LEES, NABORS, NELSON, ROBERTSON, and WILSON families of early Shelby County, AL. Notes and sources are included. Genealogy reports with all supporting evidence, wills, and deeds when available are included.