Biographies of the Delegates to the Alabama Secession Convention
Part VIII1
Henry Mitchell Gay
Randolph County
A son of Gilbert Gay, he was born March 8, 1812, and died March 17, 1865. Moving to Randolph County, Alabama, Gay was a state senator from that county in 1853. He was a Methodist. Gay was married to a daughter of Thomas and Elizabeth Awbrey of Head County, Georgia. The only child known to have been born to this union was named Gilbert. (Findagrave.com memorial 48251346)
NOTE: ADDITIONAL INFORMATION Known children include Harmon Reynolds, Lavice Temperance, Nancy Elizabeth, Julia Peoples, Sophie Syrenthia, Calista Mariah, Gilbert Malone, Mary Ann, Thomas Mitchell, Robert Rushing K, John Henry Mitchell; See more at Henry Mitchell Gay (1812-1865 WikiTree) and Genealogy.com -Jackie Carr's Family History. Also mentioned in Return to Randolph County by Cecelia Jane Sandford 2003 Sulon Press and Descendants of the Lawrences of Ashton Hall, Lancashire, England
Lyman Gibbons
Monroe County
Born June 3, 1808, in Westerlo, Albany County, New York Lyman was the son of John Gibbons. He attended the village school of Westerlo and was graduated from Amherst College in 1830. Gibbons read law for several months in the office of Jacob Collamer at Royalton, Vermont, but came to Alabama in 1833 and started teaching at Spring Hill College, Mobile. Continuing to study law he was admitted to the bar in 1835. A few months later he moved to Claiborne, Monroe County, Alabama, and formed a partnership with James Dellet. In 1838 he returned to Mobile to practice but went to Paris for two years to study civil law. Upon returning to America, Gibbons located in New Orleans but came back to Mobile after two years. Due to the resignation of Bragg, he was appointed to fill a vacancy on the circuit court bench in 1851 and was elected for a term of six years the following spring. Governor Collier appointed him a justice of the Alabama Supreme Court in 1852, but he resigned January 5, 1854. He became a planter in Monroe County after his retirement from the Supreme Court position but resumed the practice of law after the war. He died at Claiborne. Gibbons married Emma Eugenia Dellet of Columbia, South Carolina, at the home of Judge Bragg in Lowndes County, Alabama. The only child was a daughter whose name was Helen. (Findagrave.com memorial 108073301)
NOTE ADDITIONAL INFORMATION: LYMAN GIBBONS Associate Justice – 1852-1854 BORN: June 3, 1808; Westerlo, New York DIED: June 27, 1879; Claiborne, Alabama After graduating from Amherst College in 1830, Lyman Gibbons read law with Jacob Collamer in Royalton, Vermont. He moved to Alabama in 1833, settling in Mobile, where he joined the faculty at Spring Hill College and continued studying law. Upon being admitted to the bar in 1835, Gibbons moved to Claiborne in Monroe County. He practiced law for three years in partnership with Col. James Dellet and then returned to Mobile. In the mid-1840s Gibbons went to Europe for two years, where he studied civil law in France. Upon his return, he practiced law for two years in New Orleans before returning to Mobile in 1849. Gibbons was appointed judge of the sixth circuit in 1851 and elected to a full term in 1852. In December of that year, however, Governor Henry W. Collier appointed him to the Supreme Court to fill the vacancy created by the resignation of Edmund S. Dargan. He remained on the bench a little over a year, resigning in January of 1854, to return to Monroe County and follow his avocation as a planter. His last public position was as a delegate to the Constitutional Convention of 1861. In 1853 Lyman Gibbons married Emma Eugenia Dellett. They had one child. (judicial.alabama.gov/Docs/library/Bios/LymanGibbons.pdf)
James Graham Gilchrist
Lowndes County
Descended from Scotch ancestry, James Graham was the son of Angus and Elizabeth Gilchrist. Born in 1814 in Richmond County, North Carolina, he lived on a farm with his parents until he was twenty years of age. There were limited educational advantages for him during his boyhood days, but he entered Princeton University in 1836. He remained at Princeton only a short time, but he matriculated at the University of South Carolina and was graduated from the latter in 1839. Having studied law Gilchrist moved to Alabama and practiced at Hayneville, Lowndes County, for sixteen years. He represented Lowndes County in the first legislature to assemble at Montgomery in 1847-48, and served on the judiciary committee of that body; he was elected to the legislature again in 1859. Being a member of the first board of revenue of Lowndes County, he served in this capacity for eighteen years. In 1861 he raised a company, which became Company I of the Forty-fifth Alabama Infantry, and became its captain. When the Forty-fifth Alabama Infantry was organized Gilchrist was elected colonel; because of poor health, he was forced to resign in April 1863. His last residence was Montgomery Alabama. Gilchrist was first married to Elizabeth Briggs of Pennsylvania, in 1839, and she lived thirteen years after their marriage. He was married the second time to Elizabeth H. McGhee in 1854. The children by his first wife were Angus, Sallie, Anna, Kate, Elizabeth and Mollie; children borne by the second wife were Abner, James, and Thomas. (Findagrave.com memorial 78360818)
NOTE ADDITIONAL INFORMATION: An extensive biography with photographs has been written on James Graham Gilchrist by the Pintlalahistoricalassociation.com July 2015. Excerpt from the sketch. " Col. James Graham Gilchrist served as the Worthy Master of Pintlala Grange 175 in 1873 and was appointed to serve on the Montgomery County Board of Revenue. His service on the Board was noted for his efforts to improve transportation and education in the county. Gilchrist earned the title " father of good roads in Montgomery County" as described by Frances Satterfield. ( He continued to serve the people of Montgomery County on the Board of Revenue until his death in 1900 while serving as president of the Board. He had completed 24 years of devoted service to Montgomery County. Minutes of the Board include a resolution marking his death."
John Green
Conecuh County
John Green and his wife Nancy Betts Jones Green (Alabama Department of Archives and History)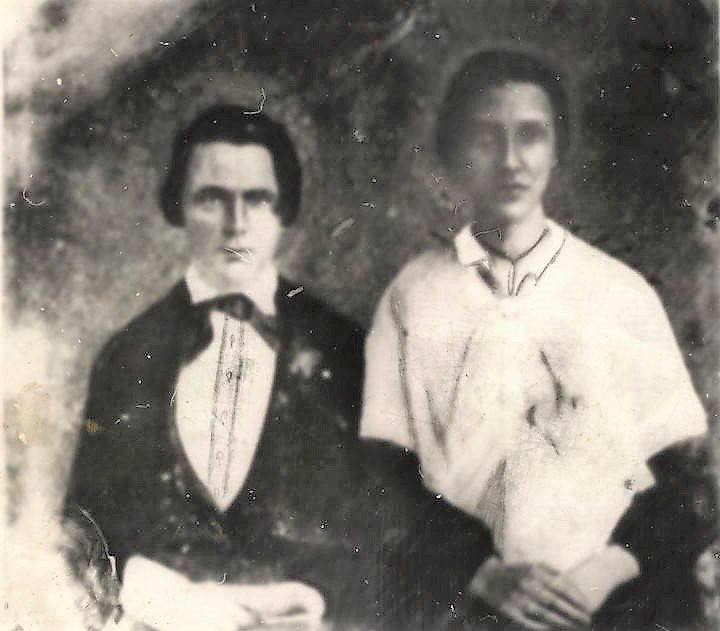 A pioneer and public official of the state, John Green was born March 8, 1790, in the Abbeville District of South Carolina and died at Burnt Corn, Alabama, July 7, 1882. His father was William Green and his mother was a Miss Bickerstiff of Abbeville, South Carolina. When he was ten years old, Green's family moved to Jackson County, Georgia. Green learned to read and write at the public library of his community and attended a country school long enough to acquire sufficient education to transact business. He began to read law when he was twenty-one years of age and practiced in Athens, Georgia. After marrying, Green decided to give up the legal profession and devote his energies to planting and raising cotton.
Presentation of the portrait of John Green by John Lee Betts and his daughters to Peter Brannon (ADAH)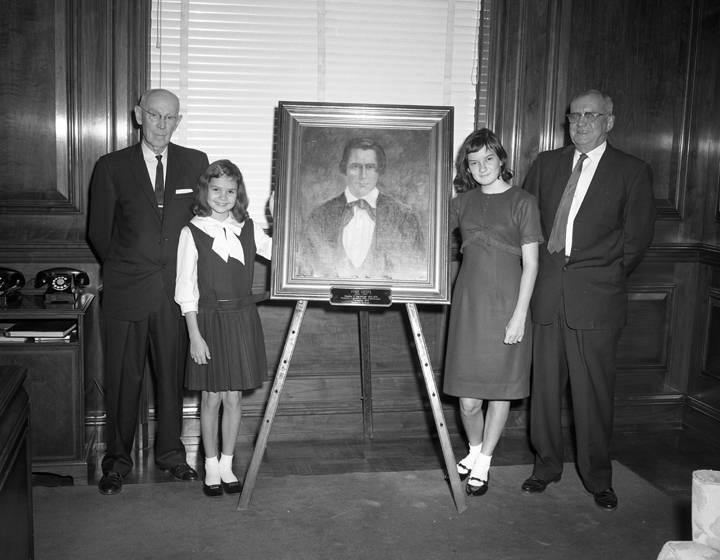 In 1816 he moved with his wife to the wilderness of what is now Conecuh County, Alabama, where he established and taught the first school in the county. He held almost every office in the county from justice of the peace to legislator. Green was sent to the legislature in 1824 and 1828 and to the Constitutional Convention of 1875. He was the only Cooperationist elected from South Alabama to the Secession Convention.
John Green (1790) Secessionist Convention (Alabama Department of Archives and History)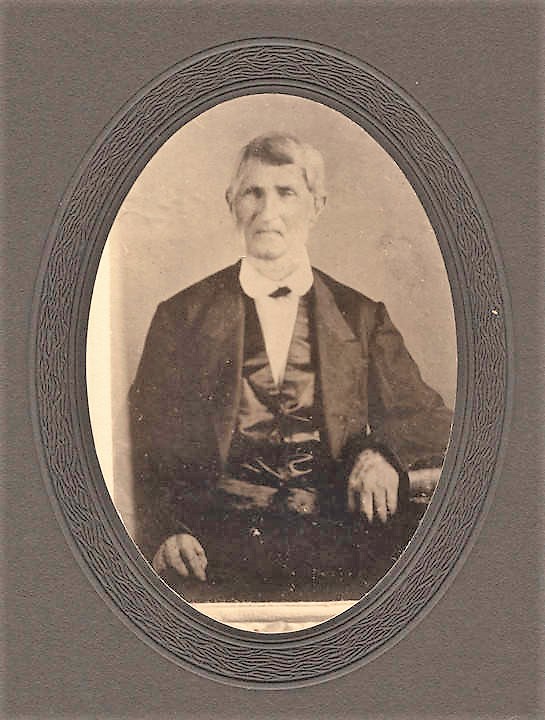 After the War Between the States, he was granted a United States pension for his services during the War of 1812. He was a Universalist and a member of the Sons of Temperance. His wife was Nancy Jones of New Jersey and Milledgeville, Georgia. There were seven children born to this union: Christopher, Thomas, Hamilton, John, William, Fannie, and Mollie.
NOTE ADDITIONAL INFORMATION: See more about John Greene (Wikitree)
Robert Guttery
Walker County
Robert Guttery was born in Lincoln County, Tennessee, and died at Holly Grove, Alabama, on April 6, 1877. A son of William and Hannah Guttery, he moved to Alabama with his parents while he was still young. He received a common school education and was one of the earlier settlers of Walker County, Alabama. In addition to farming, he engaged in mercantile enterprises at Jasper and Holly Grove. He united with a Primitive Baptist Church in 1824 and became a minister of that denomination two years later. On November 11, 1821, Guttery was married to Sarah Ann Williams and they had fifteen children of whom eleven were sons. Among the children were: George Houston, Isam and Elizabeth Baker. Two of their sons served in the Confederate Army. The death of Robert Guttery occurred on April 6, 1877, at Holly Grove. His wife died February 8, 1881. Both are buried at Boshell Graveyard, near Townley, Alabama. (Findagrave.com 5177781)
NOTE ADDITIONAL INFORMATION: Known children: John Kenneth, Catherine, William, Isham Prince, Benjamin Franklin, Elizabeth, James Russel, Martha Ann, Andrew Jackson, Levi Toles, Robert Malone, Newton W. (Guthrie), Sarah, George Houston, Johnson. His photograph and military record can be seen at: http://www.1stalabamacavalryusv.com/Roster/Troopers.aspx?trooperid=841
1Transcribed from The Alabama Historical Quarterly, Vol. 03, Nos. 03 & 04, Fall and Winter Issue 1941
Biographies of Notable and Not-So-Notable: Alabama Pioneers (Volume 1)
Revised with direct links to many sources and burial sites! This book includes the genealogy of and biography of William Barrett Travis of Alamo fame and Elisha Cottingham, the Alabama descendants from the Tapestry of Love, Historical Fiction Series by Donna R. Causey. The biographies of Alabama pioneers included in this book include: REV. JOHN WESLEY STARR (1806-1870) ELBERT SOULE STARR (1845-1908) JOHN WESLEY STARR, JR. (1830-1853) RICHARD ELLIS (1781 – 1846) JOHN WHITE, ESQ., (1778 – 1842) JOSEPH GLOVER BALDWIN (1815 – 1864) COL. JONATHAN NEWTON SMITH (1814 -1885) RICHARD HOPKINS PRATT (1827 – 1908) HOPKINS PRATT (1791-1841) MARY DICKERSON PRATT (1800-1882) ABSALOM PRATT (1793-1845) RICHARD PRATT (1764-1822) REBECCA BEAVERS PRATT (1770-1847) EDMOND PIERCE ANDERSON (1800-1827) DAVID W. HUNTER (b. ca. 1800) AMBROSE HUNTER (b. ca. 1800) JOHN ALEXANDER GRUGETT (ca. 1774 – ca. 1826) ISAAC NEWTON LANGSTON (1775 -1850) OBEDIAH LANGSTON (1801 – 1888) DORANTON PATTON NEWTON LANGSTON (1812 – 1873) ELISHA COTTINGHAM, SR.. (b. ca. 1755 – 1820) ELISHA COTTINGHAM, JR. (1793 -1870) JOHN C. D. MAT TROTT (1809 – 1883) COL. WILLIAM BARRETT TRAVIS (Hero of the Alamo) (1809-1836) HENLEY GRAHAM SNEAD (1814 – 1906) WINTHROP SARGEANT (1755 – 1820) TOD ROBINSON, SR. (1776 – 1838) TOD ROBINSON, JR. (1812 – 1870) WILLIAM RAIFORD PICKETT (1777 – 1850) COLONEL ALBERT J. PICKETT (1810 -1858) BRIG. GENERAL WILLIAM FLANK PERRY (1823 -1901) GEORGE FOOTE (1784 – 1825) PHILLIP A. FOOTE (1793 – 1831) JONATHAN BURFORD (1793 – 1849) includes many slave names DANIEL WASHINGTON BURFORD (1782 – 1847) JOHN GALLAGHER (ca. 1796 – 1839) DAVID JOHNSON GOODLETT (1804 – 1878) JUDGE HENRY ANDERSON MCGHEE (1808 – 1901)