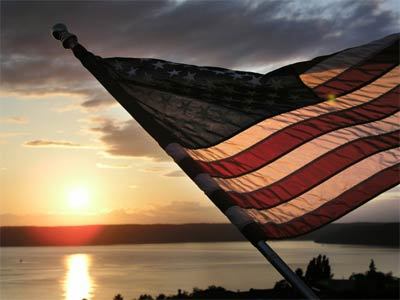 A few months ago, I stopped at the Veteran's Memorial at the Liberty Park Exit of Interstate 459 to look again for relatives who lost their lives during wars.
I am a member of a family that had many males; therefore, my family supplied a lot of manpower for World War II and the Korean Conflict (I prefer to use the word "War" for that one!).
After his death a few years ago, I learned that one uncle, Silas Hamrick, had served in General Patton's Army. Uncle Silas' death was not during his years in the Military. I have heard many people comment about their loved ones not discussing their years in war. Uncle Silas was one of those.
Vet Names at Veterans Memorial Park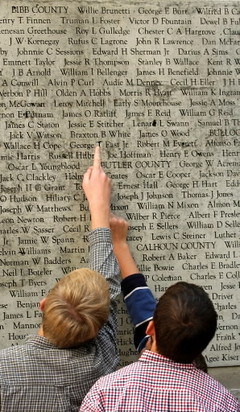 Remember those who gave their lives for my freedom
Even though I had been to the Veteran's Memorial two times previously, I wanted to observe again the names of an uncle and three cousins who gave their lives for my freedom during World War II.
Uncertainty of Uncle A. V's status hung like a cloud
In her dementia years, my Mother was still asking about her brother, A.V. Perry, whose plane was shot down in Germany. Uncle A.V. was first reported as Missing in Action. This was a very traumatic experience for Mother, her parents and siblings. I was very young at the time; but remember all of us gathering at my Grandparents' home to mourn together.
For several years, the uncertainty of Uncle A.V.'s status hung like a cloud over the family. Later Uncle A.V.'s remains were found and returned home for burial. His casket was accompanied by a member of the Armed Forces. The family went through another period of mourning. This was almost like losing the same person two times.
The names of twin cousins of my Dad, Charles Hamrick, Jr. and James Hamrick from East Lake are at the Memorial. The name of another cousin of my Father, Doyce Hamrick, from Calhoun County, is also there.
Thank a Veteran
Even though I don't remember those cousins, I do remember my Uncle A.V. I was able to show these names to Mother when we were aboard the Battleship USS Alabama in Mobile and again at our Veteran's Memorial.
Be sure to thank a Veteran for his/her sacrifice for you!
Alabama Deaths from World War I

Essential book for research in Alabama around the turn of the century. This KINDLE book includes all the deaths from World War I, listed by the county where they last resided, over 60 pages of names.