Citizens of Florence mentioned in news abstracts From the Florence Times October 6, 1905 – Lauderdale County, Alabama
Chief of police Anderson has been presented a fine saddle by his friend Mr. Thos. McCarley
Mr. A. V. Humphrey, of Waterloo, has been appointed rural carrier on Waterloo route No. 2.
Mr. M. Richardson his sold one of his houses on East Mobile street – the one further east, – the purchaser being Mrs. Roser.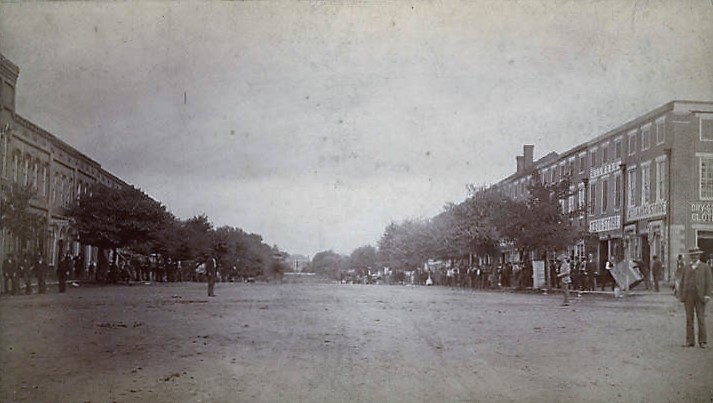 Court Street in Florence, Alabama, on a Saturday afternoon ca. 1910 (Alabama Department of Archives and History)
Mr. Newt L. Crow went to Tuscaloosa Sunday to place in the Bryce Hospital for the insane, Luther Clark, a mental unfortunate.
Mr. Louis Gusmus' family, in South Florence, is sorely afflicted with typhoid fever, five members being confined to their bed with the disease.
Messrs. Fred Neale and Tony Fago are practicing as a bicycle team, and hope soon to be able to meet any bicyclists in the South in either trick or race riding.
T. S. Richardson, of Florence, has succeeded his brother with Acme Lumber Co., and moved his family to the Walton Palmer cottage on 7th st. – Tuscumbia Dispatch
Quite a good deal of cotton is now coming into Florence. Last Thursday Mr. R. M. Striplin bought 100 bales for the firm of W. L. Reeder & Co., of Memphis.
Mr. M. Shelton has greatly enlarged and improved his residence on West Tuscaloosa street, and now has one of the most attractive houses in our beautiful city of handsome residences.
The negro who assaulted Mrs. W. L. Reeder in the streets of Memphis several months ago for the purpose of robbing her of her pocket book has been sentenced to 21 years in the penitentiary.
Messrs. Sharp & Blair have on exhibition in the store a slip of sweet potato vine in a vessel of water, which has grown into full bloom without root. It is regarded as an interesting curiosity.
Mr. J. J. Gray, of Rockdale, Tenn., arrived in the city Tuesday on a visit to his wife who is a guest of the family of W. S. Standifer, on Tombecbee street. Mr. Gray is an expert iron master who had charge of the Rockdale property, and will soon put in blast the big furnace at Battelle, Ala., and the Rockdale furnace in December.
Florence is not behind any interior town in the country, but is abrcasr (?) of the procession in all good things, and business, too. A. Brown & Son, the most progressive jewelers in North Alabama, have become importers and have just received a consignment of Royal Kinran ware direct from Japan, and have it on display at their store. As we are not expert in the art of description, the ware all the way from Nippon, will have to be seen to be fully appreciated.
Major J. M. Berriman, leader of Salvation Army forces in the South, who visited this city last week, met with much encouragement while here. He was greatly pleased with the way the work of the local corps is progressing. The Major stated that a Hall would very likely be erected in Florence in the near future for the Army headquarters. This building will be built large enough for a barracks, quarters, and shelter which has been promised.
Mr. John Westmoreland has sold the store one door North of his place of business on Court street to Capt. J. B. White, the price paid being $1, 870. The Building has been rented by Mr. Womble of Tuscumbia, who will open a furniture store there.
Bestselling novel 

RIBBON OF LOVE: 2nd edition – A Novel of Colonial America (Tapestry of Love Book 1) 

is the story of a first family in colonial America who fled to America to escape religious persecution, and eventually migrated to Alabama before it became