Personal mentions Transcribed From the Florence Times October 6, 1905 – Lauderdale County, Alabama
The Coming and Going of the Citizens at Large
Visitor To Our City and Citizens Who are Away
Capt. Walter S. white of Sheffield is getting up Colberts' exhibit for the State fair.
Mr. W. B. Waddell, a prominent business man of Sheffield, was in the city Tuesday.
Mr. H. G. Winborne of the Oakland neighborhood was a pleasant caller at the Times office Wednesday.
Messrs. Pope McCorkle, J. S. Spain and L. A. Itanson of Waterloo were in the city last Friday and Saturday on business visits.
Mr. W. B. Price, son of Dr. and Mrs. W. M. Price, left Tuesday to attend the Dental school of Vanderbilt University, Nashville.
Mr. J. S. Eastep of Rogersville was in the city Sunday and Monday. We were sorry to learn from him that one of his sons is quite sick with typhoid fever.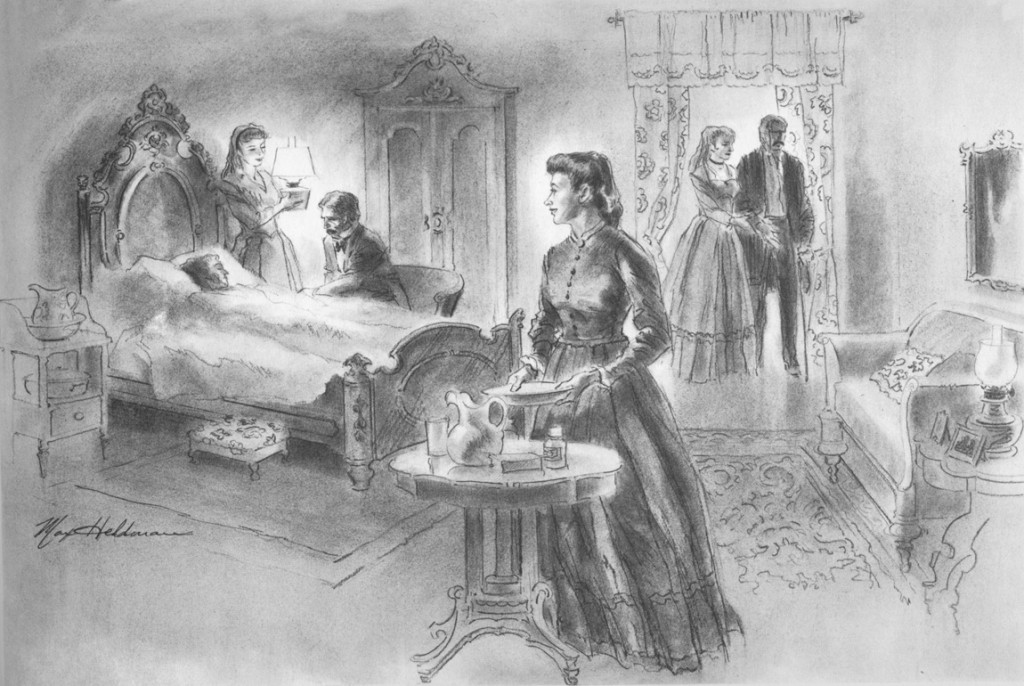 Artist Max Heldman's depiction of Wooster helping the sick and dying during the cholera epidemic in Alabama (Library of Congress)
Mr. Ed C. Crow of Birmingham was in the city the first of the week attending chancery court. His many old friends here were glad to see him on our streets again.
Dr. H. R. Kennedy of Green Hill, our State Senator, was in the city Saturday and paid the Times the compliment of a call.The Doctor is always welcome visitor to our sanctum.
Mr. W. F. B. Williams, of South Carolina, was a visitor to friends and acquaintances here Sunday. Mr. Williams will be remembered by many as an extensive contractor during our boom days.
Dr. James K. Powers of Florence is mentioned in the Montgomery papers as a probable candidate for State Superintendent of education. He is amply qualified to fill the position with distinction.
Mr. W. M. Campbell has moved his business office from the Lucas & Kilburn building across the street to the Western Union office, first floor. Mr. Campbell is engaged in the real estate and insurance business, and in his office are the headquarters of the Florence Land Co. and the Sweetwater Land Co.
Mr. C. A. Ware went to Birmingham Monday night to ….space in the State Fair building…..Mr. Ware says he will have ….exhibit for our city and county.
Mr. Ernest Lemay of ….boro, N. C., arrived in ….Wednesday last to visit his …..Justice and Mrs. C. W. …Mr. Lemay has been confined to his room since his arrival ….with an attack of fever.
Mr. Murray M. Campb—- has been holding a position as the general manager of the —– Central railroad, with head —- in the city of Mexico, is —- home today, and may prof —- main at home now.
Did you know that you can give Amazon Prime membership as a gift? Click below to see how.