BRAISED TURKEY FROM THE 1870s
(Transcribed from The Times-Argus, Selma, Alabama January 27, 1870)
Lard a deep pan with pork and calves' foot from which the bone has been removed; season with salt, red and black pepper, thyme, a few cloves, one large onion, and a few carrots cut in quarters, lengthwise.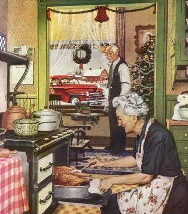 On the top of these ingredients, lay your turkey, a young one, (and a small one is best) which has been dressed, stuffed with force-meat made of cream, bread crumbs, rice, and chopped oysters. The wings and legs should be well-tied — secured so that the fowl may present a dignified appearance at table.
Overall, pour a glass of white wine, a glass of water, one of soup stock, and a wine glass of brandy; cover all closely with a piece of buttered paper, or a cover of pastry, and shut the lid of the stew-pan closely, so there may be no evaporation. Let it bake slowly for three or four hours.