EGGS IN TOMATO CUPS
Recipe from 1948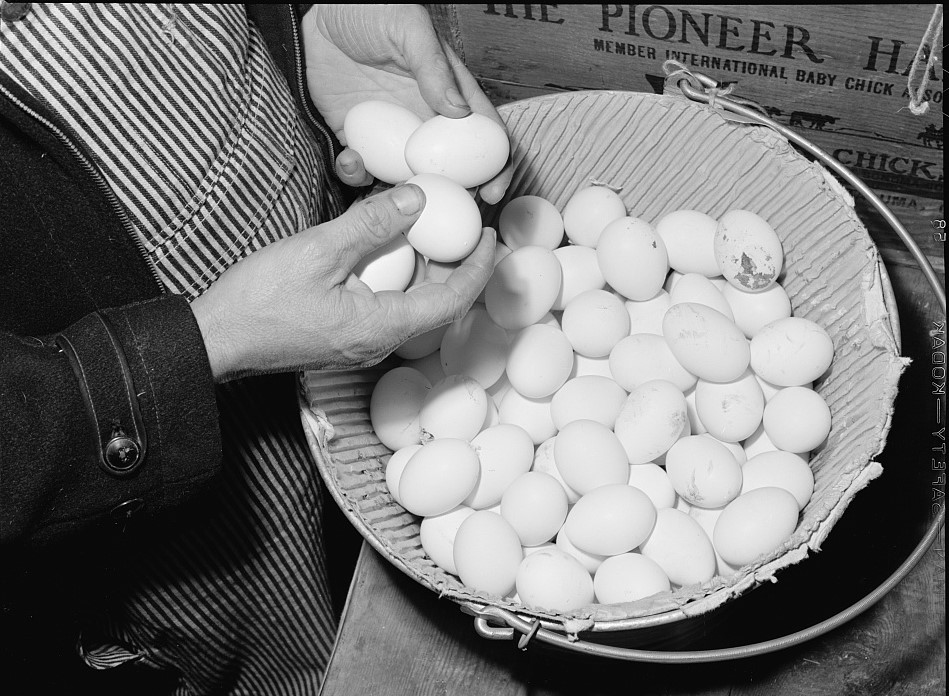 3 medium-sized tomatoes
3 eggs
Salt and pepper to taste
PREPARATION
Preheat oven to 375 degrees F. Boil 3 cups water to blanch tomatoes.
Lightly grease 3 custard cups, and place in rack, if available, or on a cookie sheet (This is for easy removal from oven after baking)
Wash tomatoes and blanch by placing tomatoes in boiling water about 1 minute, or just long enough for skins to break open. Use utility fork to pierce tomatoes, then remove skins. Cut away slice from blossom end of tomatoes, and use a spoon to scoop out pulp of tomatoes, leaving a shell about ¼ inch thick. Drop pulp into chopping bowl and place tomato shells in custard cups. Chop pulp coarsely. Sprinkle salt and pepper inside of each shell.
Open eggs carefully and slip each egg into a tomato shell. Top with chopped tomato pulp.
Bake in preheated moderate oven (350 degrees) about 15 minutes, or just until egg is set. As soon as egg looks firm. (like a poached egg), remove from heat and serve at once. They will continue cooking because of the heat retained in the baking dish, so plan to eat as soon as they are ready.
Have you heard excessive brain labor causes baldness or the cure for wrinkles is a tepid bath in bran?
Do you want to know Thomas Jefferson's recipe for Vinegar of the Four Thieves or how to make Ox Tail Soup?
Have you ever had 'blueberry pickles', 'batallia pie' or 'snow birds'? You will learn all this and more in "Vinegar of the Four Thieves."
Our ancestors had to be resilient when they faced obstacles in daily life, from dealing with pests, medical emergencies, caring for clothing and cleaning shortcuts. Almost everything they used in daily life was homemade. Some ideas were great but some were very strange.
This book is a collection of household tips, medical cures, clothing care and old recipes from the 1800's and 1900's. Many of the tips, such as the household cleaners, cooking tips and ways to control pests, still work and are helpful in today's 'green' environment while others such as 'how to cure a dog of eating eggs' will make you laugh. Either way, this book will help you appreciate the difficult life your grandparents endured. With Bonus: First two chapters of novel Ribbon of Love