Fish pudding is thought to be by some as a recipe derived from using left-overs.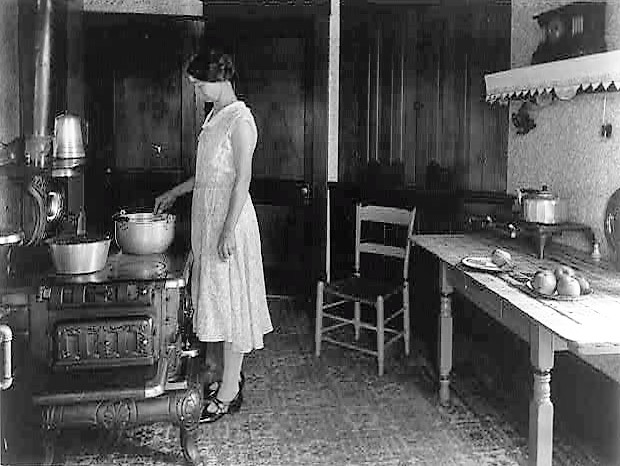 Farm woman cooking at stove in kitchen ca. 1925 (Library of Congress)
FISH PUDDING
2 pounds halibut
2 tablespoons flour
2 tablespoons butter
1 large cup top milk
Lemon juice
Onion Seasoning
Pepper
Paprika
Worcestershire sauce
4 eggs
Salt
Celery Salt
Boil halibut 20 minutes, remove all skin and bones. Blend flour and butter, add milk and seasoning, cook in double boiler until smooth sauce. Cool. Add beaten egg yolks, and last fold in stiffly beaten egg whites. place in well-buttered mold, set in pan with little hot water. Bake 30 minutes. Turn on hot chop plate, fill center with very small buttered potato balls.
SAUCE:
1 large cup stiff mayonaise
1/4 teaspoon scraped onion
8 chopped ripe olives
8 chopped green olives
Juice of 1 lemon
1 tablespoon capers
Paprika
Onion Seasoning
Celery Salt
Blend all ingredients, add 1 beaten egg white and 1/2 cup boiling water. Mix thoroughly. Pour over fish ring or serve separately.
Vinegar of the Four Thieves: Recipes & Curious Tips from the Past