Do you want to make dressing like your Alabama grandmother for Thanksgiving? Then start with Alabama corn meal from the J. T. Pollard cornmeal in Hartford, Alabama and purchase a cast-iron skillet.  Now you are ready for the recipe below.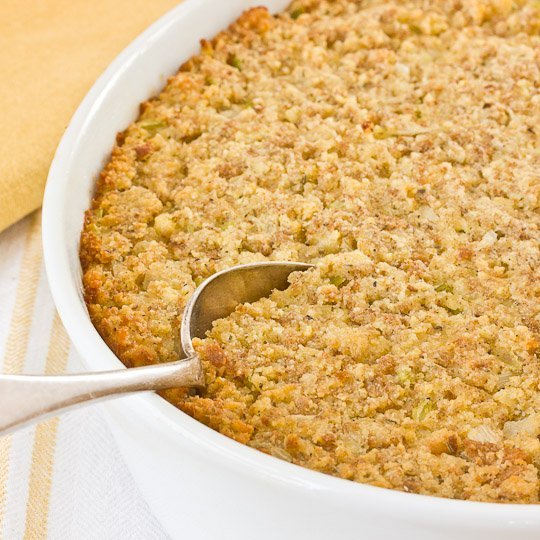 Old Fashioned Alabama Dressing
2 cups of J. T. Pollard cornmeal
6 eggs
2 Tablespoons baking powder
2 cups plus chicken broth (can be canned or from boiled chicken)
Sift cornmeal. Add eggs and chicken broth until slightly soupy. Bake in well greased cast iron skillet in preheated 350 degree oven for 30 minutes. This can be prepared early in the morning.
3 stems celery, chopped
1 cup onions, chopped
1 tube saltine crackers (minus 7 crackers)
1 teaspoon salt
1 teaspoon black pepper
2 cups chicken broth
In large container break up cooked egg bread. Add saltine crackers and combine using a regular potato masher. When mashed to a smooth consistency, add celery, onions, salt and pepper. (Note: Most Alabama cooks add sage and/or poultry seasoning and some do not add the crackers.)
Add chicken broth until a soupy consistency. If dressing is dry going into the oven, it will be dry when it comes out. Pour mixture into well greased 9 x 13-inch oblong dish and bake 30 minutes at 350 degrees. Dressing is ready to serve.
Faith and Courage: A Novel of Colonial America
 Inspired by real people and actual events, the family saga of colonial America continues with Ambrose Dixon's family. Faith and Courage presents the religious persecution of Quakers in Pre-Revolutionary War days of America intertwined with a love story.
Two-day Shipping cost are FREE with Prime!