Reminiscences of Old St. Stephens Part II Schools and Indians
NOTE: This speech was made in 1899 and some language would be offensive today. It has been transcribed as written)
(Read at the Centennial Celebration, May 6, 1899. It was published in four installments in the Washington County News, St. Stephens, May 25, and June 1, 8, and 15, 1899.
By Miss Mary Welsh of Shuqualak, Miss)i
SCHOOLS
Choctaw Chief Pushmataha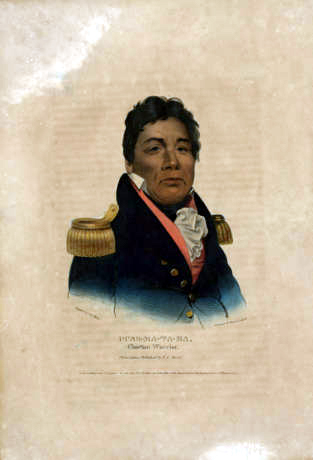 No churches in early St. Stephens
In the history of any place next in importance to churches come school interests. There were no churches in St. Stephens, as we have seen; and of its one-time academyii and newspaperiii I know nothing. The first teacher of whom I know anything was Mr. D. H. Mayhew a native of Massachusetts, who died Sept. 7, 1822, aged 40 years, and is buried at St. Stephens. I never knew whether he had a family or not.
Pushmataha wanted to educate his son Mingo
My mother was one of his pupils and she cherished a respectful and loving memory of him as long as she lived. She often related to her children incidents of her school life, and one of them is so associated with the history of St. Stephens as to deserve a place here. The citizens, grateful for the friendly services of Pushmataha, the Choctaw chief, during the Creek war, thought the best return they could make would be to educate his son Mingo. The old chief was pleased, so Mingo was duly entered as a pupil in Mr.. Mayhew's school. Ordinarily he was a pretty fair pupil; but and unfortunately for the plan of the whites large numbers of Indians, the friendly, inoffensive Choctaws, remained in the country.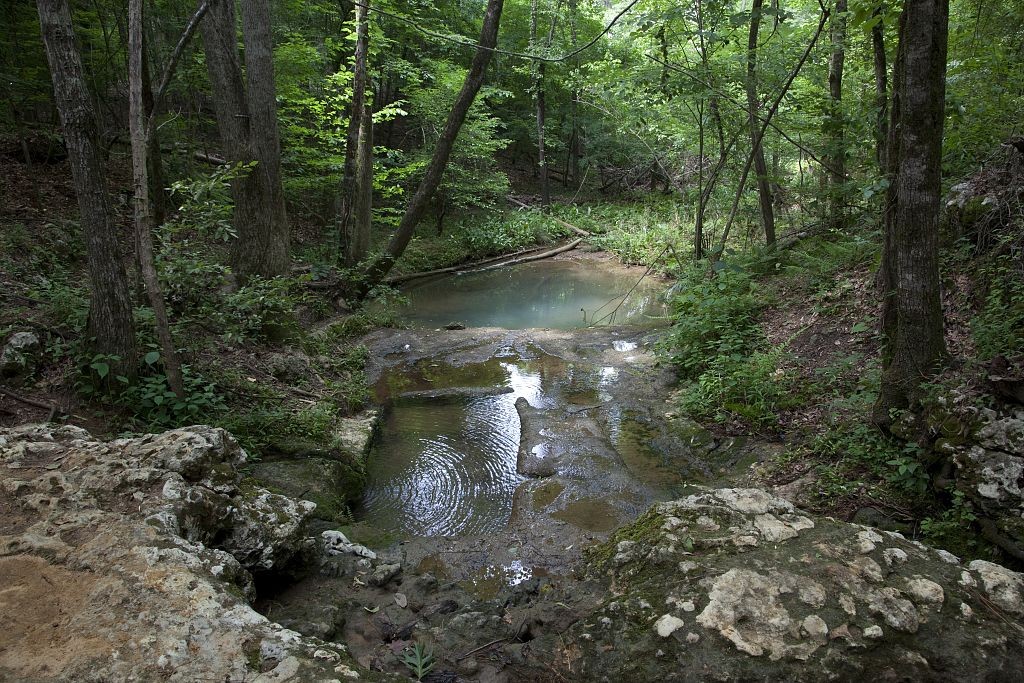 Indian baths at Old St. Stephens Park, St. Stephens, Alabama (photographed by Carol Highsmith, Library of Congress)
Mingo returned to his tribe
Often numbers of them came to town, camped in the outskirts and made the whole place lively by their nightly carousing. This was too much for the wild Indian boy to withstand. He would slip out after dark and spend night after night in the wild orgies of his companions, and of course through the day, although dutifully in the school room, was too dull for study. Friendly remonstrance, judicious counsel, even punishment availed but little, and only for the time of the absence of the Indians. Every new camp was an occasion for Mingo to break the bonds of attempted civilization. Finally Mr. Mayhew said, "it is useless; Indian will be Indian," and gave it up as an impossible job. Mingo returned to his tribe, and his faithful teacher sleeps in old St. Stephens cemetery.
First teacher Charles L. S. Jones
My first teacher was Charles L. S. Jones who taught during the years 1828, 1829, and 1830. He had a wife, and some children too small for school. His later career I know nothing of. I cannot characterize him better than by referring to the description of an old time "dominie" in Sir Walter Scott's novels. He was a kindly man as I remember him; and as I remember ourselves he had a wild set under his care. He was a learned man for that day and time, but little did we youngsters reck of his learning, though in after years I often recalled with pride that my first teacher translated a volume of Latin poetry into English. We had a copy of that work till 1880 when it was unfortunately destroyed.
Studied out loud if we chose
We studied "out loud" if we chose, sat on the benches or on desks at will, or the "big boys" took their books and slates out under the trees. The text books that we "floundered through" a modern pupil would throw down in angry disgust. "Lindley Murray's" grammar, "Greenlee's" or "Greenleaf's" geography, &c, &c.
And he would scorn our school furniture; desks built around the room against the wall, backless benches, pencils made of bullets run together and beaten into proper shape, copy-books made of sheets of unruled paper stitched together and ruled as we could get it done. The boys who were fortunate enough to own these lead pencils performed a good work of love in ruling books for the unskilled. Pens of quills plucked from the geese at home were made and mended by the master. But we managed to have a great deal of fun with it all.
Plenty of attractions lured us away from school
We had two good honest hours at noon, and recess as often as we could obtain permission or slip out unawares. There were plenty of attractions to lure us out of doors and keep us out as long as we dared. Ah! it was a wild, rolicsome, childishly happy time, but not wasted; we did learn something and that thoroughly.
Besides, our unrestrained gambols in God's free air and sunshine and pure water, the best tonics in the world, built up our muscular systems, and gathered up a fund of good spirits for the requirements of future years; and some of us have needed the full supply in the subsequent battle of life. Oh, ye fathers and mothers! let your children be children while they may. Cares and anxiety come soon enough, and when they come they remain throughout the journey of life.
Both husband and wife taught school
The next school commenced about 1831, and was taught by Mr. and Mrs. James Duncan English people. They taught some time prior to this in Jackson, Ala., and came to St. Stephens about 1830. Duncan, as I learned many years afterwards, was an assumed name. Both husband and wife taught school, and the madam taught various kinds of needle-work in addition. Their eldest daughter taught music and according to the system then in vogue, which was almost a snail's pace compared to the present system.
Here we had pretty much the same text books as in the Jones' school; the same desks against the wall, backless benches, homemade pencils, &c. The old gentleman brought some steel pens, till then unknown in these parts, and tried to introduce them, perhaps to spare himself some work. But the effort proved to be premature; his patrons mostly believed in encouraging home industry; so we still "run down" the geese, plucked the quills and carried them to him to make into pens.
Discipline was more strict
Neither the system nor the discipline of this school was anything like we had been accustomed to; we were not the "happy-go-lucky" set we had been formerly. Nevertheless we managed to extract a good deal of enjoyment from the untoward circumstances.
Boarders were in this school
They lived and taught in a large building on the principal street. The second and third stories were occupied by the family and their boarders; there were boarders in this school. The whole lower floor was divided into two long, large rooms. One of them was used for a dining-room, the other, the school room, had been, in the early times, the store of Messrs. Coolidge & Bright.iv Shelves were still along the walls, and on a large beam running through the center, supported by two or three pillars, was the name of the firm in gilt letters. The old house survived till the removal of the town.
Duncan was not their real name
This school was the last one in old St. Stephens. After the death of the father and mother, the two daughters went to England, where the eldest, Miss Charlotte, received some entailed property. They returned to Alabama under the name Pettit and taught near Warsaw several years, about 1847. They explained that their father assumed the name of Duncan in consequence of something that occurred in the British navy, or merchant service, in which he was an officer, that necessitated his remaining incognito for a time; and that necessity lasted as long as he did. A son, James Petitt went to Arkansas, and Miss Mary Pettit married a Mr. Marr in that State.
Incident at the school regarding race
Apropos of the religious sentiment of St. Stephens at the time, an incident in which he was prime actor will serve to show his standing in that respect. He had courteously given permission to the Baptist preacher, Rev. William Shoemaker to preach in his school room. After a few services, one Sunday morning the minister gave an opportunity for any one who might wish to join the church. Two colored women presented themselves. Immediately Mr. and Mrs. Duncan arose, gathered up all the pupils who were present, day pupils as well as boarders, marched us out and upstairs regardless of the presence of several of our parents. He peremptorily forbade any more preaching under his roof; said a negro had no more soul than a monkey, and no preacher who treated them as responsible beings should have the use of his house. After that Mr. S. preached a few times in Grandmother Gordy's hall. That ended religious services in old St. Stephens, as far as I know.
Family is Irish
Discordance: The Cottinghams (Volume 1) –
A novel inspired by the experiences of the Cottingham family who immigrated from the Eastern Shore of Virginia to Alabama