Robbins Crossroads is located about 23 miles northeast of Birmingham, AL On Highway 78 near the Jefferson and Walker county line. It is one of the oldest settlements in this section of the county. It received its name from the pioneer family of Robbins that settled here.
Dave Hollis and T.B. Robbins operated grist mills W.M. McDonalds operated a saw mill, James Tate owned a cotton gin, S.E. Morgan was the local blacksmith. Among the early stores dealing in general merchandise were J.H. Lockhart, J.L. Lockwood, J.L. Lum, Levi Robbins was a wagonmaker, R.M. Robbins had a saloon. James Wilson was the local Justice of the Peace and J.F. Yates was the local physician.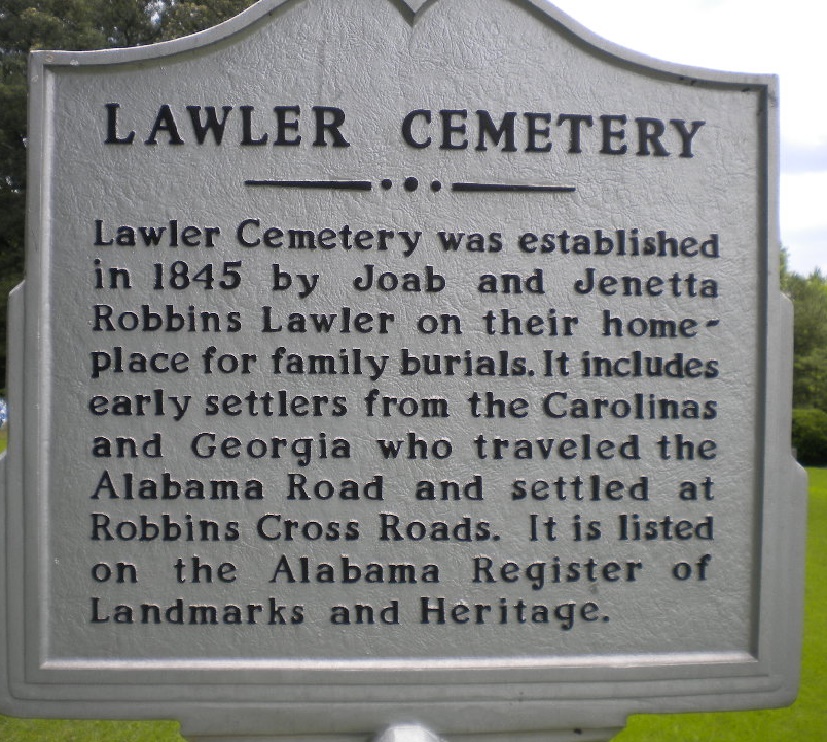 The area was covered with small farms among the pioneer families that lived here include the Adams, Bagley, Burus, Burrell, Cary, Cumby, Davis, Glover, Gossett, Goggins, Hand, Hollis, Holcomb, Hughes, Jocabs, Johnston, Kirkpartrick, Lawler, Lum, Matthews, McCormick, Myrick, Payne, Putnam, Robbins, Rouse, Sellers, Sims,Smith, Stephen, Steward, Tanner, Tate, Waldrop, Williams, Wilson, and Wood.
Many of the pioneers of this area are buried at Lawler Cemetery, McCormick Cemetery, Good Hope Cemetery and Linn's Crossing Cemetery.
SOURCES
The Heritage of Jefferson County, Alabama Info taken from Birmingham City Directory 1883-84 listing of persons receiving mail in Robbins Crossroads