Sam Dale, Pioneer, Trail Blazer, Indian Scout, Soldier and Statesman
By George H. Ethridge, 1
Jackson, Miss.2
(Written in 1945)
In the development of our country there has been a progressive moving forward from primitive conditions to our present day civilization. Most men are moulded by their environment and become a part bf the moving forces of their day without much perceptible influence upon the destinies of those who come after them. But the few who stand out as leaders often mould institutions and affect, for good or ill, the lives and times that come after them.
BIRTH AND YOUTH
Sam Dale was one of those interesting personages, that adorned our country's history and ranks with such characters as Daniel Boone, Simon Kenton, David Crockett, Kit Carson, Buffalo Bill, and Jim Bridges. These pioneer leaders were necessary and useful in the age in which they lived. Dale's great usefulness and service was mostly in the territory now constituting Georgia, Alabama and Mississippi. He was greatly admired by Andrew Jackson and admired and loved Jackson. General Dale was popular with the Creeks, the Choctaws and the Cherokee Indians and they called him "Big Sam." He served in the legislature of Alabama and was a Brigadier General in the Alabama militia. He was the first representative from Lauderdale County, Mississippi, and is buried in that county, about two miles west of old Daleville.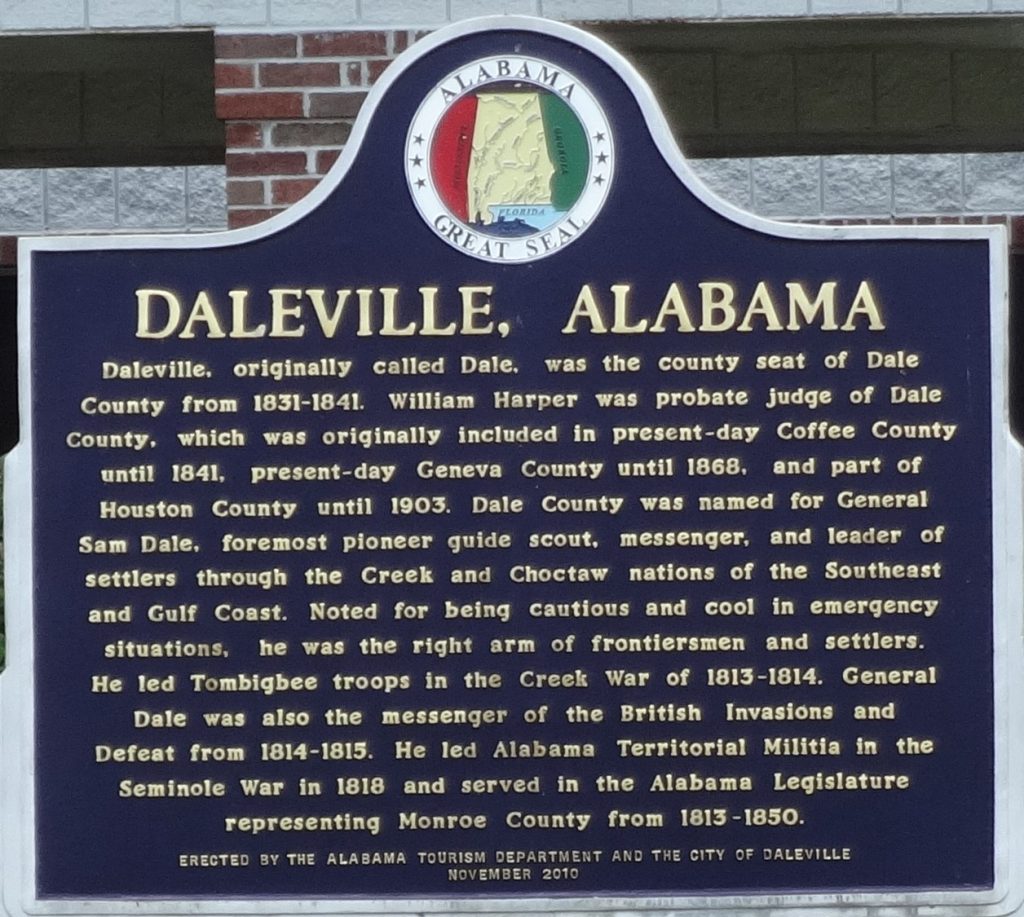 Sam Dale was of Scotch-Irish extraction, and his parents were natives of the state of Pennsylvania, their forebears having come over to America years before the birth of Sam Dale's parents. They moved to Rockbridge County, Virginia, where Sam was born in the year 1771. In 1775 they moved to Clinch River in what is now Washington County, Virginia, which then was on the frontier and in close proximity with the Indians. The Cherokees, who were as most Indians in that time a warlike and aggressive people, did not relish the settlement and clearing of their hunting and fishing grounds. Dale's father purchased a tract of land for a home, and in connection with a few other citizens built a fort, for protection from Indian depredations, called Glade Hollow Fort. Here these families remained for a time, the women and children remaining in the fort while the men tilled their fields, keeping their guns handy to guard against sudden attack. It was a wild and precarious life upon the frontier, often interrupted with ambuscade and massacres. But these frontiersmen never shrank from danger and moved from river to river, across mountains and streams penetrating wilderness, encountering danger at every step with a resolute and unshrinking courage and fortitude. They never dreamed of retreat and their women and children were as stout-hearted as the men.
Mural of Samuel Dale coming to Alabama in State Capital Dome
One of the first incidents of danger and peril that Dale gave to his biographer, Claiborne, was one wherein his father figured. Dale's father, with a fellow colonist, went from the fort together, one starting to a mill and the other in search of horses. Shortly after they separated, the Indians captured Whiteside, Dale's companion, and tied him to a tree in the custody of two warriors and started to the fort for a surprise attack. Dale's father fell in with a foraging party of whites and soon saw Indian signs. The Indians having charge of Whiteside decided to go nearer the fort and untied him, one of them laying his gun across his lap, while he untied Whiteside. Whiteside seized the gun and shot the Indian and clubbed the other before he could get his gun in shooting position and ran to the fort giving the alarm. As Dale and his companions approached the fort, they were fired upon and two men killed.
One day, two men, Joe Horn and Dave Calhoun, went to their clearings to plant their corn and imprudently carried their wives and children with them. While the men were out hunting on one of these days the Indians captured these families or killed them and the men returned to the fort and loud were the lamentations and vows of revenge. Shortly after this, Dale's father went to the salt works on the Holston River and his wife and children were alone. About nine o'clock at night they saw Indians approaching. Dale's mother threw a bucket of water on the fire, bolted and barred the door, made the children lie down and posted herself with a rifle and an axe near the door and awaited the attack. But the Indians for some reason did not make the attack and some hours later Sam's father returned safely.
MARRIAGE PARTY MASSACRED
A few days thereafter Dale's family set out for Clinches Mountain to attend a wedding. They knew the Indians were about; that their household effects were left unguarded; that they incurred the risk of an ambuscade, capture, or even death; yet they went on. This shows the fearless spirit of these pioneers who were ever willing to face danger and adventure. While they were on their way to this wedding they met Captain Barnett with a party who informed them that Indians were about and that he was scouting for them. The elder Dale, ever ready for a fight, joined this company and the rest trudged on to the Clinch Mountain, but instead of a bridal party and a well spread table, ringing laughter and dancing feet, they found ghastly corpses, tomahawked and scalped. The intended bride and her mother and some children had been captured and taken away. The Indians tore the infant child of the bride's mother from her arms and scalped it. While this was happening, one of the children dropped into a sink hole and hiding there until the Indians had gone, got away and returned. The Indians were too apprehensive of pursuit to follow this girl. The same night the bride-to-be made her escape under great difficulties and returned to the homestead. A few neighbors had buried the dead. After a parley it was decided that it was best for the marriage to take place forthwith and it was there consummated. This shows how these pioneers, with but meagre education, had the venturing spirit and the grim determination that characterized our forefathers and made them triumphant over great difficulties and obstacles.
In November 1791, Sam Dale's father moved to Greene County, Georgia, and bought a tract of land near Carmichael's Station, for which he paid seven thousand pounds of tobacco. He built a cabin and made a clearing but the "blind staggers" got among his horses and all but one died. The following Christmas Mrs. Dale, Sam's mother died, and one week later the father followed her to the land of the spirits. Sam Dale, then less than twenty years of age, was left as the head of a family of eight younger than himself, one of whom was an infant. Speaking of this, Sam Dale says, "Never have I felt so crushed and overpowered by the feeling of helplessness and isolation. . . . No foot of earth could be called our own; we were crushed with debt; no kindred blood or opulent friends to offer us sympathy or aid; eight brothers and sisters, all younger than myself, with one an infant, looking to me for bread, and the wilderness around our lonely home swarming with enemies. In this state of mind, on the night after we laid father by our poor mother's side, when my little brothers and sisters had sobbed themselves to sleep, I went out to their graves and prayed. Ah, those who are cradled in luxury and surrounded with opulent kindred cannot know the whole strength of the tie that binds together parent and child that have no friends, and how it tears the heart when that tie is broken. 'Tis the survivor that dies.' I went to the grave a broken hearted, almost despairing boy. I came back a tearful and sad, but a hopeful and resolute man. I felt the weight of responsibility upon me, that I must be both father and mother of those orphaned little ones. I had faith in Providence and in myself, and when they woke I met them with a smile, and with kind words and a cheerful spirit. We all went resolutely to work according to our strength, and God blessed our labors." The memory of this night and the strength given from this prayer at the graves of his parents lived with Sam Dale in many later times of trial and danger.
DALE BECOMES AN INDIAN FIGHTER
In 1793 the Indians became restless and discontented at the advance of the whites. Captain Foote was authorized by the governor of Florida to organize a troop of horses for the protection of the frontier. Putting a steady man in his place on the farm, Sam Dale volunteered for service. After some months of scouting they were mustered into the United States service and ordered to Ft. Matthews on the Oconee, That year a first rate crop was made on the Dale farm and the income received, together with Dale's salary in the service, enabled Dale to pay more than half of the debt due on the farm. In the following year the farm debt was paid.
In 1794 the Creek Indians renewed their depredations, burning houses and driving off horses and cattle and the military company to which Sam Dale belonged was ordered out and followed the Indians to the Oke-fuskee village near the Chattahoochie River, crossed the river silently and got into the town just before daybreak just as the Indians, having taken the alarm, were rushing from their houses. Thirteen Indians were killed, ten captured and the village burned. Scouting in front of his company, on this occasion, Dale came upon an Indian lodge occupied by two warriors and shot one of them dead but the other jumped into the canebrake. A man named O'Neal who came up just then joined Dale in the pursuit of this Indian. The cane was very thick and the two white men wormed their way through the cane when the Indian fired and killed O'Neal. By this time the troops came up and began firing into the cane and imperiled Dale. He had to use the corpse of O'Neal to protect himself from his friends who could not see him. The Indian, not twenty feet away, but concealed in the cane, determined to attack Dale. As he glided through the cane towards Dale, as soon as he was visible, Dale fired but missed him. Before he could reload his rifle, the Indian was upon him with his knife at his throat and his hand in Dale's hair. At that moment a trooper fired and killed the Indian. This is just a sample of the many scenes of peril and times of danger. Many other scenes of even greater danger and horror confronted Dale in after time. He was a most valuable Indian scout fighter and guide in the Creek war.
(Continued)
1George H. Ethridge was born in Kemper County, Mississippi. He grew up in Rio, Mississippi and attended public schools in Kemper County, Mississippi and the Iron Springs Institute in Neshoba County, Mississippi and Linden Academy in Linden, Tennessee. He taught school for two years in Kemper and Lauderdale counties and then took up the study of law in the office of his cousin, W.N. Ethridge at Meridian, Mississippi. (Another cousin, J.M. McBeath, was also associated with the office.) He was admitted to the bar in 1896 and began the practice of law in Meridian, Mississippi. In 1898, Ethridge, in partnership with James Hector Currie, opened a law office in De Kalb, Mississippi. Two years later, Currie was elected district attorney and the partnership was dissolved. Ethridge continued his law practice in De Kalb until 1911, serving one term, 1904-1906 in the state legislature. Ethridge moved his law practice to Meridian and was appointed assistant attorney general in 1913 and held this position until 1917. He was elected as an Associate Justice of the Mississippi Supreme Court in 1916 and served on the Court until 1941.
Writings: George Hamilton Ethridge & Walter Nesbit Taylor (eds.), Mississipi: A History: A Narrative Historical Edition Preserving the Record of the Growth and Development of the State Together with Genealogical and Memorial Records of Its Prominent Families and Personages(Hopkinsville, Kentucky: The Historical Record Association, 1940?)(4 vols.) George H. Ethridge, Mississippi Constitutions (Jackson, Mississippi: The Tucker Printing House, 1928)(1930)
Ethridge was a member of the Masonic Order, and served as master of De Kalb Lodge, No. 64, having worked through the degrees in the Scottish Rite and holding membership in the Jackson Consistory.
2The Alabama Historical Quarterly, Vol. O7, No. 04, Winter Issue 1945
Who Controlled And Organized The New State of Alabama?
Tuscaloosa Had Three Other Names
Chandelier Falls & Capitol Burns
Alabama Throws Parties For General LaFayette
Francis Scott Key Was Sent to Alabama To Solve Problems