AN AUTOBIOGRAPHICAL SKETCH OF SAMUEL FORWOOD
PART I
HARFORD DEMOCRAT
BEL AIR, MARYLAND.
Friday Morning, May 11th , 1888.
AN AUTOBIOGRAPHICAL SKETCH OF SAMUEL FORWOOD
A Native of Harford County, Md., now a Resident of Gosport, Ala. Written for Preservation in the Archives of the Harford Historical Society.
READ BEFORE THE SOCIETY APRIL 28, 1888.
My name is Samuel Forwood. I was born May 7th, 1799, at my father's residence, on Deer Creek, on the plantation called "Spittle Craft" in Harford county, Maryland. My present residence is Gosport, Clarke county, Alabama.
Clarke County, Alabama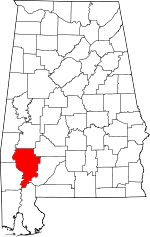 My father's name was John Forwood. He was born in Brandywine Hundred, New Castle county, State of Delaware, five miles north of the city of Wilmington, on April 1st, 1762. My mother's name was Hannah Forwood, a daughter of Samuel Forwood, a first cousin to my father. She was born October 6th, 1767, in Harford county, Maryland, on Deer Creek, about 6 miles east of Bel Air.
My grandfather, my father's father, was William Forwood, of New Castle county, State of Delaware. My grandfather on my mother's side was Samuel Forwood, of Harford county, State of Maryland. My grandfather, William Forwood, was born in 1723 and died in 1814, age 91 years. His wife, Sarah Clarke (or Clark) was born in 1731. I have not got the date of her decease. They were buried in a cemetery near where they resided. Of my grandfather, Samuel Forwood, and his wife, I have no date of their decease.
My mother died May 4th, 1829. My father died May 22d, 1835. They were married March 14th, 1785. They had fourteen children, ten of whom were raised to manhood and womanhood, seven of whom were boys, and three girls. Their names were Elizabeth, Wm., Robert, Jacob, Parker, Samuel, Jno., Mary, Julia Ann and Amor Tally, born in the order named. All married and left children except Amor.
I have been twice married. My first wife was Rachel Cooper Stump, daughter of William and Duckett Stump, of Harford county, near Darlington, Maryland. We were married at her father's residence, by the Rev. Wm. Stephenson, a Methodist minister, on April 6th, 1828. She died February 19, 1830, leaving an infant son, about three weeks old, who was raised by a foster mother, Mrs. Lavenia Johnson (daughter of Wm. Michael, wife of John Johnson), until about one year old. Afterwards his grandmother, Duckett Stump, took the charge of him. He is now Dr. William Stump Forwood, of Darlington, Harford county, Maryland.
In the fall of ———the death of my wife, I returned ——where I had previously resided——– to 1828. I remained a widower——— 1834. I was then married to ———-Martha Jane Morriss, of Clarke———-April 3, at her mother's resident———- Hamilton.
My wife's father——– a native of North Carolina. Alabama when she was quite young ———other was Elizabeth Armistead Carolina, a daughter of a Revolutionary soldier, who, at the age of 17 years, the battle of Monmouth with Gen. ———gton, and received a pension of $4. a year up to his decease, in 1842. He was wealthy, owning lands and negroes. He was buried at his late residence, in Clarke county, Ala. (Manuscript Mutilated)
My wife's father was supposed to have been killed by Indians, when passing through the Creek Nation. She had two brothers and one sister. Her sister, Rebecca, married Thomas Boroughs. Both are deceased. They left seven children. Two of their sons are physicians. Her brothers are also dead. Like myself, she is the only living representative of her generation.
I have stated that I had but one child by my first marriage, who is now, I am proud to say, your worthy fellow-citizen, of my old county, Harford, Dr. Wm. Stump Forwood. By my second marriage we have had ten children; only one daughter, the eldest, and she was accidentally killed while playing with her little brother, by a cotton bale falling upon her, when she was nine years old. We now have living four sons, all grown men, i.e., Henry Hays Forwood, born November 8, 1842; Samuel Henderson Forwood, born April 2, 1849. These were named for my two best friends, Col. H. H. B. Hays and William Henderson, late of Alabama. (both natives of Harford Co., Md.) The other two, Walter (born August 29, 1852,) and Franklin Pierce Forwood (born May 9, 1855,) were respectively named for Judge Walter Forwood, of Pittsburg, and President Pierce.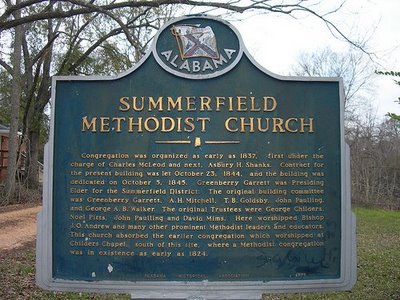 I sent all my children to good local teachers in this county, (Clarke,) and also sent Samuel and Walter to Summerfield Institute, near Selma, in Dallas Co., Ala. I sent Franklin to Howard College at Marion, Perry Co., Ala. Walter also graduated at the Commercial College in New Orleans. He is now Feb. 1888, residing in New Mexico.
Old Howard College at Perry County, Alabama (Alabama Department of Archives and History)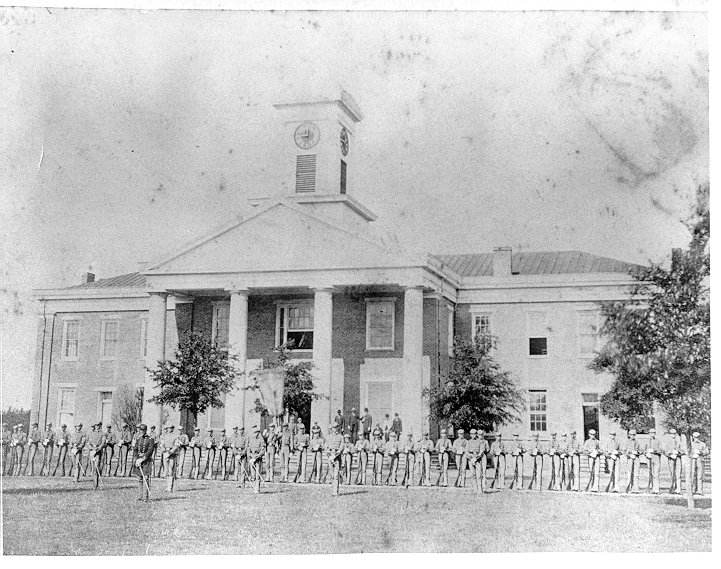 In my early life school teachers were of a common order, and were called "old field teachers" (probably from the location of their school houses.) When about six years old I was sent to school. The first teacher was John McLaughlin; the second, Edward Boarman; third, Vincent Hackett; fourth, Benj. McClaskey; fifth, John Fisher; sixth, Simon Gillispie; seventh, Vincent Hackett, again; eighth, Jacob Forwood, (my mother's brother); ninth, Samuel W. Lee, who boarded at my father's. He was the father of Josiah Lee, who was afterwards a successful banker in Baltimore; and lastly, the tenth, Michael McLaughlin, who was a fine penman.
Of these numerous teachers, I considered Fisher, Gillispie and Lee the best. The different locations of the schools were at the Union Cross Roads, the Trappe, Boarman's, Forwood's, Pyle's and Wm. Smithson's. Some of the pupils at the Union Cross Roads were the Scarboroughs, McCauslands, Silvers, Nevels, Lindsays, Montgomerys, Days, Coopers, Cavenders, Gailbreaths, Coxs, Barclays and Fosters; at the Trappe, Joseph Davis' children, Thomas Chew's, Joseph Hopkins', Robert Cover's, James Lee's, Bond's and many others that I have not named. At Boarman's were Benjamin Boarman, Robert, Edward, Louisa and Kittie Boarman, John Bennett and Austin Wheeler, Henry Wheeler, Christian Wheeler, Elizabeth Cover and others; at Pyle's, Ralph Pyle, of Wm., several of John and Isaac Pyle's children, Heaps', Ward's, and others; at Smithson's, William Smithson's children, Boarman's, Morgan's, Johnson's, Wheeler's, Green's and others, some thirty in all in each school. I was raised on a farm in Harford county, Maryland, and during the time I was not at school, worked at the various work incident to farming, at my father's, attending to business for him constantly until the winter of 1824. In that winter George S. Rigdon, a first cousin, and myself concluded to look at what was then called the "far West," and pay a visit to relatives there, and prospect the country in the State of Ohio. We started on horse-back, in the winter of 1824, as just stated. The weather was very cold. We took what was then called the Pennsylvania turnpike road, via Carlisle and Chambersburg, and crossed the Allegheny Mountains while it was raining on the east and snowing on the west side. We arrived at our aunt's, Mrs. Mary Preston's residence about Christmas. She resided near Pittsburg, in Washington county, Pa. We traveled at the rate of 40 miles per day, and stood the journey finely.
While there we visited Pittsburg, seeing the nail, glass and cotton factories; also visited Allegheny town, where the penitentiary was situated. At that time there was a heavy snow on the ground, and the snow was blackened with the soot from the chimneys of the various factories. I noticed many ladies wearing veils, to keep the black soot from their faces, as I was informed.
We remained at our aunt's several days, and one of their sons, John Preston, joined us when we left for Ohio. We went through some portion of West Virginia, and crossed the Ohio River at Stubenville; thence down the river to Belle Air, and thence by Mt. Pleasant and Barnesville. There we tarried some time with several of our cousins residing there. From there we went to Senacaville, and visited cousin Eli Rigdon, who was living there, and teaching school. Thence we went to Zanesville on the Muskingum river, and to Irville, where Mr. Coulter resided, within six miles of Columbus. His wife was a Preston, and a cousin of ours. We staid there some days. One of my cousins, Samuel F. Preston, was anxious for me to settle on a tract of land near him, but, owing to the condition of the country; no facilities for transportation of crops; wheat selling at l2 ½ cents and corn at 6 ¼ cents per bushel, I had no fancy for it. We returned home by way of the U. S. turnpike, (or "National Road,") by Fredericktown and Baltimore; arriving home in February, 1825, and there remaining until the fall of that year.
Inspired by actual people and historical events of colonial America, "The Kingdom of Accawmacke" is revealed and secrets about America's history are discovered in this well-researched series. The story begins in 17th century England during the reign of Charles I and continues a family's journey to the eastern shore of Virginia and Maryland.
REVIEWS
The exhilarating action & subplots keep the reader in constant anticipation. It is almost impossible to put the book down until completion, Dr. Don P. Brandon, Retired Professor, Anderson University, Anderson, Indiana
This is the first book I have read that puts a personal touch to some seemingly real people in factual events. Ladyhawk
Love books with strong women…this has one. Love early American history about ordinary people…even though they were not 'ordinary'…it took courage to populate our country. This book is well researched and well written. Julia Smith
A picture of love and history rolled into one. A step back in time that pulls you in and makes you a part of the family and their world. Ken Flessas
Each book's writing gets stronger, characters become real, the struggles and sorrows that laid the foundation for this country. Addictedtobooks
Not only is the story entertaining, it opens the eastern shore of the early Virginia Colony to the reader as a picture book….I know this story will touch many peoples' hearts. B. Thomas