Happy Birthday!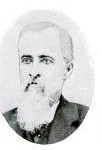 SHACK ELBERT JEMISON
BIOGRAPHY and GENEALOGY
(1861-aft. 1904)
Talladega County, Alabama
Shack Elbert Jemison was a planter and one of the largest land owners in Talladega county. He was born in the Talladega county on July 23, 1861. His paternal grandparents, Robert Jemison and Margaret (Mims) Jemison, were among the early settlers of Perry County, Alabama, where Shack Mims Jemison, the father of the subject of this sketch, was born. Later the family removed to Talladega, where parents and grandparents alike passed the rest of their lives.
Shack M. Jemison was a member of the Masonic fraternity. He married Mattie Groce, a native of Lincoln County, Georgia, and a daughter of Judge J. E. Groce, one of the pioneers of Talladega county.
Shack E. Jemison received a good education in the public schools, and, like his father and grandfather before him, adopted the life of a planter, although he was for some years a merchant in the town of Talladega, where he resided. He owned 3,000 acres of land, a portion of which was a part of the old homestead and was one of the most practical and progressive farmers in the county. His success was due largely to his sound judgment and correct business methods, which marked him out as one of the best businessmen in the city. Although he was a Democrat he was not an active politician and never been an aspirant for public office.
He was a member of the Knights of Pythias and held membership in no church. His wife, however, was a member of the Methodist Episcopal church, to which both of his parents belonged during their life-time. Mr. Jemison and Fannie Warren were united in marriage, Oct. 17, 1883. She was a native of Georgia and a daughter of William and Fannie (Sale) Lamar Warren. Five children were born to Mr. and Mrs. Jemison by 1904.
They were::
Mary Jemison,
Gertrude Jemison,
Shack Mims Jemison, deceased by 1904
Francis Jemison,
William Warren Jemison.
SOURCES
Notable Men of Alabama: Personal and Genealogical, Volume 1 edited by Joel Campbell DuBose, 1904
Find A Grave Memorial# 17710016 # 66454076 # 66453818 # 66453848
Start researching your family genealogy research in minutes. This Ebook has simple instructions on where to start. Download WHERE DO I START? Hints and Tips for Beginning Genealogists with On-line resources to your computer immediately with the FREE APP below and begin your research today!
A