STORY OF A WPA WORKER1
Written Feb. 15, 1939 by
Marie Reese
(Transcribed and unedited from original)
Personal Interview of Corrie Rogers (Colored)
Ex-CWA and WPA worker
Lowndesboro, Lowndes County, Alabama
Corrie was a small woman with straight black hair with a slight natural wave and keen black eyes. She was a gingerbread color and always was neat and clean in some plain but nicely made clothes. She was reared by her well-to-do colored parents and always made a good appearance, but the attractive print dresses were due to the fact that she had been on the Sewing Project of Lowndes County through the period of five years.
She lived at the north end of the village in what is known as the "colored" settlement, in a small three-room house that is so dilapidated she calls it a hut. It has been in existence possibly a hundred years and from its appearance, one would guess that two hundred was its age.
A few years ago a nice new room was added to the cabin when she and Pleas, her husband, came back to the paternal roof to live and care for the aged mother who had lost her eyesight and was completely helpless.
Husband got good wages but was a philander
Pleas was a short and thrifty farmer and got good wages. He was a good provider, and as the colored element expresses it, he had "plenty around him." He worked out for wages with a large white farmer nearby.
However, his hours "off duty" were spent at home making a garden and he raised a large number of fine hogs. They had nice milk cows and poultry in abundance. The appearance of the old cottage was almost forgotten then by the beautiful yard full of colorful annuals and the railings of the old porch was full of pretty bright geraniums growing in pots.
Corries by trade was an excellent washerwoman and took care of the wash of two or three families' clothes, so the earnings she received from these and the wages her husband got was sufficient to meet the living expense of the three and apparently things were running smoothly until the husband began to philander. The first time Mr. A. (his white boss) wanted him to remain on the farm to drench his best mule which was sick (?). The fine mules represented from $250 to $350 and their sickness was the occasion of considerable anxiety. The loss of one meant an immediate duplicate or lose the entire crop worked by it.
Corrie decided to investigate
A few nights passed and the colored philanderer claimed that his boss wanted him to remain late and weigh up the cotton picked that day. Soon he was sent after freight and the wagon broke causing another delay. Then the same excuses took the rounds the second time.
At last poor Corrie realized too many mules were getting sick and thought the boss must have a powerful unhealthy bunch and decided to make a tour of investigation. The result was that she found that her husband was sparking after a young Jane. The flashy young damsel took his eye and her helpmeet. Corrie without him had the full responsibility of her blind mother and could scarcely carry on her wash, so had to drop most of it. With the care of her mother and very little money coming in she was up against it.
The Welfare Department came to her assistance, gave her mother a monthly check and some groceries and Corrie got on the Sewing Project. However, she was beset with many difficulties. The center in which the work was done was located eight miles from her home and transportation was not provided and the poor woman had to make her daily trip there and back by foot.
Left blind mother wrapped in quilts
Long before light on the cold winter mornings she would get up and prepare the simple breakfast and dinner for her mother, milk and tie out the cows for the day and set out walking the long distance up road #80 to the sewing center. Before leaving and often by the light of the moon she had to whip affairs in shape for the day. Water, the midday meal and snuff box was placed on the table by the blind mother to serve her till Corrie returned long after the shadows fell.
She wrapped the mother in a bundle of quilts to pertect (sic) her from the cold during the long winter day, as she was afraid a fire might prove disastrous – maybe burn up the house and her mother within. She had several nearby neighbors of her color and I asked her if they would not be kind enough to lend a helping hand during her absence.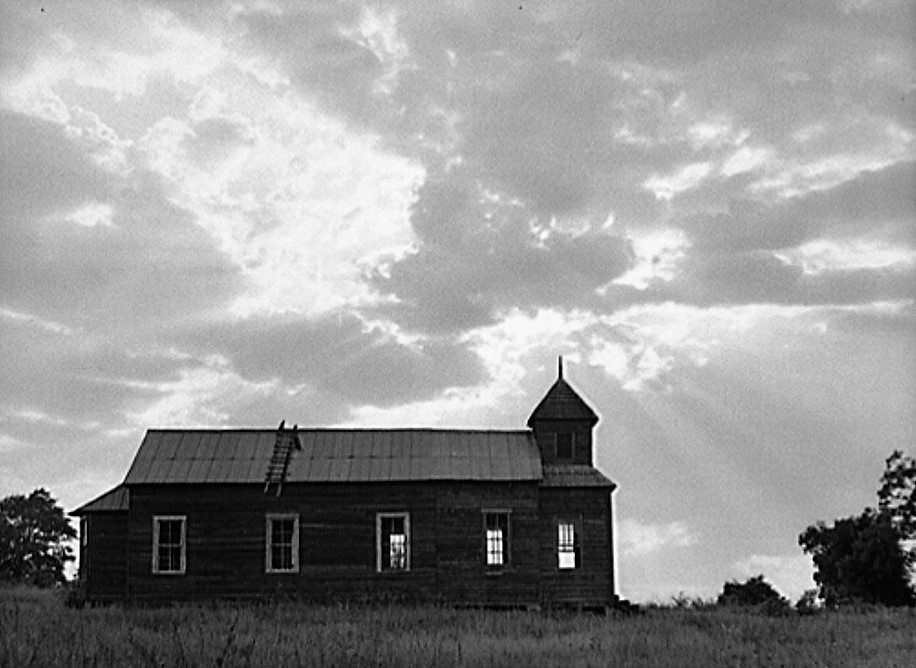 Church along Route No. 80 near Lounsboro, Alabama, 1939 photographer Jack Delano (Library of Congress)
Did not receive help from neighbors
She told me that they were mean niggers and were meddlesome. While she was away they would steal her chickens, pull up her flowers, either milk her cows or turn the cows and calves together so they would not give any milk that night when she came home and most often had to milk them by the light of the moon, in order to have something to help on the next day. And she said she could not afford to let them in, for they would steal inside and ruin her. They would stir up and discontent her mother, telling her she was locked as a jailbird and left alone to die.
She said they were jealous of her job and did all they could to dissatisfy her mother while she was away making the daily bread and she had to do this to turn the wolf from the door. That the money from "de 'oman over yonder" (The Welfare Director) – and will add that the Negroes in these environments put their faith and dependence on her as almost they do in the second coming of Christ – was enough to buy food and necessaries.
She was "hogtied"
Consequently, even under these almost unsurmountable (sic) difficulties and personal hardships she was forced to go. Another feature of the project which was a CWA one at that time, was a ruling that when one of these benefit checks for the aged or incapable was given out, if there was an able-bodied member in that family who suited the work of the project, he or she was put on it and that the worker received the pay less the check given the disabled one.
So Corrie told me she was "hogtied". They had to live, the older woman too old and totally blind, but she was able. The 'oman over yonder came over personally and over looked conditions and pronounced it a worthy case, but the daughter must work it out.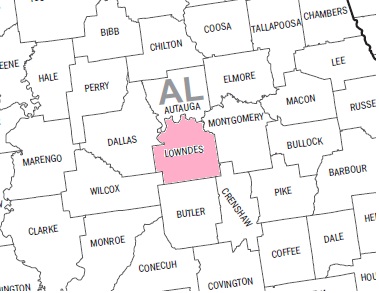 Brought up right
Corrie walked eight miles there and the same on her return, making sixteen miles, daily, all told. She put in eight hours sewing per day and in event she was late she was docked. If she was docked too many mornings and too many hours it showed either that they were lazy and did not deserve the work or it was impossible to reach it and they were fired! She told me that sometimes she could catch a ride but not often, and she did not like to do this for even if she was dark in color, she'd been brought up right and had white ideas and principals.
The men who usually offered to pick her up were fresh and often drinking and she thought too much of herself to ride with liquor and God had given her feets (sic) to walk and she would use them. She said they could tell her she was a widow woman and if she was a "quit-widow", they always put blame on the woman and thought she wanted to spark after them.
"I'm colored," she continued, "but Corrie is going to hold myself up, and I ain't going to give another no chance. I will tell you, you can't count on men – tricky is not the first name. Look at me. I was gingerbread color; black wavy hair, always neat and clean and always put that nigger between two sheets to sleep. Some niggers was unacquainted with a clean sheet. I went to State Normal Training School.
"We had our little paid-for home when he married me and all he had to do was walk in and put his feet under the eatin' table. But believe me that was not enough. He swapped me off when that black gal stepped between us and she was too lazy to wash a pocket handkerchief.
"You can't put your hands on mens. They are like fleas. They hop and hop from one place to another. I got book-learning and I soon caught on. Too many mules got sick on that place and I will five my(ex) "sperience to all 'wimminkind'. When their helpmeets keeps giving 'scuses, put it down they 'wells as to' begin work in single harness and accept themselves as quit-widows. So that's why I let the cars and trucks well on and hot foot it to the Center. So the days, weeks and months passed and the lone figure could be seen in the gray light of dawn trudging on road #80 to the small cabin which was where the unit met and worked.
The job at the Sewing Center
This could be organized if there were as many as five eligibles (sic) and was accessible to as many more as desired. The hours were from 8 A. M. to 4 P. M. and for their work they drew $9.50 twice monthly if they put in full time. The work consisted of making quilts, print dresses for women and children and some undergarments of outing. Also sheets and pillow cases were made by the sewers. Some of the work was done on machine and some by hand. The garments and articles made were sent to the Welfare Department at the County seat and they were distributed among those who were on relief together with the grocery (?) commodities. The unit upon which she worked was one of the many which were stationed at different points over the county and was overlooked by an efficient supervisor. (white of course)
Another ruling later was that all the units of centers had to be consolidated and located at the county seat. A considerable number of the workers were weeded out. Some due to being incapable – suitable to the hoe rather than the needle – while the distance eliminated others (Then the WPA)
Death soon visited
From 35 to 40 Negroes composed this center with a white cutter. Corrie hung on with bull dog tenacity, and had to cover the same mileage in another direction. The lone figure was seen making the eight miles daily. Soon a visitor entered the hut that no lock and key could keep out. Death entered and carried the blind woman to the other side. This changed the affairs of Corrie. She still hung on, but providence had released from responsibilities and she thought the checks now without strings, would never end.
The old blind woman was put away in an expensive vault and casket (on time). The dealer took a chance. Corrie nailed up her house, disposed of her livestock and settled herself in a room and light housekeeping in Hayneville near her work. As a result of bad management, her check was spent ere it was made. This time the strings were held by the small town delicatessen owner.
Food became a problem
She said when she returned from her hours that her groceries had "swunk" up and she was continually buying more. The parties who rented her a room, she noticed, bought less. For noontime lunch she bought cheese, cream cones and delicate nicknacks. These were not filling, but ate a big hole in her money. She boasted that she was the best dressed woman on the job. All silk from head to toe. The "peoples" back home were jealous because they could not "get on" and "I'll show them something to be jealous for. I will show that nigger what he missed by 'serting me for the black gal." But alas the WPA closed the project!
Corrie went back to the house
Corrie had to come home and unnail the house. Out of work, no money saved and a tremendous funeral bill facing her and she can't live off "silk from head to toe" memories. She says the project closed two years ago and she hasn't made a penny since. Claims she has no work, no money and nothing around her, not eve a cat or dog and is in need . Says she has appealed to the 'oman over yonder till she is disenheartened.
Prior to statehood, Alabama was a vast wilderness with a large Native American population. It is only natural that when new immigrants from other states arrived, conflicts over the land would arise. Soon, these small conflicts exploded into war.
Alabama Footprints Confrontation is a collection of lost and forgotten stories that reveals why and how the confrontation between the Native American population and settlers developed into the Creek-Indian War as well as stories of the bravery and heroism of participants from both sides.
Some stores include:
Tecumseh Causes Earthquake
Terrified Settlers Abandon Farms
Survivor Stories From Fort Mims Massacre
Hillabee Massacre
Threat of Starvation Men Turn To Mutiny
Red Eagle After The War