"SCRAPS"
RELATING TO THE EARLY HISTORY OF LIMESTONE COUNTY
By Thomas Smith Malone
The Athens Post, March 7, 1867.
Page 2, Column 3.
Part I
In the year 1763; the English and French Governments formed a treaty by which this section of the country fell to the former, and was knowns as the Illinois Territory. In 1786, this country was ceded to the United States, and in 1798, the then President, John Adams, organized it into a Territory, and named it the Mississippi Territory, and appointed Winthrop Sargent its first Governor.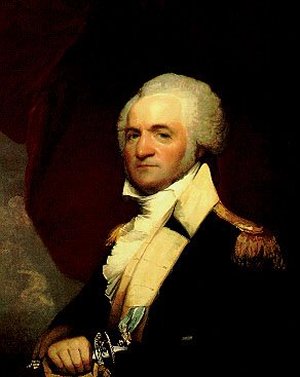 Dissatisfied with Governor Sargent
The citizens of this extensive Territory, becoming dissatisfied with Governor Sargent, President Thomas Jefferson removed him, and appointed Wm. C. C. Claiborne Governor, who proved able, efficient and reliable. He was from one of the most talented and distinguished families of Virginia.
At this time, 1802, there were no white citizens in this country, it being occupied mainly by Chickasaw Indians, with a light sprinkle of Choctaws, Cherokees and Creeks.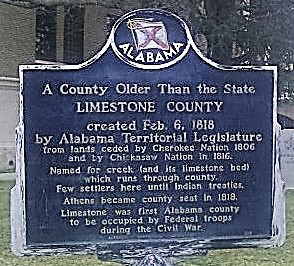 Mr. John Craig encamped on the hill-side
Two years previously, to wit, in 1800, Mr. John Craig, with his family, consisting mainly of sons, visited this place (Athens), and encamped on the hill-side above the Big Spring, about where Judge McClellans residence now stands, as was pointed out to the writer many years ago by Mr. Craig himself. Mr. Craig only remained three days here, not liking the temper of the Indians, as manifested by their maneuvers; he broke camp, and returned to Tennessee.
At this time an angry dispute arose between the United States Government and the authorities of Georgia, as to the ownership of all the Territory between latitude thirty-one degrees and thirty-five degrees embracing this section and was carried on till April 1803, when commissioners were appointed, who agreed that the United States should have it by paying Georgia $1,250,000. The commissioners on the part of the United States where Albert Gallatin, James Madison, and Levi Lincoln; on the part of Georgia, James Jackson, Abraham Baldwin and John Milledge.
Many immigrants from Knoxville
Imigrants began now to pour into the Northern portion of the Mississippi Territory, from Virginia, Tennessee and North Carolina. The Most of them came by way of Knoxville, down the Tennessee river, in flat-boats, to the head of the Muscle Shoals, and these counseling with one Colbert, wended their way further South. The first company, coming thus, consisted Thomas Malone, their leader, and John and Wm. Murrel, and families, James Moore, Goodway Myrick, George Norsworthy, Robert Caller and John Houston, and about sixty negroes. These all desired to settle about and below Tuscumbia, but were persuaded to push on South, which they did, and ultimately found homes on the distant Alabama, and Tombigbee rivers.