Dr Jack Shackelford, a pioneer of Alabama, moved to Shelby County, Alabama in 1818 after he served in the War of 1812 on Andrew Jackson's staff. He had been wounded at Charleston.
Shackelford purchased a cotton plantation in Shelby County and served in the Alabama State Senate three times, 1822, 1823, and 1824.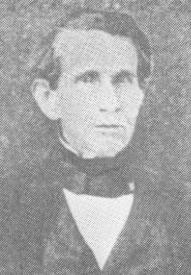 Dr. Jack Shackleford (Wikipedia)
Cousin's business failed
Dr. Shackelford had a cousin who was struggling to keep his business afloat.  Shackelford's plantation was placed as surety but had to be sold when his cousin's business failed. In 1829, Shackelford moved to Courtland, Alabama when he was appointed to head the United States Land Office in Courtland. When the Texas Revolution broke out, Dr. Shackelford recruited volunteers for the cause in the fall of 1835. The company was organized at Courtland and given the name Red Rovers because of the red jeans they wore. The company served under Col. Fannin in Texas and most of the company was wiped out in a bloody battle. Shackelford's account is perhaps the best original record of the massacre. The county of Shackelford, Texas was named after this Alabama pioneer.
Captain Shackelford's Company of Alabama Red Rovers is a Texas-based group of Texas Revolution Living Historians and Reenactors who honor this hero.
Part I
Excerpt Transcribed from The Alabama Historical Quarterly, Vol. 18, No. 03, Fall Issue 1956
Some compiled data referable to the Company of Tennessee Valley men who served in the Texas War with Mexico as a part of Col Fannin's outfit.
(This gentleman arrived in Courtland, his place of residence, on Saturday last, from Texas, amidst the rejoicings of his numerous friends. On yesterday, the 12th inst., a public dinner was given him by the citizens of Courtland, which was very numerously attended and unusually interesting. We did not arrive there in time to hear the addresses, &c, that were delivered, but shall lay them before our readers next week. The Doctor fully confirms the accounts already published relative to the massacre of Col. Fanning and his men. He is in fine health and good spirits.-) Morgan Observer.
THE RED ROVERS
To the Editors of the North Alabamian.
Sirs:-As every thing in relation to the fall of this gallant though unfortunate little band, will be acceptable to their friends, I have made out a list below (from memory) of those who were absent during the engagement, those who were killed and wounded in action, those who escaped the massacre, and those who were massacred. I intend in a short time to give a full account of the battle, and will then speak of the whole corps engaged.
At the time of the attack, we were in an open prairie, drawn up in a hollow square, numbering about two hundred and seventy-five effective men. The force of the enemy must have been at least five hundred cavalry and fifteen hundred infantry –that with this disparity of force we fought about three hours repelling charge after charge, and mowing down large numbers of the enemy in every attempt made upon our lines, until they were finally driven from the contest and compelled to take refuge in the very timber we had endeavored to reach ourselves.
Our whole loss was seven killed and between forty and fifty wounded, some mortally. I have frequently been asked why we did not retreat that night? In answer to this inquiry, I will remark that the night was dark and gloomy, that we had no way of taking off our wounded, except upon our backs, and that we were determined never to abandon them to the mercy of the enemy. In addition to this, we had repelled every charge made on us, and compelled our enemy to seek safety in retreat, and we anxiously looked for a reinforcement in the morning, when we expected to consummate our victory.
The fatal morning however arrived, and instead of being reinforced ourselves, the enemy received a large accession of their force, and opened upon us a piece of artillery. We were suffering greatly for the want of water, and there was no alternative left us but to abandon our wounded and cut our way thro' the enemy, or to make an honorable capitulation. A flag was sent out and promptly met by the enemy, who offered the following terms:
1st. That we should be received as prisoners of war, and treated with every mark of kindness which is extended to prisoners, by the most cultivated nations of the world.
2d. That private property should in every instance be respected, and that the arms of the officers should be given up to them upon their exchange of parole.
3d, That the prisoners should be exchanged or sent to the United States upon their parole, as soon as a conveyance could be procured. This was signed in the most formal manner, and the most solemn assurances given, that it would be scrupulously observed.— The bloody massacre which followed, will show how far confidence can be reposed in the honor of a Mexican officer.
Life was spared
My life was spared, not from any feeling of humanity towards me, but from a necessity for my services in their Hospital; the same may be said of Drs. Barnard and Field. I was detained at La Bahia (Goliad) for about four weeks, where my sufferings were almost insupportable, and then sent to St. Antonio, in company with Dr. Bernard, to visit their wounded at that place, who had been very badly attended to. We remained there, being required to attend their Hospital, until all their force (but one company) had commenced their retreat. We then procured horses and other means, through the assistance of some confidential friends, and made off, passing the Mexican army in the night.
Whilst at St. Antonio, I take much pleasure in stating, that I was treated with great kindness by a majority of the Mexican officers, and by the citizens generally–that I frequently heard the massacre of Fannin's army spoken of. The officers declared the bloody order emanated from Santa Anna, that it was in violation of a solemn capitulation and in opposition to the advice of nearly all the field officers.
In addition to the fate of the Red Rovers, I will here mention two gallant young men who were attached to Col. Fannin's Staff, John L. Brooks, and Chadwick. They were both highly gifted young men, and had received a military education. Brooks was a native of one of the upper counties in Virginia, and Chadwick of the State of New Hampshire – though for the last few years a resident of Illinois: the former received a wound during the engagement. They both shared the fate of many other gallant spirits.
(Here follows a list of the names of a part of Fannin's men, which we omit for want of room.)
JACK SHACKLEFORD
Copied this May 4, 1936 Late Captain Red Rovers.
List of the Company of Red Rovers, who served from 19th June to 29th, February, 1836:
Captain —–Jack Shackelford
1st Lieut —–F. S. Early
2nd Lieut —–W. C. Francis
1st Searg —– F. S. Shackelford
2nd Searg —–J. D. Hamilton
3rd Searg —– A. G. Faley
4th Searg —– Z. H. Short
PRIVATES
H. H. Bentley,
J. H. Batsley,
P. H. Anderson,
B. F. Burts,
J. N. Barnhill,
Harvey Cox,
J. G. Coe,
Wm. E. Vaughn,
Robert Wilson,
Wm. Quinn,
Henry L. Douglas,
Dr. J. H. Burnard,
Simpson Tennant,
Milton Irish,
H. B. Day,
J. W. Duncan,
J. E. Ellis,
Rob't Fenner,
James Furguson,
D. Gamble,
J. H. Grimes,
John Heser,
H. W. Jones,
Dan'l A. Murdock,
Chas. McKenley,
D. Moore,
A. Winter,
Jos. Blackwell,
Thos. Burlridge,
J. W. Cain,
Seth Clark,
Alfred Darsey,
James Vaughn,
James Welder,
Wm. C. Douglas,
G. W. Brooks,
Thos. Cartwell,
Silas Dewitt,
G. L. Davis,
A. Dickson,
R. T. Davidson,
Samuel Farney,
E. B. Franklin,
M. C. Gurner,
Wm. Gunter,
Wm. Hemphill,
John Jackson,
Jno. N. Jackson,
John Kelly,
J. H. Millen,
J. M. Stuyton or Senyton,
W. J. Shackelford,
W. F. Savage,
Wm. Bawhay,
James Farmer,
B. Strunts,
Z. L. Brooks,
D. Cooper,
Seth Connor,
E. Simpson.
Any of the above persons, or their proper heirs, who have not received pay, can do so by application and proof of identity.
By an Act, 9th February, 1850, a married man can get a League of Land, (4,605 acres,) and 640 acres;—a single man 1,476 and 640 acres; also, $8 per month, in cash. Application must be made previous to 1st August, 1858, or they will be forever barred.—
Jas. V. A. Hinds,
Com. of Deeds, &c., for Texas,
Huntsville, Alabama. Huntsville,
March 5th, 1857.
Notices of Captain Jack Shackleford and Red Rovers, in Southern Advocate.
December 29, 1835.
May 3, 1836.
May 17, 1836.
July 19, 1836.
Notices of Wyatt's Company in Southern Advocate.
January 12, 1836.
January 19, 1836.
March 22, 1836.
Holland's account of battle of Coleto in Southern Advocate. May 31, 1836.
Letter of thanks to Col. Bradly Cox for and to Texans— Southern Advocate. June 7, 1836.
Appearing the Democrat.
Texas Volunteers, Wyatt's Company, Nov. 11, 1835.
Wyatt's Company, Jan. 13, 1836. Mentioned three times in this issue.
Wyatt's Company, Jan. 7, 1836.
Poem on The Fall of the Red Rovers.—Democrat, Dec. 8, 1847. p.3.