SHOES FULL OF TACKS
Interview of George Chambers
by
Preston Klein
Lee County
Ex-slave story
written 10/7/371
"Uncle George" (George Chambers) was hoeing in his little garden when I went to his house and said he was glad to sit down and talk to me for he was tired and hot. Uncle George is very feeble and can't hold out long at the time.
"Yes'am, I'se gittin' er' long now, I'se eighty-three," he said. "I was born seven miles below Salem, Alabama on March
25, 1854. My maw and paw was Violet and Abraham Chambers. Dey b'longed ter Mr. Abraham Chambers ub Motts Mill, south er us. I had one sister Mary and one brother George to live. My Gran'pa belonged to Mr. Tommie Ward, eight miles from us.
"I was big enough to hoe cotton and de garden. I drive cows and calves in slavery time and fotch water.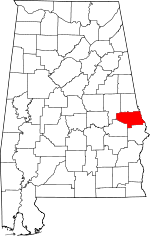 Lee County, Alabama
Who got there first
"Massa's house was a fine big white one, wid a long hall and four big rooms. Hit was weather-boarded but uses houses was a one-room log cabin wid de bed alongside de wall. Ever' body cooked on de fireplaces den, wan't no stoves.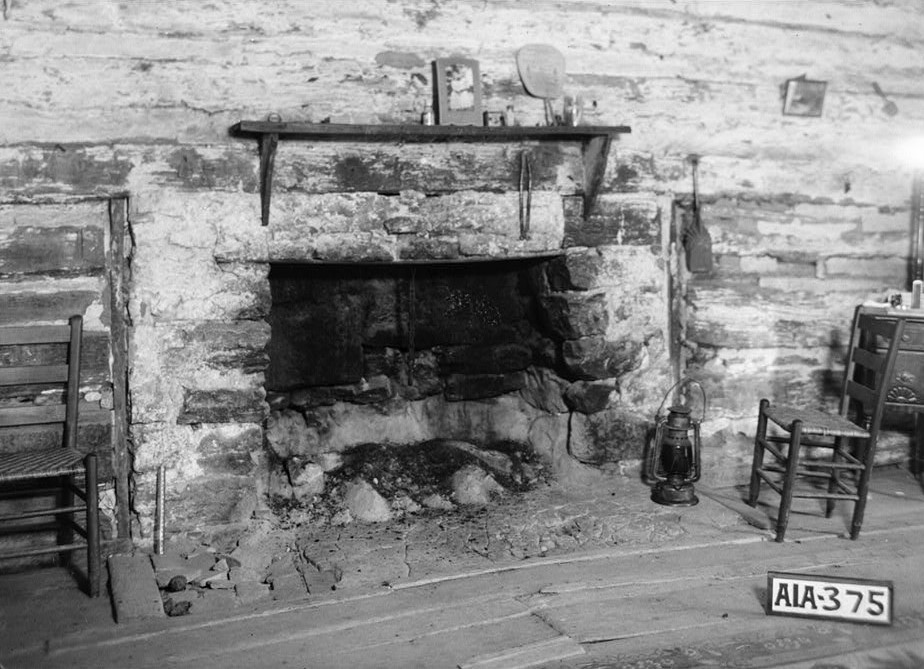 Typical fireplace in Old Slave House 1935 by photographer Alex Bush (Library of Congress)
"My old Mistess got a big pan put in de yard with potlicker and ash-cake and us got 'roun' hit and et and hit was "who shall, and who shan't, who got dare fust."
Us was called shirt-tale fellows and dey was made at home and hung below our knees, outer orsanburg. Us had shoemakers too what killed cows and tanned de leather and when de seven months crop was laid by, de shoemaker made a pair shoes around. Fust I ever had was just as full of tacks and pegs as could be, but I had to have dem shoes, I was so skeered somebody'd show git 'em of you left dem out, so I slept wid dem.
Patrollers'd show git you iffen you was bad, but I could always run lak a rabbit."
Night Frolics and Jubilee
"Marse Johnnie Rullerford died two years 'fore de war started, but us lived wid Miss Lucy still. They had one boy to go to war. T'other chillun was, Elizabeth, Candy, Ida, Mattie, Hun, and Johnnie. Us had a colored man for overseer and a mighty nice feller but a hour by sun us was in de field.
"Learn to read? Honey, you better read and write dem cotton rows. Us went to Concord to church in de evening, and Brother Scott Wade was de preacher.
"Whoopee, didn't us have good Sa'dd'y night frolics and jubilees. Some clap and some play de fiddle, and man, dey danced most all night. Cornshucking was 'nother big frolic. Pile corn high as a small house and have a jug of licker at each corner, and didn't dey pull dat pile of corn down and holler "Gallanip-er-horsefly and whoop it, whoo-ooo, whoo-oo," and couldn't dey holler hit.
"Young Massa had a big wedding 'fore us left. Iffen any of de slaves'd die, dey would have a big settin' up party and sing and pray and nounce benedictions, bury dem and go on.
"De little niggers all had big times. Dey played marbles, and, "Almost home so dey say, so dey say;"
"Swing Charlie." Iffen dey got sick dey used goat seed, a piece of gourd, buck-eye, oil, turpentine, and lobelia. Iffen dey was very sick got Dr. Floyd.
In the swamp with the horses
"De Yankees come and us heard de big guns way in Columbus, Ga. And seed de fire on Sunday night. I was on de swamp wid 'leven head of horses and some of Mistress' fine things from de house. Us worked two or three years 'fore dey told us we was free. Den dey giv' us a little money or so much crop and us stayed on.
"I married Frances Williams. A officer married us, Bill Adams. Slavery was bad times, you got a whippin' ever change. My conscious was condemned, iffen I go on way I'se going, I'd be lost, so I j'ined the church."
1During the 1930s, Great Depression era, many writers were employed to interview people and write stories about life in the United States. The program was named the U.S. Work Projects Administration, Federal Writers' Project and it gave employment to historians, teachers, writers, librarians, and other white-collar workers. This is a interview by Preston Klein, Lee County, of George Chambers written 10/7/1937
ALABAMA FOOTPRINTS Statehood: Lost & Forgotten Stories Once Alabama was admitted as a state of the United States of America on December 4, 1819, a great wave of immigrants from other states and countries came by flat-boats, pack-horses, covered wagons and ships to become the first citizens of the state.