(Men sometimes settled their differences with guns in early Alabama as this story reveals)
From The Weekly Iron Age, Birmingham, Alabama 5/21/1885
BY ONE BALL OUT OF A PISTOLFUL (sic)
William Bradley's Pop Makes a Flesh Wound in Henry Barnard's Shoulder—Barnard Does His Best with a Navy. But Fails to Hit—A Falling out with Deceptive Promises of Peace—Bradley Gives Bond to Stand Trial
First avenue was the scene of intense excitement Tuesday morning at half-past eleven o'clock, caused by a duel between Messrs. Henry Barnard and William M. Bradley, in which ten shots were exchanged.
1st Avenue Looking Eastward – by O. V. Hunt (William H. Brantley Collection Samford University)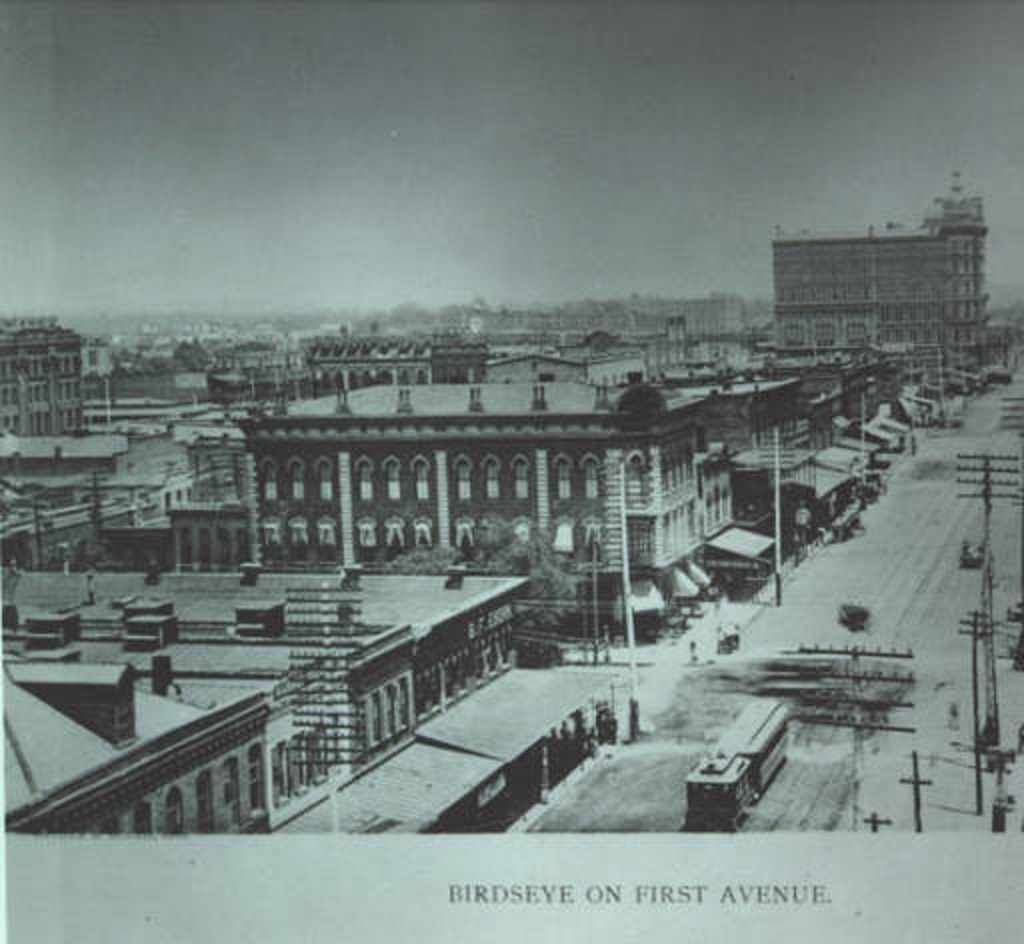 Bradley fired first
The shooting occurred at Barnard's billiard parlor. Mr. Barnard and Mr. Thomas Roberts were standing in the door of the parlor talking. Mr. R. H. Burwell was seated in front of the place on a beer keg.
Mr. Bradley came up the sidewalk from Nineteenth street and walked to where Mr. Barnard was standing. He said to him "I am fixed for you now." With this remark he pulled out a Smith & Wesson thirty-two calibre revolver and began to fire.
Mr. Barnard steeped into the billiard hall and was closely followed by Bradley. He stood erect a few feet from the door and faced Bradley. As he die so Bradley took deliberate aim at his forehead and fired. The ball went whizzing through his hat, barely missing his head.
Barnard used a navy revolver
When the shot was fired Barnard leaned to one side and grasped a large navy revolver he had behind the counter. As he reached for it Bradley fired and the ball passed through his shoulder.
Barnard raised the revolver with both hands to take aim and Bradley knocked the weapon up, causing the shot to pass through the transom light, rapid firing on both sides followed.
1st Avenue today viewing north (Zillow.com)
Shots hit S. Wise & Co's saloon
Bradley finding it too hot for him retreated to the sidewalk, closely followed by Barnard who, in trying to cock his revolver, shot into the lower portion of the front window. As soon as he fired Bradley, who had backed to the front door of Wise's saloon, fired again. When he did so Barnard tried to take deliberate aim, but his wound pained him so much that he staggered as he leaned to one side, his pistol sent a ball crashing through a hinge on the door of Messrs. S. Wise & Co's saloon above the head of his enemy.
Bradley then opened his revolver to see if he had another shot. Seeing that he did not he hurled the weapon at the head of Barnard, missing him.
Doctors summoned
Barnard staggered into the billiard hall and was taken to his room. Doctors Nail and Luckie were summoned. The wound was painful and not serious. The ball passed through the fleshy portion of the right shoulder.
Mr. Bradly was arrested by Marshal Gafford. He was placed under a $1000 bond under a warrant sworn out for assault with intent to kill. Messrs. W. D. Green and H. W. Young were the bondsmen. The prisoner was released.
Difficulty started a few days earlier
The origin of the difficulty was last Saturday, when a misunderstanding arose between the two gentlemen which was thought to have been settled by the friends of both parties on Monday. Mr. Barnard was not expecting a difficulty and was not armed.
Both parties have many friends who regret exceedingly the encounter.