BRIEF HISTORY OF THE LaPLACE METHODIST CHURCH*1
By Mary DeBardeleben
Published in The Alabama Historical Quarterly, Vol. 18, No. 02, Summer Issue 1956
(Mary Christine DeBardeleben was born and reared in Macon County, at La Place, Alabama, now known as Shorter. She was the daughter of Rev. John F. DeBardeleben and Sara Rebecca Haden. Her mother having died in Mary's infancy, she was reared by her grandmother, Mrs. Elizabeth Haden, who with her husband Joseph Thomas Haden, was one of the early settlers in Macon County. Her family came from North Carolina, and his from Tennessee.
Mary joined the La Place Methodist Church when she was eleven years of age, and "grew up in it," so to speak. When a young teacher at Livingston, under Miss Julia Tutwiler, as President, she volunteered to go as a missionary to Japan, and went to Nashville, Tennessee, for preparation. However, becoming impressed with the need of Negro women and children for adequate training, she asked to be assigned to the home field instead of Japan and was sent by the women of the church to serve among the negroes in Augusta, Georgia. She served in this field seven years and was transferred by the women's organization to teach Bible at Oklahoma University, in the school of Religion. The remaining years of her active educational career were spent in religious work among college young people, except for a brief time as teacher of English at Shorter High School. She is now retired, living in the Shorter community where she serves the Methodist Church as a teacher of the Anti-Can't Class.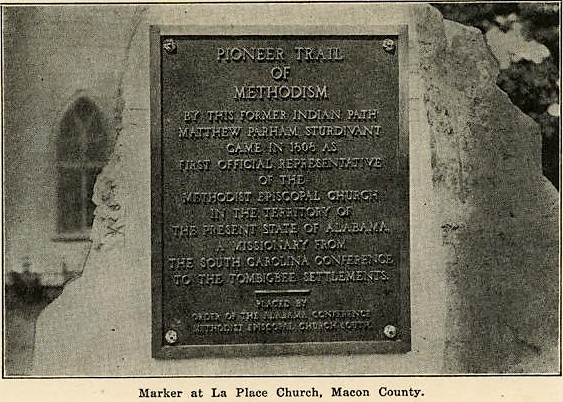 Marker at La Place Church ca. 1934 Macon County, Alabama. "The marker on the road East from Montgomery, United States Highway 80, State road Number 8, the Dixie-Overland Highway, at the La Place Methodist Church, is set on a boulder of Alabama marble. At this point on the road the present-day highway is coincident with the old Federal road established by the Indian Treaty in 1805, and over which went many of the early settlers into the Southwest Alabama country. This marker is the first of a series proposed by the Alabama Conference Historical Society of the Church. It was placed on May 21, 1935.(Alabama Department of Archives and History)
Oldest Methodist Society in Macon was organized in Howard home
Among those present at the celebration were Dr. F. A. Boswell of Elmore, Alabama, a grandson of Rev. John Boswell, also descendants of James Howard at whose home the oldest Methodist Society in Macon County was organized.
The Sermon of the day was delivered by Rev. W. J. DeBardeleben of Atlanta, Georgia, whose father was an early member of the La Place Congregation and was licensed to preach from this charge.) West's2 History of Alabama Methodism has this to say about the beginning of Methodism in this community.
Log Cabin built for a place of worship
"Tradition says that the Rev. John Boswell (1789-1853), he then being presiding elder of the Chattahootchie (sic) District, organized a (Methodist) Society in 1834 in the house of James Howard (1776-1856) at Gross Keys (now Shorter) about 16 miles west of Tuskegee and that a log house was built soon after the organization of that society for a place of worship." James Howard and family were members at Cross Keys, Miss Annette Howard of Tuskegee thinks that this Cross Keys Society is the oldest Methodist Society in Macon County.
As regards the building of the present house of worship Mrs. Judkins of our community thinks it was done in 1859, as a girl attending the old school at LaPlace, — its site on the hill yonder opposite the Church — she remembers the boys getting putty from the workmen here and bringing it in mischief to the girls at the school as chewing gum.
Formerly known as Paine Chapel
This Church was formerly known as Paine Chapel in honor of Bishop Paine.3 My mother speaking in reminiscent mood of these early days says: "I must have been 11 or 12 years old, (it must have been in 1866 or 1867 for it was not so long after my father moved back from the plantation to LaPlace, and he moved in November or December after the surrender in 1865) — I remember a portly, well-dressed gentleman sitting inside the alter (sic) rail, and some one said it was Bishop Paine." (He perhaps had come to dedicate the Church). "That same morning Mr. John Glenn, she continues, was ordained a local preacher. He was then a school teacher at Glenn's school house, near Neal's chapel then on the Tuskegee circuit, now known as the LaPlace circuit. Mr. John was father of Mrs. Jim Martin, Rev. Bascom Glenn of the Alabama Conference, also of Jerry and Capers Glenn of the S. Georgia Conference. Rev. Bascom Glenn of First Church, Pensacola and John Glenn of Ark. Conf. are two of his grandsons."
Early families
Early families connected with the church were the Howards, Trimbles, Walkers, Lightfoots, Judkins, Hardens, DeBardelebans,' Baileys, Williams, Bradfords, Swearingens, Hamiltons, Cambells, "Old Mr. and Mrs. Hamilton" says my mother, "were great grand-parents of our Mrs. John Hannon." She thinks they came direct from Scotland. They were parents of Mrs. Campbell, an active member of this church. Mr. John Hamilton of Montgomery is also one of their grandsons. Mr. Monroe Nicholson who married Tumpie (Eliza Marie) DeBardeleben (my father's own sister) was also a member. The Rev. Jim Boyd, a brother of Harry Boyd, was, my mother thinks, liscensed (sic) to preach from this church as was also my father. Of this last, she is not sure. Because, he, my father, was at one time a member of Union.
One of the families that has made the greatest contribution to the LaPlace Church (Payne Chapel as it was called in those early days) was the Lightfoot family. Its service has been continuous since the early founding of the Church. Captain Philip Lightfoot, as I dimly knew him in my early childhood was an earnest member and leader from the beginning: and his great love of the Church, his enthusiasm and talent for leadership seemed handed down to his son, Dr. John L. Lightfoot, a beloved and much respected physician. For many years Dr. John served untiringly as Sunday School Superintendent and steward. The torch of religious leadership then passed to his son, Dr. P. M. Lightfoot. Dr. Lightfoot, Jr., his son, served for years as Steward.
Anti Can't Class
In 1910 he organized a group of young people in the Church as the "Anti Can't Class." For forty-five years this class has lived and served not only the Church but the Community. It is today the most active group in the Church. Mrs. Steele Lightfoot Bibb, great granddaughter of Captain Philip, still carries the torch he lighted. She serves today as organist, Steward and worker, in the class her father organized.
My mother and my grandmother have both told me of a great revival here about 1867 or 1868. My mother says:
"When the Rev. B. B. Ross father of the noted chemist of Auburn; was preacher on this circuit, 1867 perhaps, there was a glorious revival at the church."
"Your mamma, papa, Uncle Billy DeBardeleben, quite a number of the larger boys and girls were converted at that time. Also Uncle Will Haden (Dr. Wm. Haden grandfather's brother) whose grand-son Will Cloud is now a member of the West Texas Conf. I know we used to have a very fine Sunday School. As good as any country church."
White fence around the church
Dr. Lightfoot and I were trying to recall how the church looked before it was remodeled years ago. There was a white fence around it with fancy-cut palings; two gates, two doors, and two distinct divisions inside. For Male and Female created he them and there must be no undue freedom of the sexes in those days. Of course, this did not prevent your best boy friend from making a race for it and sitting just across the partition from you. As I remember it, the church was a gloomy sort of place. As a little girl I would not have gone into it alone for worlds. There was supposed to be a "hant" under the back bench on the men's side, according to the information imparted in a sepulchral tone by my nurse.
Mrs. Fanny Boyd was church organist
Mrs. Fanny Boyd, mother of Harry Boyd and Mrs. Solomon Roberts (he by the way was a minister on this circuit and here found his bride) was the organist as far back as I can remember. Altho a Presbyterian since her church had no minister at the time, Mrs. Boyd gave her loyal devoted service to the Methodist. The song I most often associate with her is "The Rock that is Higher Than I"
I did not claim this church as mine when I was a little girl. My Baptist Aunt and Grandmother took me to their sunday school held regularly at the old Baptist Church in LaPlace. I remember, however, several of the men who preached there. They were often in our home. Most of them I remember – it is a shame to say it – with a childlike distaste on account of the long prayers and sermons through which I had to sit quietly or suffer the consequences on getting home. Old Brother Motley and Brother Smiley were two of these. Then there was old Brother Story, an interesting erratic revivalist before whom I quailed both for his stormy utterances and for his power with the Lord. Many interesting stories are told of Uncle Storey. One I remember hearing has, to do with a certain man we will call by the name of Steve. Uncle Storey had given the altar call. By fair means or foul he had about got personal. "Come on up here, Steve," he said. Still Steve sat unmoved. "I'll stop right here and pray the Lord to strike you dead." With that Steve moved. Later, on the outside of the church, a friend asked, "Why did you go up Steve?" "Why", he said, "I knew Uncle Storey was just fool enough to do what he said he would," replied Steve.
I stood in awe
Of dear old Brother Lewis Dowdell I stood in awe. Even while I loved him. I avoided him; for he was always enquiring into the state of my little girl's soul and insisting that I needed a shouting, happy conversion experience.
The year Brother Skipper (he married Miss Lou Martin some of you will remember) came to this charge, my father had just died and that same little girl's soul found expression for its love and loyalty by joining the church that father had served so unselfishly, so devotedly thru the years. I became a Methodist, and this became my church.
Brother Skipper was a live wire and during the revival he held that summer a number joined, among them the present Dr. Lightfoot, then a boy of sixteen and Addle Boyd whom we all knew as a member of this community: Another event that took place during Brother Skipper's term of service was a district conference. Didn't we turn things inside out and upside down to entertain such an illustrious gathering!
Grandest sermon I ever heard
Not since I could remember had there ever been such a gathering of the faithful. Dr. A. J. Lamar, I remember, was the star guest. He was entained (sic) in our home and he kissed me goodbye on leaving and he preached the grandest sermon I ever had heard up to that time. It was a missionary sermon. We know his connection with the Publishing house at Nashville and something of his great life of service of the Church at large.
Among other preachers who have served this work, men that stand out in my girlish memory are the guests we have with us this morning, the Rev. James M. Glenn, Rev. Chas. Motley, and Rev. Eugene Crawford, for many years secretary of the Ala. Conference and also a member of our Social Service commission with headquarters in Washington.
I can find account of only two funerals held in this church. Perhaps there were others. These are that of Mr. Willie Can and that of Mr:, Will Lamar.
Among the weddings I remember two: Those of Carribec Lightfoot and Percy Huffham and Lillian Boyd and Bob Haden. I am sure there were others but I do not now recall them.
1This paper was obviously presented at the hundredth anniversary of the founding of this church-August 19, 1934.
Stock up on reading material with my fictional series inspired by my ancestors,  the Alabama Cottingham family in Tapestry of Love and the
 (little-known) historical events in colonial America that affected their lives.
The first in the series

 

RIBBON OF LOVE: 2nd edition

 

 begins with their journey from England to the Eastern Shore of Virginia. 
The family story continues in the second series 

Discordance: The Cottinghams Vol

I

  

as the Cottingham family grow. This series will follow the Cottinghams on their path to Alabama.