Around the turn of the century, immigrants from many regions of the United States and from other countries began populating Baldwin County: Italians settled in Daphne, Scandinavians in Silverhill, Germans in Elberta, Poles in Summerdale, Greeks in Malbis Plantation, and Bohemians in Robertsdale, Summerdale, and Silverhill.
Bohemian Hall in Silver Hills ca. 1921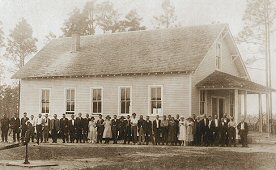 In the spring of 1896, work opportunities in the Chicago shops were rather scarce, and therefore the idea was conceived to try to improve one's condition by turning to country living and farming.
"To that end, Oscar Johansson [Johnson], J. Linden, [C.] Swanson, C. O. Carlson, and [C. A.] Vallentin met to discuss how to proceed. They decided to travel to the South to explore the possibilities of founding a Swedish colony.
First Baptist Church of Silverhills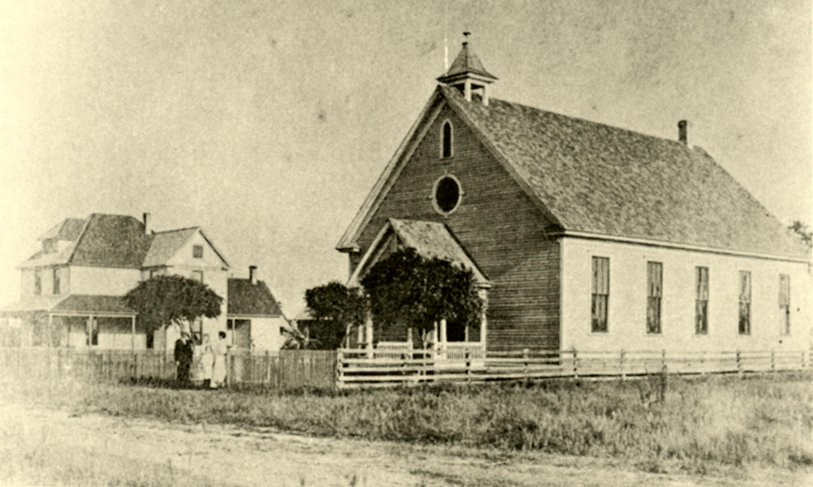 As of the 2010 census, Silverhill in Baldwin County, Alabama, had a population of only 706. Tradition states that the name of Silverhill was derived from the 'Hill' where people who worked in the Turpentine Still up on the hill, to the north of Silverhill. The workers were paid in silver money, hence the name Silverhill.
Oscar Johnson Memorial Library – Silverhill's 1st schoolhouse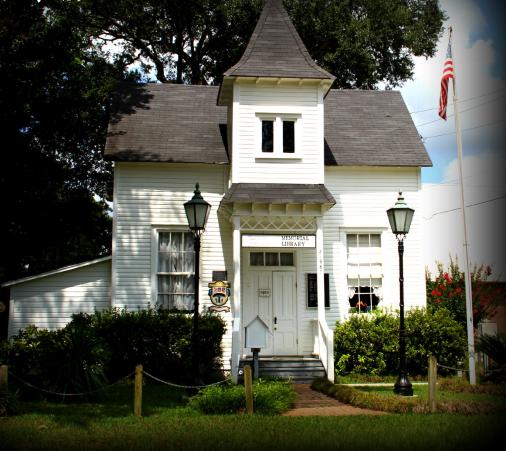 Though settlement of the area in Silverhill history dates back to before the Civil War, the Silverhill community of today was actually founded in 1897.
The Svea Land Company in Chicago, which advertised land for sale in Silverhill, was founded by Oscar Johnson. Land was acquired by purchase from a Mr. Harford, the first block of land being 1,500 acres, which was added to from time to time as the colonization work progressed. Scandinavian settlers came to Silverhill from virtually every state in the Union and began the development of what is now the Silverhill district.
Soldiers from Silverhill of five boys holding rifles dated Dec. 4, 1906
Alabama State Archives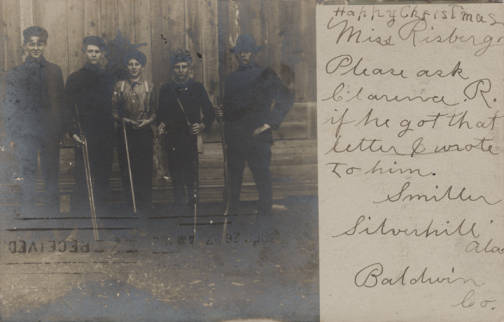 In 1909, the first Czechoslovakian settlers migrate to an area southwest of Silverhill to begin a Bohemian colony.
The Wales West Light Railway, a replica of a Welsh mountain railway, is located 5 miles southwest of town.
As you can see from the film below; Silverhill was once a thriving and busy town. Today, Silverhill maintains a small-town charm throughout decades of growth and development both within its town limits and in the surrounding areas. The People's Supply Store built in 1902, is now the bank. Silverhill's first schoolhouse built in 1898, is now their Town Library.
The founding of the Silverhill Colony has been recorded carefully preserved in the book, Memories Preserved, Scandinavians in Alabama. Vol. II. by Lilly Setterdahl.
Silverhill will have its annual Heritage Day Saturday, September 20, 2014 from 9:00 to 4:00. 
The numerous immigrants in Silverhill created problems for the local schools due to the different languages and large number of students.  This film will probably bring back many memories for former residents of Silverhill.