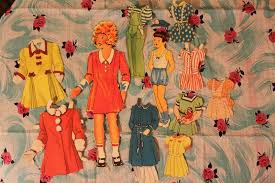 Christmas Memories of Orphan Annie and Dick Tracy
by
Inez McCollum
As I think back to Christmases shared by my parents, brother and I, the time seems almost like yesterday.  Yet, that was two generations ago!  Christmas was very exciting as my brother and I awoke to see what Santa had left beneath the tree.  One Christmas I got a new doll.  Since I  had a new one, my brother took a hammer and broke the china head of the old one.  His excuse was that he wanted to find the "crying box".  Of course the "crying box" was in the doll's chest, not its head.  The curiosity of this unseen part must have been eating at him for months.
Another Christmas, I got an Orphan Annie watch and my brother received a Dick Tracy watch. This was during the time other girls were getting Mickey Mouse watches and I have no idea what type boys were receiving.  I still have that watch on display in a domed container.  I have not heard of anyone having an Orphan Annie or Dick Tracy watch.
Dick Tracy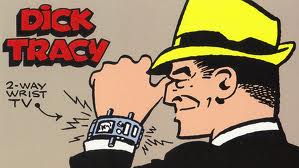 Fast forward to the time our sons were anxiously awaiting Christmas Morning.   One year, we had gone to my parents for the family Christmas and were returning to Birmingham on Christmas Eve.  It was a beautiful starlit night and my husband had the sons looking at the sky to see Santa as he flew across the heavens.  Another year, it seemed that they were attempting to demolish everything.  One by one, things were falling apart. There was no sister; so no doll with a china head!  Had there been, it would have met the same demise.
In our third generation, we were blessed with six grandchildren.  When they were toddlers, we would place some toys and at least one package of clothing under the tree.  My husband and I chose Christmas Eve as the time for our family celebration.  At the time of three grandchildren, Sam was a very busy little boy.  We passed the gifts around and Sam began to open his clothing package first.  That package went sailing across the room and a disappointed, sobbing little boy informed us he didn't want clothes; he wanted toys!  You can be sure the packages were stacked differently the next Christmas.
Another celebration is on New Years morning.  Any of our family who are in town meet us for breakfast at a restaurant. This extends family time one more day and is another joyful occasion.  Whatever your Christmas traditions, enjoy and be thankful for the time together.
Shop Amazon Gift Cards – Instant Delivery or Free One-Day Shipping
Check out all Alabama Pioneers books
Inez McCollum grew up in Etowah County.  Married Mack McCollum, a BI-vocational minister.  Moved to Birmingham to work while he worked and went to Howard College/Samford University.  Inez and Mack had three sons, Jay, Joe and John.  They bought their first home in what is now Hoover.  Inez continues to be active in Shades Mountain Baptist Church and some of the civic organizations in Hoover.  Inez also enjoys reading, travel and spending time with friends.