Holtville High School, Alabama
A school in the National & International spotlight (Continued below)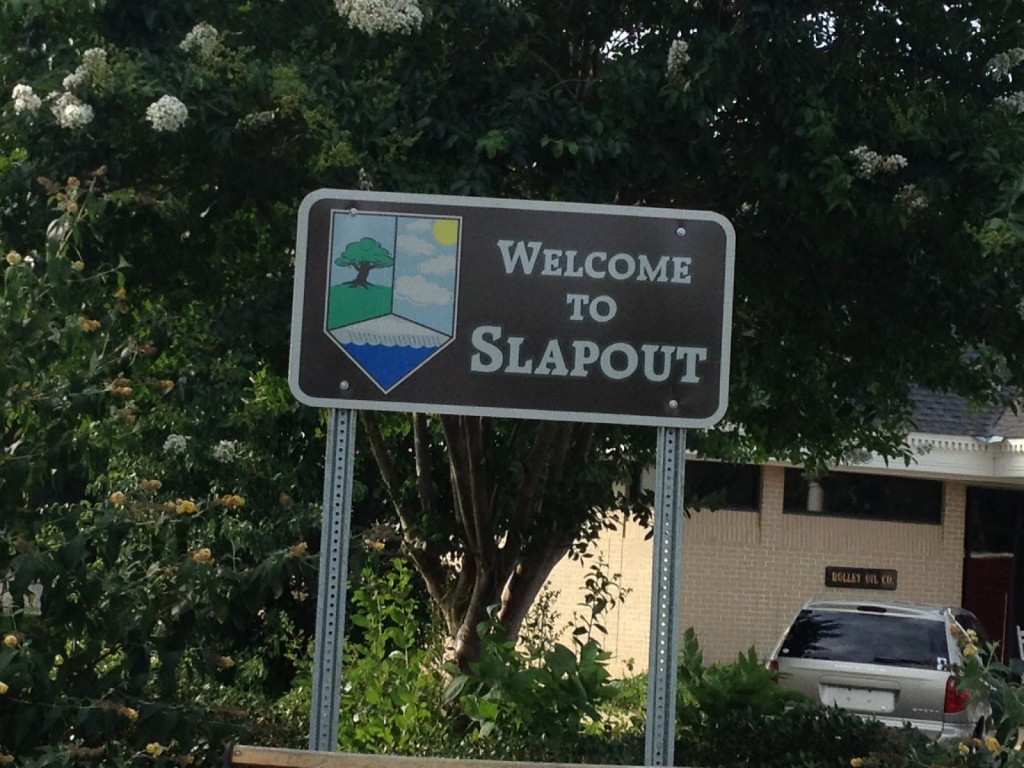 Holtville is 27 miles northwest of Montgomery, Alabama and is also called SlapOut by locals. There are many legends where the name Slap-Out came from; one being in reference to a once-popular song and a huge billboard announced that Slap-Out is "where most of the stars fell." Locals also relate that there was once a "sorry excuse for a store in the area," and the owner would answer whenever someone asked for something he did not have (which was often), "I'm slap out." Another, reason was that it was so far away that it was 'Slap-out in the middle of nowhere."
No Paved roads during the Great Depression
Seemingly out of place in the rural community stands a white stucco Spanish-styled school. During the Depression years, the school was the center of one of the most economically destitute counties in the state of Alabama.1 At the beginning of the Depression, there were no paved roads in the Holtville community, no telephones, no water system and no indoor toilets. There were only small farms on poor red clay.
"In that setting and in the World War II years, the Holtville school of approximately 500 students and faculty became one of the nation's most innovative and well-known progressive schools. Initially curricular and pedagogical changes at the Holtville school began hesitantly and without benefit of any different philosophy of education. Doing new things and new ways of doing old things were begun in response to specific and immediate needs, both in the school and in the community."2
Reader's Digest3 printed, "the surplus energy of young people has been harnessed into a powerful engine vital to the whole community." The Rotarian stated "there's a new spirit in Holtville ….the boys and girls…know it's a prosperous, upstanding community because they've made it that way themselves." Life4magazine published a four page spread on Holtville High School, labeling the school as a place that "has completely taken a lead in all community life by making the community a better, richer place in which to live." The federal government was so impressed with the program that the State Department's Office of Education filmed, "The Story of Holtville," translated it into twelve languages and marked it for distribution in twenty-two countries of Europe and South America as part of the United States Cultural and Information Program.5
It all started in the mid-1920s when a new school was needed at Holtville and the county superintendent of education along with the local board of education requested the counsel of the Alabama State Superintendent of Education, Dr. Arthur F. Harmon. An agreement was reached that indeed a new structure should be built. "Dr. Harmon then took his walking cane and in the sand traced out a design of a school he had seen and admired on a trip he had taken to California. Two architects were present and transferred the design to paper."6 The building was completed in 1929.
In the midst of run-down houses stood a pure white stucco school
Around the community of Holtville at the time were unpainted frame houses spotted with black where weather-beaten boards had rotted. Dirt yards were dusty and muddy when it rained.
In the midst of these run-down houses stood a pure white stucco school of Spanish design with a large central auditorium, arched windows and large front columns that extended with the breezeway leading to wings on either side; one wing for elementary students and the other wing for the high school. Both wings had small auditorium, similar to the main auditorium. The front of the building was decorated with brown and green tile. Such a beautiful building encouraged support of the community-school concept.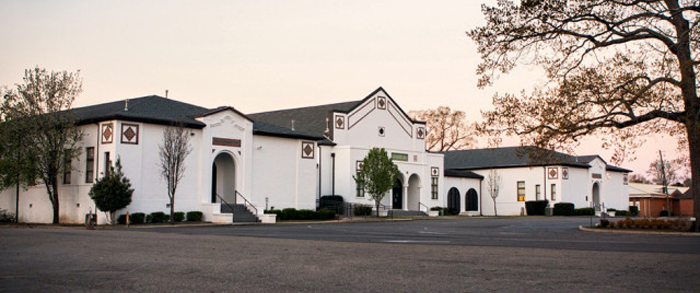 A year before completion, two men, James Chrietzberg, the principal and John Formby as vocation agricultural teacher played a pivotal role in developing the school as a progressive school.
The Holtville experiment focused on key factors of Life Adjustment Education such as community involvement in school affairs, a supervised program of work experience for most high school students and the importance of "functional experiences in the areas of practical arts, home and family life, health and physical fitness"7
John Formby was a recent graduate of Alabama Polytechnic Institute (now Auburn University). He conducted a community survey for needs and the need for a threshing machine stood out so the school applied and received a loan from the Farm Security Administration. A thresher was purchased for the vocational agriculture students who used the machine both as a learning machine and as a service to the farmers. A small fee was charged to the farmers to repay the loan and students learned, farmers profited and the schools made money to buy other equipment. The school not only became a center of activity for the community, it also became a major industry for the community.
Other Ways of learning for students
Local farmers were also loosing 25 per cent of the meat they slaughtered because of inadequate processing. The school built the first refrigeration plant, quick freeze room, and locker storage in the area.
Other ways of learning for students as well as working with the community included :
In one month, the boys would spray 5000 orchard trees with a school-owned power sprayer
Contour plowed 100 acres of farm land with 3 school-owned tractors
Hatch and sell over 3000 chicks from the school-owned hatchery
The girls ran a fully functioning cannery plant that had been scavenged from a defunct federal relief project and processed over 10,000 cans of meat, fruits and vegetables in a summer.
The school trained students and ran a school barber shop, beauty parlor, farm repair shop, print shop and electrical wire was done on contract
Science students developed, packaged, and marketed hand cream, tooth powder, corn and varnish remover.
A student-constructed bowling alley was run as well as an movie theater, and a student-run bank.
Funding was always needed for equipment and Holtville pressed beyond typical school and federal agencies to fund what they needed. The school initiated several projects jointly with the National Youth Administration. Aid was sought by the school from federal agricultural programs and loans obtained from the Federal Security Administration at 3 percent interest. US Senator Lister Hill had successfully introduced a bill in Congress that allowed Army surplus material to be donated to schools. Mr. Formby tried to get some vocational equipment but was repeatedly turned away. Finally, Senator Lister Hill intervened and he received four large tractor-trailer loads of equipment.
Some of which included:
a new crank shaft grinding machine
12 gas-driven electric welders,
14 electric-driven welders
an angledozer
bulldozer
ditching machine
2 draglines,
road patrol
a large tractor-trailer
"The spectacular result of such enterprising ways was a school that was able to make available to a poverty-stricken community the services of its youth, using equipment that was valued in the 1940s at one-half million dollars." In the 1930s, the Holtville school still had classroom tests, subject-centered teaching and a highly structured school schedule, but in 1938, the faculty initiated a broad-based curriculum reform. People in Holtville discovered that education could affect directly physical conditions and life-style of the community itself. By 1943, there were 119 different groups and activities, ranging from the traditional algebra and chemistry to the more non-traditional gardening, sewing and salesmanship groups.
School Day was organized to allow flexible scheduling
The school day was organized around four, ninety-minute blocks which lasted long enough to allow flexible scheduling of individual programs. Each day the student planned specific activities for those blocks to meet both intermediate as well as long-term goals. Home room teachers examined each student's plans to ensure he had a balanced day, some indoor work, some outdoor work; study time, group time, individual work; and time for service an personal goals.
Students completed a written self-evaluation approximately every six weeks. "This report included a statement of aims in terms of personality growth, social learning and academics along with an itemized account of accomplishments. The report was included in a folder containing samples of the student's work, and a detailed written evaluation of the student by the teachers. The folder was shared with the parents who were themselves encouraged to enter comments. Further provisions were made for program and faculty evaluations by the students…. Discussing that era, Blake Clark notes that "a comparative record of Alabama high school graduates in various colleges shows that Holtville High boys and girls were first one year, and always rank in the top quarter." Further, Mr. Chrietzberg reported that standard achievement and ability test scores were unaffected by the switch to progressive techniques.8
Fire destroyed vocational equipment and buildings
Sadly, a devastating fire in 1945 destroyed much of the vocational equipment and buildings and another fire and the school had no insurance. In 1949, another fire caused $250,000 worth of damage. In addition, key personnel that supported progressive programs left the State Department of Education in the 1950's and a new State Course of Study was written reflecting an extremely conservative philosophy education. "By the time Mr. Chrietzberg retired in 1959, the school he had led to national acclaim and notoriety for its radical innovations had settled into a rather conventional mode with a fairly conservative curriculum.
The Holtville school still stands and part of the Elmore County School System. It is a functioning high school today and the building has been added to the Alabama Register of Landmarks and Heritage.
The mission statement below of the school still denotes its continued partnership with the local community during its time in the national and international spotlight.
The mission of Holtville High School, in partnership with parents and the community, is to provide an education that encourages each student to increase abilities, enhance self-esteem, and develop responsibility and mutual respect in a safe, structured environment which promotes academic and social development.
In 2013 the school was recognized as one of only six schools in Alabama as a National Blue Ribbon School. The National Blue Ribbon program recognizes public and private elementary, middle, and high schools where students perform at very high levels or where significant improvements are being made in students' academic achievement. A National Blue Ribbon Schools flag overhead has become a mark of excellence in education recognized by everyone from parents to policy-makers in thousands of communities
Vinegar of the Four Thieves was a recipe that was known for its antibacterial, antiviral, antiseptic and antifungal properties for years. It was even used to cure the Bubonic Plague. See Thomas Jefferson's recipe in

VINEGAR OF THE FOUR THIEVES: Recipes & curious tips from the past