Small Churches I have loved
by
Joyce Ray Wheeler
Lowndesboro Baptist Church, Lowndesboro, Alabama ca. 1888 – with two doors for men and women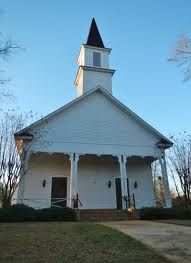 There have been three of them. The first little church (in rural Kentucky) I attended with my parents from my birth in 1926 until I left home for college. The second one was in Tallahassee, Florida, where my young husband was employed as a mathematics and statistics professor at Florida State University. My third small church was in Vestavia, Alabama.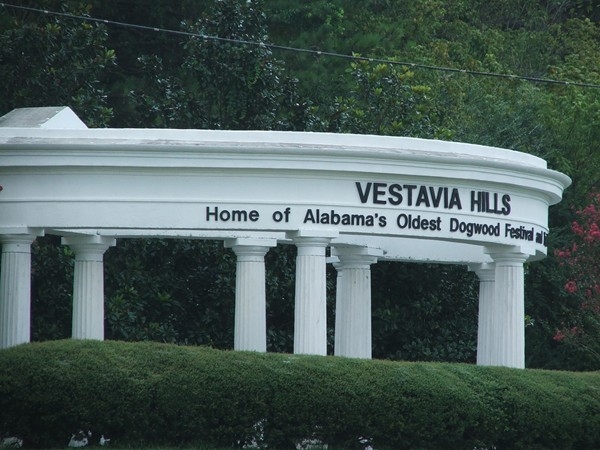 Grace Episcopal Church Clayton, Barbour County, Alabama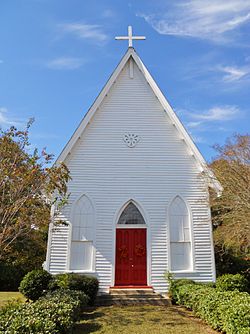 The church in Kentucky, known simply as Rocky Hill Baptist Church, was aptly named since it sat on a small rocky hill. It's building was typical of rural churches of that era —one room, white frame construction with two front doors (one for men, one for women like the two small "out-houses" in the back lot.)
A small white steeple was proudly centered in the front of a sloping roof. Inside that one room, strong wires were stretched front to back and side to side. From these wires hung home-made curtains of green and rust striped fabric to be pulled across creating "rooms" for Sunday School classes. Children's classes and adult classes were all being taught simultaneously! I could hear the voices of at least six teachers at one time! But the Word of God was faithfully taught by those teachers as well as from the pulpit. That teaching reached my young heart.
In Tallahassee, in 1952 we chose to join a small suburban church, University Heights Baptist because it was near the house we were renting. This church was also a one-room, white wooden frame with a steeple, but there were classrooms in the basement. No nursery was provided so the worship service sounds included the cooing and babbling of babies and small children. Our youngest sat in my lap, and our four-year-old sat by his dad.
A hymn often sung by the congregation was "Leaning on the Everlasting Arms." As the chorus ended, our youngest without fail sat up straight in my lap and crooned his own interpretation. Slightly off-key he sang, "NEENING, NEENING." (I suspected this might have been the reason the song leader chose this hymn so frequently.) The membership of this church was so few in number that the very young pastor built a large fishing boat on the church lot; this boat transported many of the men for an afternoon of fishing in the Gulf of Mexico!
And then in 1957, there was a third small church I have loved—Shades Mountain Baptist Church, not the imposing widespread church you see today on Columbiana Road, but the small white structure which in its later years has been known as Miller Chapel. Here our youngest son heard the plan of salvation and was baptized in the tiny baptistery. Here the church children wore little white robes with blue bows and sang about Jesus' love. The message of "Go Ye Into All the World" was proclaimed from the small pulpit. The ladies of the Woman's Missionary Union supported the mission emphasis. This became the very foundation for the strong mission ideals of the Big Church Today!
Old Country Church at Tannehill State Park, built 1905 was Kimbrell Methodist, Eastern Valley Road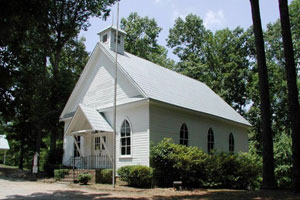 There have been interspersed among our small churches the larger ones which helped our family in its journey of faith: First Baptist, Bowling Green, Kentucky; Emmanuel Baptist Church, Lexington, Kentucky; Ruhama Baptist in Birmingham; and the present Shades Mountain Baptist —but it is my small ones I have loved!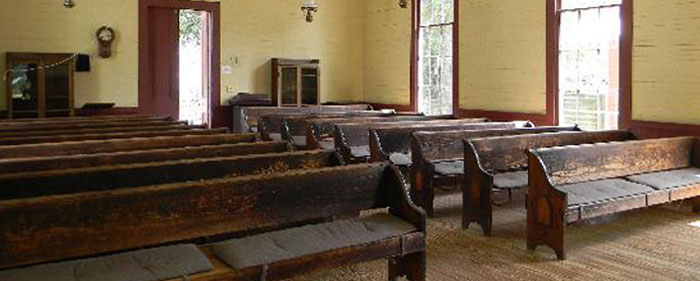 I can still take you today to the small Rocky Hill church; I can still show you the University Heights Baptist Church—but I can no longer show you Miller Chapel. On a warm morning in September 2008, in the name of progress, its walls came tumbling down. The good memories of that little church remain.
Progress, sometimes, is painful!…. This was evidenced by the tears that fell on that September morning.
Faith and Courage: 2nd edition -A Novel of Colonial America

In this action-packed novel, George Willson witnesses the execution of King Charles II and is forced to leave the woman he loves to witch hunters in 17th century England as he flees to his sister, Mary, and her husband Ambrose Dixon's home in Colonial American. Ridden with guilt over difficult decisions he made to survive, George Willson and the Dixon's embrace the Quaker faith which further creates problems for their existence in the New World.
REVIEWS
Highly recommended! Mary Robinson