Some interesting people from old Perote, Bullock County, Alabama
REMINISCENCES OF PEROTE IN BULLOCK
By A Native
Catharine Elizabeth (Hixon) Rumphi
(This transcribed excerpt was written before 1958)
Mrs. Martha Crossley Rumph did much for Perote. We are indebted to her for most of the early history. So much has been written about her that I will not write much more.
"Her life was a creed of Love. Her quiet smile, her tact of divining what every one felt, and everyone wanted, showed how completely grown out of self, and had learned to think of others. At one time, she quieted the soul with sweet words, at another, she smoothed an invalids weary pillow, and at another, she soothed a sobbing child; none but she saw these things; none but a loving heart could see them! Love – Love to God" (Miss Imogene Walker.) She was noted for her fine needlework and painting. She spent much of her time at the cemetery doing what she could to beautify it. She built terraces, planted flowers had arches made at the entrances, these were decorated the day before Memorial Day. She said that she liked to stay there because it was so quiet and peaceful and people on the outside were living too fast.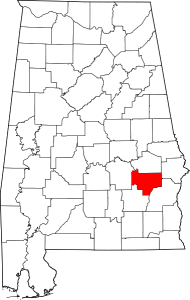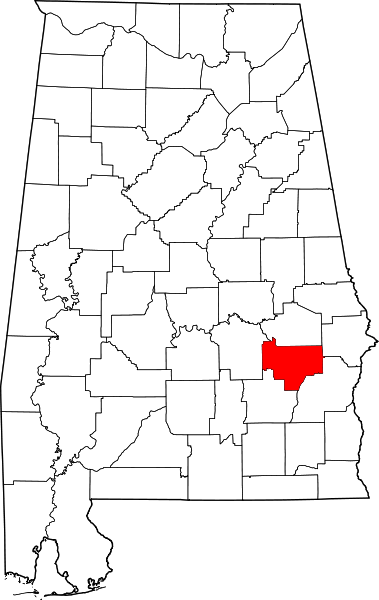 Miss Fannie Lawson
Miss Fannie Lawson was quite a different character. She hadn't the education that Mrs. Rumph had but spent much of her time at the cemetery. After the death of her sister and after her two children left home to find a job, she was left alone.
She lived on the back street that ran parallel with the highway, in a house that had a large living room with a large fireplace, a long narrow bedroom on the south end and a long narrow room on the east for a dining room and a kitchen. There was a window in the bedroom, three in the living room and none in the kitchen. They had a one-room cottage in the yard for a. guest room.
There were 8 or 9 places she felt at home and did not spend much time at her home. When she did she had some child with her. When our fathers and mothers wanted to leave home for a few days she would come and keep house. She was always there when anyone was sick and helped look after them.
The young people never lacked for a place to have a party or a candy-pulling. Each girl carried a pound of sugar to make the candy. She had no stove but cooked it in two iron pots in the fireplace.
Several weeks before Memorial Day she had the school children to work at the cemetery every Saturday. By the 26th of April, it was clean and all the rocks on the terraces were whitewashed. I remember one year that soldiers came from a distance and fired a salute at the cemetery and after a short program went to the Methodist Church for the speakers' address.
Miss Fannie spun thread with my grandmother's spinning wheel and knitted gloves for most of the girls in Perote.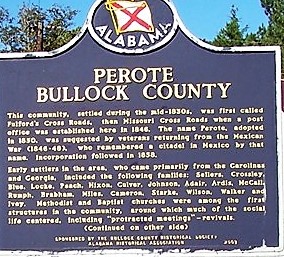 Mr. C. W. Rumph, Sr. and Mr. D. A. Hixon
Mr. C. W. Rumph, Sr., and Mr. D. A. Hixon were public-spirited men and did what they could for the good of the community. Neither family ever knew when they would have company for dinner because they closed their stores for dinner and they never left anyone there without inviting them to dinner and most of the time they came. Both were religious and did what they could for the churches. They entertained the preachers of whatever denomination that came through town. Anybody needing a place to spend the night were never turned away, They fed any beggar who came around. One Sunday, C. W. Jr. was standing on the front porch when they were coming from church without company, he jumped up and down and said, "three coconut custards and no company for dinner."
Mr. Rumph was one of the Perote Guards and fought through the entire war. D. A. Hixon was 16 the last year of the war and weighed 100 pounds when he joined the Army. He was taken prisoner at Island No. 10 and sent as a prisoner to Ship Island, near Mobile, He was with the Army at Pollard, Alabama. He was discharged at Vicksburg, Mississippi.
Mrs. D. A. Hixon
My mother, Mrs. D. A. Hixon was a woman who believed in keeping the Sabbath as near as she could. Saturday nights we put toys away, no using the scissors were allowed on Sunday, and no noisy games. Dinner was put on to cook when breakfast was so that the cook could go to Sunday School and church if she wanted to and not come back till next morning. We went to Sunday School and remained for preaching when there was any. If there was anything doing at the church in the afternoon we went to that and back at night when there were services. After dinner we studied the Catechism: and listened to her read the stories in the Christian Observer. If there were no services in the afternoon we sang religious songs. No songs that had religious words to secular tunes. My mother did not like anything that sounded sacrilegious. She read stories of the Bible to us.
She did not allow us to waste anything. We had to eat what we took on our plate. She said it was better to take small servings and take more if we wanted it. Nothing that could be eaten by hogs and chickens was thrown away. When I was young she had an ash hopper where she ran lye for making soap and lye hominy. It was a barrel filled with hardwood ashes and put on a stand that slanted. The day before she was to use it she poured water in the barrel and kept the ashes wet and it dripped through into a container. She made it in a large iron wash pot. She kept a container to put all meat skins and extra fat in the "soap grease" bucket. She built a fire under the pot and put the grease in the bottom and poured lye on it and dissolved it, then she poured water and lye in and cooked it until there was a pot full of lye soap. She kept it in a container and dipped it out with a gourd dipper.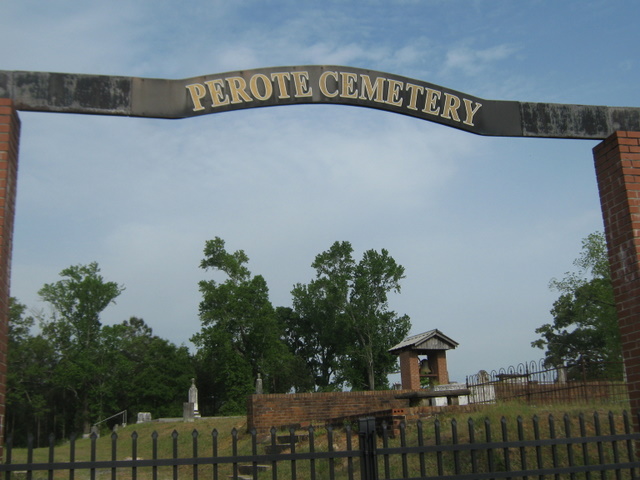 Mattie Haslam
There is another character I would like to mention, Mattie Haslam. In her young days, she was very popular and lived in a house back of the Laney house. It had two large rooms with a stack chimney between. A porch extending across the front but the back porch had a room on each end with the dining room and kitchen joining the east room forming an ell. The roof was gable. The house was in a pasture but it had a yard fence around it and a garden fence. She was called the "Pasture Girl" We were neighbors and played together nearly every day. When she grew up she fell in love with a young man and they were to marry but he jilted her. About that time she had a fall but was not seriously hurt. From that time she complained as long as she lived. She wanted attention and someone to wait on her. One year she said that her tongue was paralized (sic) and wrote and made signs for a whole year.
In winter she sat by the fire most of the time with her head tied up in rags with an old black felt hat on top of them. She had a sharp nose that almost met her chin when she had her false teeth out. She wore long dresses, high top shoes, black stockings and newspapers tied over her shoes. She walked with a stick and really looked like a witch.
The children enjoyed going to see her because she was such a good storyteller and told them such marvelous tales. She made a lot of pretty things. She finally married a Mr. Bell, an unknown correspondant (sic) from Tampa, Florida. He died and she learned that he had a living wife that he had never been divorced from.
My brother Charlie was an unusual character. When he was quite small, during the summer when he wanted to go to his grandmother's, he would wear some of his daddy's shoes. Said the ground was too hot He could ask more questions than anybody I have ever known. His nose had a hard time. Once his sister, Juliet, shut the gate on it at grandmother's, then another time he was playing ball and the ball hit him on the nose and broke it. Once there was a circus coming to Union Springs and he wanted to go but could not find anyone going except a young man who was going to take a young lady. He finally got up courage enough to ask to go with them and they let him put a little chair in the foot of the buggy and go. They thoroughly enjoyed the funny things that he said. They said they enjoyed it much more than they would if he hadn't been along.
When the men began planning a fishing trip he would pack his little trunk to be ready to go with them if they would let him. When they would tell him to wait till next time he would always say, "a bird in the hand is worth two in the bush." He usually got to go each time.
He tried to make himself so useful that they did not mind having him along. He and his sister would run races and he would make it a point to come out last and he would say, "I beat. The Bible says the first shall be last and the last shall be first."
He learned to hemstitch and said he thought he would make his living hemstitching handkerchiefs, then he learned to make tatting and he decided to do that instead.
He was a splendid magician but never used that for anything except occasionally he would give a show for a school to make some money. He invented a slide rule that was given to Auburn College in his memory after his death. The first electric clock they had for the college he made. He made the works from a sheet of brass, and the front was a piece of plate glass so you could see the works. He belonged to several honor societies, the National Geograph Society and the Royal Society of England. He was at the head of the Mechanical Engineering Department at Auburn.
Some of his hobbies were fishing and taking pictures of old negro men and women and circus people. He would go to the Barnum and Bailey Circus and the managers would let him go in the tents and take pictures.
From Auburn paper January 1954. Alumni Meeting
"Charles Robert Hixon, Mechanical Engineering, Perote, Alabama died in Auburn on January 1, 1954. Hixon continued his studies after graduation and received a Master of Science degree in mechanical engineering in 1908 from Auburn. He later did some special work at the University of Wisconsin. For forty-six years he was professor of engineering at his Alma Mater. He invented a training device for classroom teaching of the operation of the slide rule. He designed a clock and bell system for operation of classes at Auburn, He held a license as solo airplane pilot. He was honorary Chairman of the American Society of Mechanical Engineers, a member of the American Society of Promotion of Engineering Education and a member of the Royal Society of Art of London, England. He was quite active in other civic, fraternal and alumni affairs.
Sons of Mrs. Mary Lowe Johnson
Mrs. Mary Lowe Johnson, sister of Mrs. M, J. Rumph and Mrs. C. D. Laney, who married Mr. Lowe, had three sons, John, Bill and George. Mrs. George was a mute. He was a very close observer and enjoyed mimicing (sic) people. He was. sent to a deaf and dumb school when he was a little boy. He was always trying to invent something. He made his false teeth from sweet gum wood, the only kind he ever had. He worked on a cotton chopper for several years but never made one that was a success.
Two born in Africa
When I was a child there were two colored people who lived here who were born in Africa, "Granny" and "Uncle Billy" Boykin. "Granny" lived on our place with a family of colored people several years. I never knew why she lived with them because I don't think that they were her kin. She was born with six toes on one foot and the one next to the big toe was cut off leaving a wide space between the big toe and the next so she didn't wear shoes. She always wore a string of blue beads around her neck and when you asked her age, she said a little older than those beads. She came to our house often and my mother always gave her something to eat.
Uncle Billie lived on Mr. Christian Rumph's place and Mr. Rumph gave him an acre of land with a one-room log cabin on it so he staked off the acre. There was a larger house nearby and when it became vacant he moved his stakes and put them around it and moved in it. He was almost a dwarf and not very bright. He had some money buried in the corner of an old rail fence and he either forgot where he put it or someone watched where he put it and got it. He fell in love with a good-looking young negro girl and asked her to marry him. She thought he was joking and said she would but of course she couldn't.
Uncle Pompey Kindred
Old Uncle Pompey Kindred was an interesting old colored man who said he was sold three times during slavery and was 110 years old before 1929. I sold general merchandise after my father's death from 1922 to 1929 land he came to the store right often. He always carried a big osnaberg cotton sack around his neck that almost touched the ground to put what people, gave him in. When he came to the store I always gave him tobacco and a few other things. One day he came in and wanted to know if I would help him if he were to get married. I told him no and advised him not to marry at his age.
iCatherine Elizabeth (Hixon) Rumph was born in Bullock County and has lived during her entire lifetime there. She is the daughter of a Confederate Veteran who was some time a prisoner at Ship Island off the coast of Mississippi and grew up in the environment of the small country village about which she writes and among interesting Confederate associates, Mrs. Rumph has collected Americana, folk lore and historical data and contributed in no small way to the life of this rural community.
SOURCE
The Alabama Historical Quarterly, Vol. 20, No. 03, Fall Issue 1958
Discordance: The Cottinghams
 Inspired by true events and the Cottingham family that resided in 17th century Somerset, Maryland, and Delaware, colonial America comes alive with pirate attacks, religious discord, and governmental disagreements in the pre-Revolutionary War days of America.