Ghost sounds and sightings of apparitions with a general feeling of unease have been reported for years from people visiting the cemetery. Perhaps Revolutionary War soldier, Burwell Bass is haunting the cemetery or Montezuma Goodwin, who was killed by his brother-in-law.
Photographs below were taken at Bass Cemetery by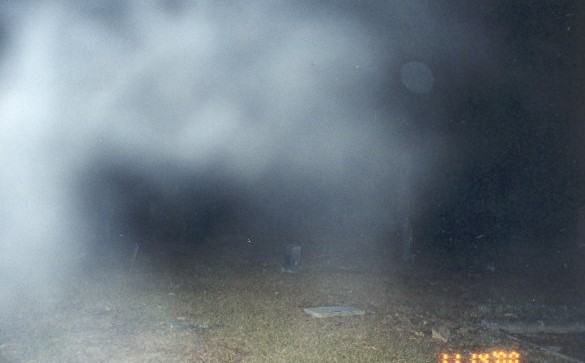 Bass Cemetery is over 150 years old and is the final resting place of both Civil War soldiers and slaves from the area as well as Revolutionary War soldier.
The cemetery probably received its name from Burwell Bass, a Revolutionary War soldier who is buried there. He was born 1752 in Brunswick Co., Virginia and was buried August 23, 1831. He was the first white man to settle in Roebuck Springs and was married to Elizabeth Jane York. Burwell's biography and descendants can be found in Revolutionary War soldiers Volume III.i
Montezuma Goodwin is also buried in the Bass cemetery.  He was shot and killed by his brother-in-law James Sims in 1904. Montezuma was born June 11, 1865 and died June 12, 1904. He married Alice Sims November 4, 1865 in Jefferson County, Alabama. The following is from a newspaper article published in The Birmingham Age-Herald on Tuesday, June 14, 1904,
KILLED BY BROTHER-IN-LAW
Farmer Who Lived Near Trussville Slain Sunday
Montezuma Goodwin, a white farmer, who lived near Trussville, was shot and killed Sunday afternoon about dark by James Sims, his brother-in-law. Sims is under arrest, and Coroner Paris has made an investigation.
It is said that the trouble resulted from a family feud. It is said that the deceased went to Sims' house Saturday night with a knife and threatened to kill Sims. The latter was not at home, but later the two met on the road and the trouble took place, which resulted in Goodwin's death. Three shots were fired by Sims from a 38-calibre pistol, one of them taking effect in the heart and causing instant death.ii
In 1938 the (WPA) took a survey of the those buried in the cemetery from tombstones and the results of the survey are posted on Findagrave. At the time, they recorded 141 names. iii There has been considerable vandalism and neglect of the cemetery over the years so not everyone buried there will ever be ascertained.
Ghost stories still abound for Bass Cemetery, including one posted on Strange Alabama in 2012. Do you have a story about Bass Cemetery?