The State of Society
(Lawrence County, Alabama)
by
Col. Edmond Saunders
written ca. 1890s
The State of Society in a country depends on the material as well as moral causes, and these must be considered together in forming a correct estimate of the character of a people.
Majority of settlers from good circumstances
Most new countries are settled by poor men who go ahead of schools and churches, that they by years of privation and suffering achieve an independent fortune for their children. But this was not the case with our county. (Lawrence County) It is true that as soon as the Indian title was extinguished, emigrants settled sparsely in various parts of it, and it was fortunate it was so, for without the supplies they raised it would not have been possible to have sustained such a rush of people as came afterward. The inducements were great: a rich soil easily reduced to cultivation and the price of cotton very high. 'The country was filled up in a short space of time by settlers, generally of high respectability and a good education; and a large proportion of whom were members of the church. Very few were wealthy. I know the general impression is to the contrary; but the large estates which have been in our county have been made here.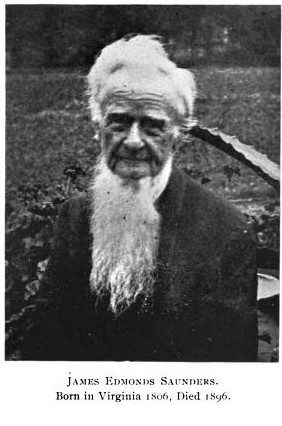 A majority of the early settlers were in good circumstances, and hence the aggregate of wealth in our county was great. They came mostly from Tennessee, Georgia, North Carolina, and Virginia; and in many cases in small colonies. The immigrants brought with them all the means and appliances of civilized life—their ministers, their physicians, their merchants, their lawyers, and mechanics—and every department of business flourished.
Many ministers arrived in early days
The ministers were in great force; much more so than at the present time, and the people were church goers. The denominations "provoked each other to good work." The Presbyteries, Associations, Conferences, and Camp meetings, were thronged. I have known more people attend the burial of a person, not known to one-tenth of the congregation than are now to be seen on any important occasion in our towns. Were they better then than they are now? I doubt it very much. The truth is their motives are various, and would not bear a close scrutiny.
The older people, maybe, had a curiosity to see their new neighbors; the young men may have gone to see the girls (of whom they had heard but had never seen); and the girls, I can not conceive what could have impelled them but pure piety! Now, the motives might not have held good " in forum conscientice" yet thereby, large assemblies were convened, and I have heard the preachers say that when this is accomplished, the main difficulty in the spread of the Gospel was removed. It is very certain, that wonderful revivals occurred during the first decade, and after the country was settled. When we come to speak, individually of the ministers you can judge better of their merits.
Physicians from renowned schools arrived
The physicians came in numbers, and of the first grade for that day.
Moulton had an accomplished one, who took his medical diploma at Edinburgh, once the most renowned school of physics among English-speaking nations. These had mostly graduated at Philadelphia. A fair proportion of them were men of experience and had brought a reputation for skill with them.
Malarial epidemics
It was well their numbers were large, for thousands of acres of timber were killed by belting, and the trees were left to rot where they stood, and fall, limb by limb, to the ground, tainting the atmosphere with deadly miasma. The consequence was malarial epidemics which carried off great numbers of the people. The doctors stood to their posts like heroes, and plied heroic remedies in heroic measure. These remedies were of a drastic nature, such as gamboge, scammony and tartar emetic, backed by the calomel, and the lancet. If this thorough practice did not cure the patient it was taken for granted that the case was incurable.
The planters, watching the doctors and seeing that they proceeded upon the same principle as of scouring out a rusty gun-barrel, improved on their practice by using a mixture of tartar emetic and salts, which, combined, were supposed to produce a kind of explosion in the system, which either brought the fever to a speedy conclusion—or else the patient. Strange! the people continued to die in great numbers.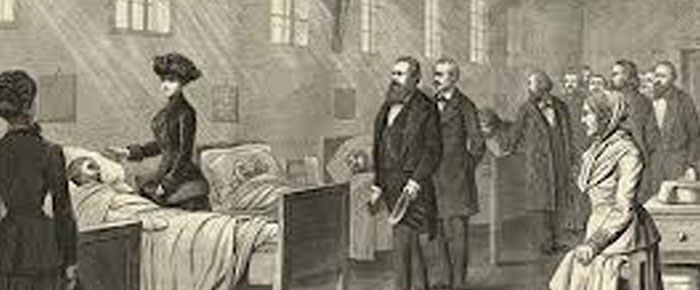 Major epidemic in Spring 1830
There were physicians, here and there, who shook their heads, but said little because the " voz populi " were in favor of the heroics. But at length, a deadly sickness occurred, in the spring of 1830, about Courtland, and in spite of calomel and the lancet, with their little satellites, we lost many of our most valuable citizens: Col. Ben. Jones, Dr. Nimmo Morris, Mr. R. M. Shegog, Mr. Anderson, Mr. Carlton, and others; whilst many of our most esteemed young men were dangerously ill, amongst them John H. Harris, and his brother Richard N., who made their wills and expected to die. It seemed evident that a change of treatment was required, but the leaders of the two parties in medicine were at enmity and did not even speak to each other.
At this critical juncture, my old friend and law partner, John J. Ormond, procured a consultation between them; one of them, however, exacting a stipulation that the other was never to speak to him after the epidemic came to an end. The consultation terminated in an agreement to try a mild course of treatment—and after that, there were no more deaths. A revolution occurred then in the practice, but it is not yet entire, for there are old men and women now living who have never hauled down the flag, but will die by calomel.
Merchants flocked to the area
The merchants came in as fast as their wares were wanted, and as soon as the people commenced making and selling their cotton crop an active demand sprung up. Within seven years of its first settlement, Courtland sold three hundred and twenty thousand dollars' worth of merchandise per annum. The other town, Moulton, had a large trade also.
Fortunes were then made, in this line, in a few years. Merchants are the benefactors of mankind, but more especially of the ladies. The fancy side of the stores enlarged from year to year, until the finest fabrics sold in Philadelphia were found on their shelves. Goods were sold at high prices, but the quality was, uniformly, sound and good. In old times I never knew merchants to sell to laborers shoes made of split leather and paper soles, or any article of that class.
Young lawyers arrived first
The lawyers who first came to the county were, generally, young, although there were a few of experience and who brought reputations with them. The profession flourished because there was great prosperity in the county. Hundreds of suits were brought to every term of the court.
This was a favorable time for lawyers of genius and learning to rise rapidly from the ranks of their profession, for the construction of the statutes had been pronounced in but few cases by the court of last resort; and so there was a broad field for the exercise of the highest order of ability. But now, when most points of difficulty have been adjudicated, nine-tenths of the questions are settled by counsel in chambers by referring to reports, for lawyers very properly bow to the principle " stare decisis."
Owing to the above cause, and perhaps to the chastened taste of an old country, oratory is not cultivated so much as it was in early times when lawyers indulged in a more florid and impassioned style; now they seem to study a precise and concise and clear diction in their argument.
People shared information from their homes
Our mechanics in early times had a monopoly of all the work in the county. From the hat to the shoe, every article of dress was made at home. Capital had not learned then to manufacture every article of comfort or necessity by machinery and associated labor. Hence our mechanics were better clothed, better fed, their families better taught, and they were enabled to occupy a better position in the social scale, than they can now, in their crippled condition
Indeed the people would naturally be improved by being thrown together, from various States. Each had something to add to the common stock of information. Like the Athenians "they came to gather, to hear, and to tell some new thing. Moreover, each one had to establish his position in society anew. He had to do his first work over again. When they met socially, each one was anxious to please, and it made society charming. It is this novelty which gives life and animation to the people of a new country. From all the causes, the people of our county were the best agricultural population ever seen in a new county, and distinguished for intelligence, courtesy and hospitality.
Old men conversed about farming and laws, old women bragged
When they met, the old men, after having their glasses of grog (which hospitality usually tendered in those times) had two unfailing topics of conversation; one was they plans of farming, and the other, the laws which prevailed, respectively, in the States from which they came.
The old women (while they sipped their wine sangaree or rum toddy) one after another would rehearse what they possessed, where they came from. There was one in particular who excelled in-this game o' brag—for she had in "old Virginia" a fine garden edged with box, a large house, in which there was not only a spacious parlor, but the blue room, the pink room, the green room, and the yellow room. When she came down with this trump the rest commonly "threw up the sponge."
Young people talked of novels and poetry
And the young people of that day, what did they talk about! When a circle of young people, of both sexes, is formed, a mysterious electric current is generated, and excites all sorts of prattle; but then, they had, in their new literature, topics of unusual interest. The Waverly novels, by the Great Unknown, were appearing number by number, in boards with uncut leaves, and everybody read them with delight. They are still standard works—with the best qualified to judge.
Then we had Campbell's poetry, filling the hearts of the maidens with melodies, and the boys with patriotism. Tom Moore had, year by year, during the first quarter of this century, distributed his poetical efi'usions like a constellation. His " Irish Melodies" had a wonderful influence in refining the young, and his "Sacred Melodies" first enjoyed by ministers, " as bread eaten in secret," were boldly seized by Dr. Summers, and incorporated in the Methodist hymn book. Other sects have followed their example, and so the author has been canonized, and many a good old soul, who is going straight to heaven, with no library but her Bible and hymn book, thanks God that he raised up such a pious singer in Israel as Brother Moore. I could cite other poetical authors that had a great influence on character, but I am not writing a critique on poetry, and will desist.
People not so temperate
Candor compels me now to mention some features of society in old times which are not so complimentary. People were not so temperate then as now. Public meetings were concluded by scenes of drunkenness and uproar which were revolting. The courts were disturbed by the noise in the streets. Jurors were seen in the box too stupid to perform their duties. I had not been at court for many years until the spring of last year, and the change for the better was remarkable. I felt all the time as if I was attending church.
The sheriff was cool and sober, the jurors had an expression of calm intelligence, the lawyers in condition for the highest intellectual efforts, and the Judge You may think it unnecessary for me to say that he was right; but before you travel far with me in this history you will change your opinion. Lamentable to tell! old men, and sometimes members of the church, were brought to judgment for intoxication. Then the question was, whether the liquor "overtuck" them, or whether they "overtuck" the liquor? in plain English, whether it was accidental or intentional?
SOURCE