Stories From the Florence Times October 6, 1905 which mention citizens – Lauderdale County, Alabama
County Singing Association
The Lauderdale County Singing Association met at Pleasant Hill Saturday and Sunday 23rd, and 24th inst., with J. R. Smallwood presiding. The secretary, N. H. Quillen, being absent E. R. Whitten was appointed to fill the vacancy for the meeting.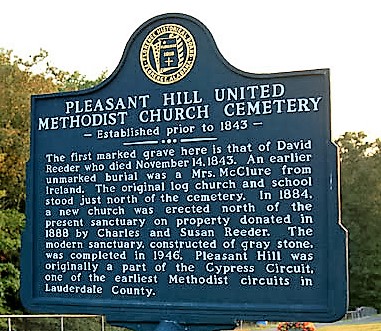 Singing begun Sunday morning at 10:30 o'clock. After singing an hour we had a short address from H. B. McFalls, at the close of which he announced dinner for everybody.
At 2 0'clock in the afternoon we again assembled and enjoyed some more fine singing led by J. R. Smallwood and Will Freeman.
The object of these associations is to promote an interest in singing in Lauderdale county. Realizing that good singing is the life of church, Sunday school and prayer meeting services, we invite everybody to join us in making a success.
The next association meeting will be held at Wesley's Chapel, 11 miles northwest of Florence, on the Fifth Saturday and Sunday in December. Everybody is invited to come and bring their song books. Yours for better singing, E. R. Whitten.
A CARD OF THANKS
Florence, Alabama 9/13/05 (1905)
Whereas, the County officers of Lauderdale County, were kind enough to allow us the use of the Court House, in which to hold our Sunday School and Preaching Services for several months, during the time our new church was being built. And whereas this is the first meeting of our Quarterly Conference, the official body of our church, since we have occupied our new building. Therefore be it resolved.
First: That we hereby extend our thanks to the County Commissioners, Probate Judge, and Sheriff and assure them that we appreciate very highly courtesies shown us in allowing us to occupy the Court House temporarily, as above mentioned.
Second: That a copy of these resolutions be spread on the minutes of the Quarterly Conference and a copy sent to the Probate Judge, for public record, should he see fit to have same recorded.
Respectfully submitted.
Committee:
E. Lynn,
M. Malone
J. D. Simpson
Presiding Elder
E. Lynn, Secty Quarterly conference First M. E. church, South, Florence, Ala.
Lauderdale native fights evil in Birmingham
The preachers of Birmingham have organized a body to fight the social evil in that city. Rev. W. R. Hendrix, a native of Lauderdale, is president of the organization.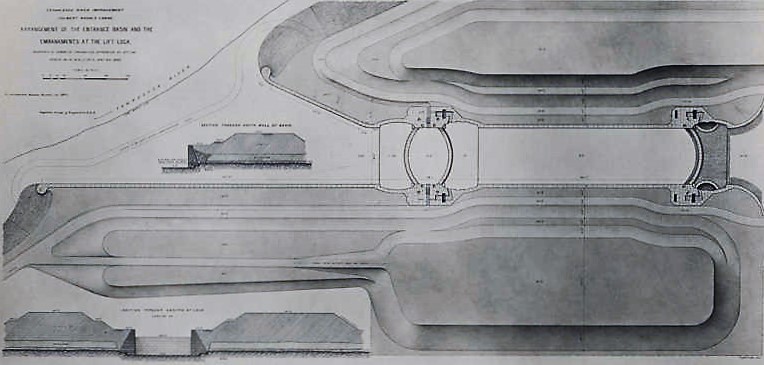 Plan for the entrance basin and lift lock for the Colbert Shoals Canal on the Tennessee River by the U. S. Army Corps of Engineers (Alabama Department of Archives and History)
A Big Contract
The North Alabama Contracting Company, composed of businessmen of this city, has secured a big contract of excavating work on Colbert Shoals canal, amounting to $350,000. Messrs. Tom W. Crow and James Angel will have direct charge of the work and equipment, because of their practical experience of years in such work. This is about the biggest contract ever secured by Florence gentlemen, and is one the performance of which will require a large outlay of money, labor and skill. The completion of the Colbert canal and the clearing or channeling of the river from Florence to Mussel Shoals canal will give us all-year navigation on the Tennessee river.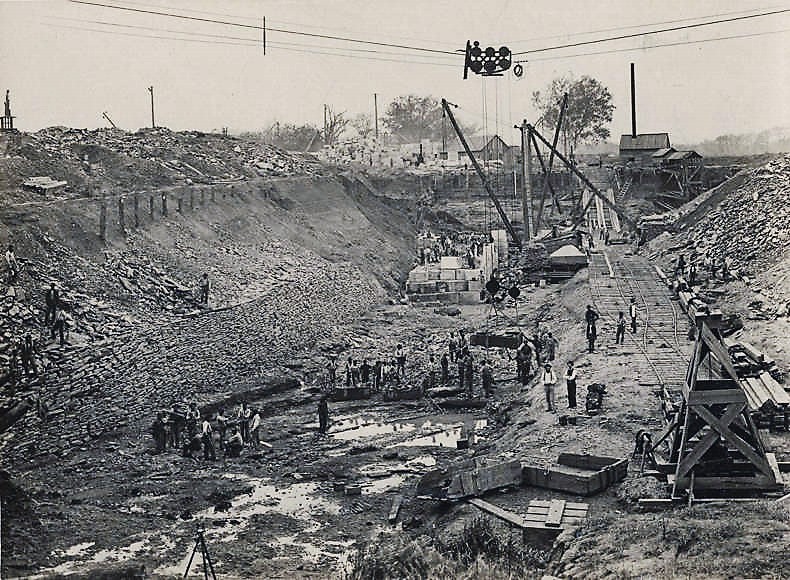 Construction of the Colbert Shoals lift lock on the Tennessee River near Riverton, Alabama, pit and side wall looking west,  Nov. 8, 1895 (Alabama Department of Archives and History)
Did you know you can read Ebooks on your computer? Click below to see how.