On December 7, 1941, Japanese planes attacked the United States Naval Base at Pearl Harbor, Hawaii Territory killing more than 2,300 Americans. The U.S.S. Arizona was completely destroyed and the U.S.S. Oklahoma capsized. The attack sank three other ships and damaged many additional vessels. More than 180 aircraft were destroyed.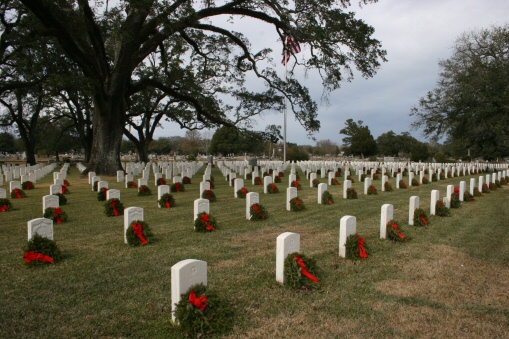 Mobile, Alabama National Cemetery
The following day President Franklin Roosevelt, addressing a joint session of Congress, called December 7 "a date which will live in infamy." The famous phrase was a revised line from a previously typed draft. The original line was "a date which will live in world history." The original document is housed in the Franklin D. Roosevelt Library in Hyde Park, NY.
Today is a good day to take some time to remember our veterans during the Christmas Holidays ahead. Make a special attempt to thank our Soldiers and Veterans for their service. Many will be away from their families during the holidays and we need to make an extra effort to express our thanks during this time. On the A Million Thanks website, you can send an email to our soldiers for free. This is a simple and quick way to express our gratitude for their service.
RELATED STORIES
Some beautiful songs of World War II – Do you remember them?
Photographs of wounded World War II veterans in 1945 at Northington Hospital in Tuscaloosa, Alabama
Here is what attending a country school was like post World War II
This Alabama town set an example for the nation in this 1943 film and glimpse of the past
World War II: The Definitive Visual History

World War II: The Definitive Visual History is a comprehensive, authoritative, yet accessible guide to the people, politics, events, and lasting effects of World War II. Perhaps the most complex, frightening, and destructive event in global history, the Second World War saw the heights of human courage and the depth of human degradation. World War II presents a complete overview of the war, including the rise of Hitler and the Nazi party, fascism, Pearl Harbor, Hiroshima, and the D-Day landings. This book also looks at the enduring effects of World War II during succeeding decades.