July 7, 1943– What do you think? Was their censorship or simply shortages which caused rationing of newsprint in WWII? Share your answers and other experiences about rationing below in the comments.
At the time WWII was taking place, and American citizens were faced with many rations, including newspapers.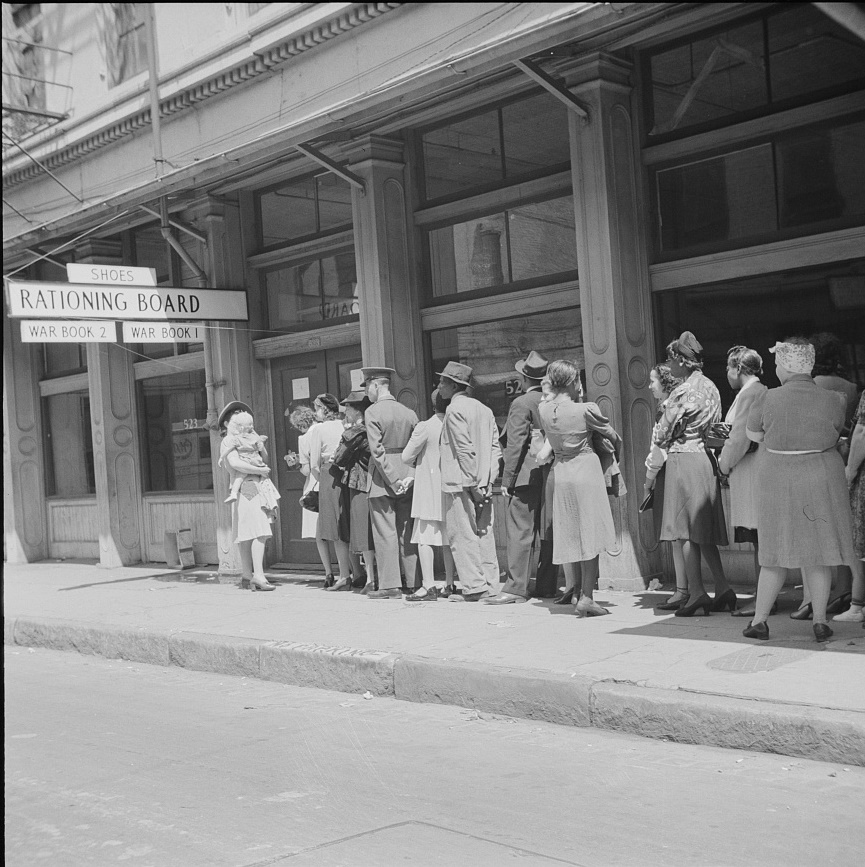 Rationing Board line in New Orleans, LA. 1943 (Library of Congress)
On July 7, 1943, The Tuscaloosa News in Tuscaloosa, Alabama posted the following notice to it's customers in the newspaper.
THE TUSCALOOSA NEWS FREEZES SUBSCRIPTION LIST
Another cut in the amount of paper we may use compels us to "freeze" our circulation as of today. Therefore, until further notice, no NEW subscribers will be accepted by us except as replacements for old ones, who for any reason case to take the paper. As things now stand, we can serve all present subscribers without reducing the quality of our publication. Please "renew" your subscription promptly (before expiration date) as all who fail to do so must be considered NEW once the paper is stopped. We regret the necessity of this act but know of no other answer to the problem.
Bruce Shelton, Publisher
The Tuscaloosa News
In the same newspaper issue, the following story suggested that perhaps it was not a shortage on paper but censorship of the press which was creating the problem.
Bureaucratic Control Of Newspring Is Charged
Congressman To Seek Legislation To Bring WPB Allocations Into Open
WASHINGTON, July 7 – (AP) – Rep. Maas (R-Minn) disclosed today he intends to try to back up with restrictive legislation his assertions that the War Production Board (WPB) threatened "the freedom of the press" by its handling of newsprint quotas.
Maas told the House yesterday that WPB, which has ordered a new reduction in newsprint for the present quarter ranging up to five per cent of the largest newspapers was:
Using control of production "for censorship."
Favoring some publishers over others.
Operating with no rules, or standards, and "in star chamber proceedings," issuing "secret orders from which there is no appeal."
Maas said he was preparing a bill that would require the WPB to make all its decisions public, in the case of each newspaper or magazine publication requesting additional white paper, how much time was required handling the case, why the delay, if any, and the entire proceedings would be submitted to Congress each month.
The report also would include details of appeals from the WPB's printing division, and why they were granted or denied.
With a free press, we will always be a free people
"This procedure will assure to the people that under the guise of rationing a lessened supply of paper will not be abused now or in the future nor used to subversively gain control of the press of this country," said Maas. "With a free press, we will always be a free people."
Maas said he had a personal experience with WPB's handling of white paper allotments. He told the House an officer who served in the South Pacific signed a contract to "write a book about the Pacific. The publisher was told by a WPB official "that he could have no paper for any such purpose." Maas later told reporters he was the officer. The congressman, serving with the marine corps aviation branch in World War One, was on active duty as a marine lieutenant colonel for a time in this conflict.
Seeking to dominate what is published
"It is apparent that these bureaucrats are seeking to dominate what is published by controlling the allotment of white paper," he asserted.
Maas, in his speech to the House, charged that "bureaucrats" in the WPB allowed appeals from curtailed newsprint directives on the basis of "hardship", then failed to define hardship or set up a formula. They also refused, he said, to explain the basis upon which appeals were granted or denied. Thus he said a book that would be objectionable to the administration in power "may be choked off" and one favorable to the administration "may be fostered."
Handling of magazine quotas has been "capricious", he said, declaring that new publications were allowed to start while established ones had their paper supply reduced.
In at least one hearing on appeals, Maas declared, WPB officials "misrepresented and even lied about the facts."
"Favoritism has been definitely demonstrated," he added.
"The weaker branch of publishing-magazines and books – are being attacked first. When they are brought under sufficient control to eliminate them as a threat to the complete control of publishing, the newspapers will then feel the heavy hand of bureaucracy."
Share your rationing story from WWII
Do you have a story of shortages due to rationing in WWII? Share it below in the comments.
includes the following stories:
The Yazoo land fraud
Daily life as an Alabama pioneer  
The capture and arrest of Vice-president Aaron Burr
The early life of William Barrett Travis, hero of the Alamo
Description of Native Americans of early Alabama including the visit by Tecumseh
Treaties and building the first roads in Alabama.