On Aug 6, 1879 – 30,000 people from Memphis fled from epidemic – some were put off in the woods rather than allow entrance into Alabama
SCROLL DOWN TO CONTINUE . . .
On August 6, 1879 citizens of Alabama were in a near panic over the potential spread of a Yellow Fever epidemic from Memphis according to these excerpts from The Iron Age newspaper of Birmingham, Alabama.
At the time, it was not known that Yellow Fever was spread by mosquitoes and Memphis, being a very swampy area, was a perfect breeding ground for them. The previous year, 1878 resulted in at least 17,000 cases and 5000 + deaths from Yellow Fever in Memphis so there was great fear of the disease spreading to Alabama via people traveling from Memphis.
Jefferson Davis, Jr. died of yellow fever
Jefferson Davis, Jr, the son of Jefferson Davis who was President of the Confederacy, died in Memphis during the Yellow Fever epidemic on October 16, 1878.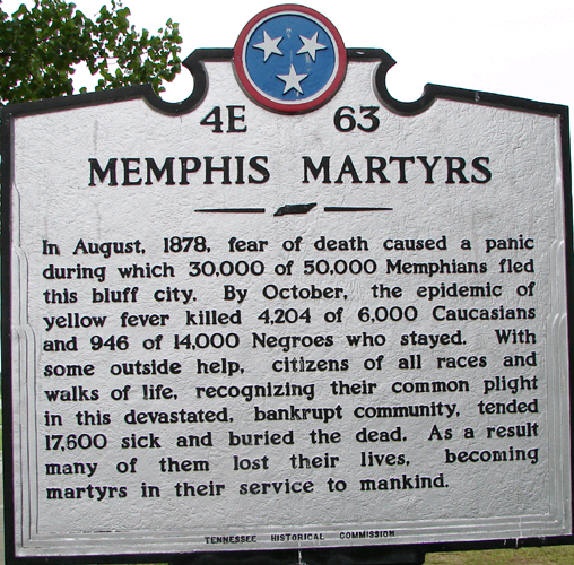 First human virus discovered
Yellow fever was the first human virus discovered. The disease originated in Africa, where it spread to South America through the slave trade in the 17th century. Since then the major outbreaks of the disease have occurred in the Americas, Africa, and Europe.
Iron Age newspaper accounts
The Iron Age newspaper accounts on August 6, 1879 reveal the fear of the people from the spread of Yellow Fever to their state.
"A few days since the board of health at this place (Cullman, Alabama) recommended to our city fathers to pass an ordinance declaring a quarantine against Memphis."
"At a public meeting held at Chalybeate springs meeting house on the 3d inst., to take consideration what action or means should be adopted to prevent the establishment of a quarantine hospital at Coalburg, in precinct No. 22, G. C. Jacks was called to the chair, and R. C. Russell was requested to act as secretary."
News from Memphis included:
"Eighteen new cases were reported yesterday in Memphis and five deaths. The fever is gradually spreading from two infected points and greater mortality can be anticipated.
At a meeting of the committee of safety this yesterday, it was resolved that rations and medical attention be supplied to all camps and societies alike, provided that all moneys or contributions received by said camps or societies, be turned over to the safety committee."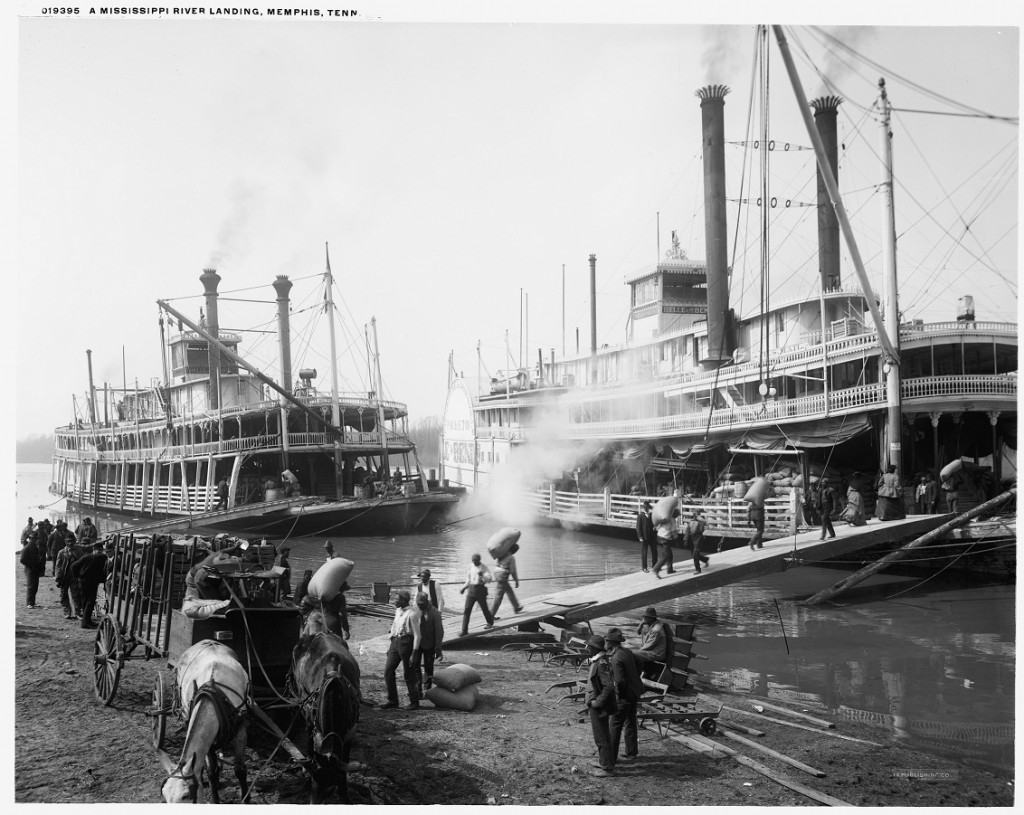 Doctors loathe to diagnose yellow fever
Evidently, a Yellow Fever epidemic the previous year created a panic and doctors were loathe to diagnose the disease as Yellow Fever as evidenced by excerpts from the following article in the same paper:
"The serious sickness in Memphis is pronounced yellow fever by at least a large majority of the doctors; but eminent physicians in daily contract with it believe it to be a malarial disease, malignant and fatal, but far less so than the plague for which it is mistaken. It is less fatal than the hemorrhagic fever so prevalent every season in many localities inaccessible to yellow fever, generally yielding, when taken in time and carefully nursed, to remedial agencies.
But it is called yellow fever; and a panic, unequaled in all its disgraceful features since in the dark ages of ignorance and superstition plagues were believed to be the direct visitation of an angry God for the destruction of the whole nations who had incurred his displeasure, has followed…..
When a penniless woman (suspected of having yellow fever) and her starving children are put from a railway coach into the woods (as at Randolph on the S., R. & D. R.R. last year), it is not in one neighborhood in a thousand that, thus marked as a source of danger, they are not permitted to remain; for the fear and the inhumanity of the larger community whose agent outlawed them are communicated to the smaller community into which, helpless unfortunates they are thrown, and they are driven out and on to rest and refuge in the grave."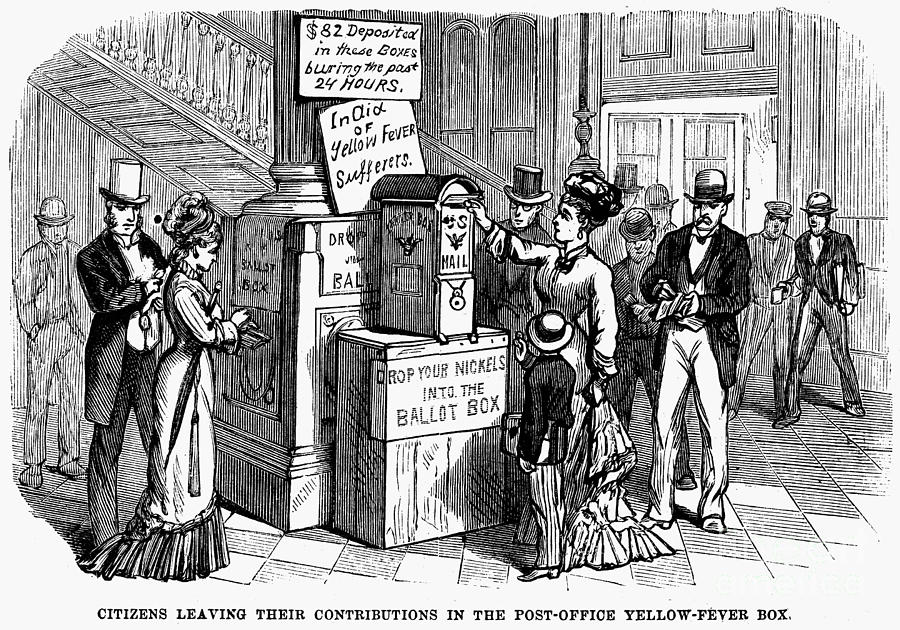 Picture by Granger – Fine Art of America
Railroads responded to panic
The railroads tried to respond to the panic according to this article from the same paper:
Southern Express Co. President's Office Augusta, GA July 28, 1879
To Agents: Admonished by the fatal experience of last year, when the lives of twenty-eight heroic employees were lost in endeavors to maintain the Express service intact, throughout the South-west, during the prevalence of yellow fever, and in consequence of the existence and alarming increase of that disease, at present, in Memphis, Tennessee, occasioning the establishment of rigid quarantines at adjacent points, which have cut off direct communication with that city, this Company has deemed it advisable to close its office there until these restrictions are removed.
Matter for Memphis, or other places where Express offices may be closed, will be taken to the nearest quarantine station, and there held subject to the order of consignees, until means can be provided for its delivery without violating the sanitary regulations adopted by State municipal authorities.
Matter destined to points on the Mississippi river south of Memphis, should be sent via Vicksburg or New Orleans, as circumstances may require.
It is to be hoped the fever will not spread, but should it do so and become epidemic, this Company, for the safety of its employees, and the protection of the public health, (by lessening the danger of contagion incident to intercourse with infected localities), will not undertake to operate its lines beyond the limits prescribed by quarantine regulations. H. B. Plant President."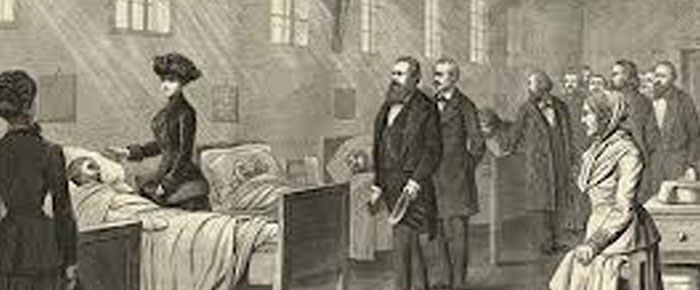 Cuban doctor proposed spread by mosquitoes
In 1881, Carlos Finlay, a Cuban doctor and scientist, first proposed that Yellow Fever might be transmitted by mosquitoes rather than human contact. U. S. Army doctors began experiments with a team led by Walter Reed. They successfully proved Finlay's 'mosquito hypothesis and Yellow Fever became the first virus to be shown to be transmitted by mosquitoes.
With this knowledge, Dr. William Gorgas, a native of Alabama, eradicated Yellow Fever from Havana by waging a campaign against breeding grounds for mosquitoes.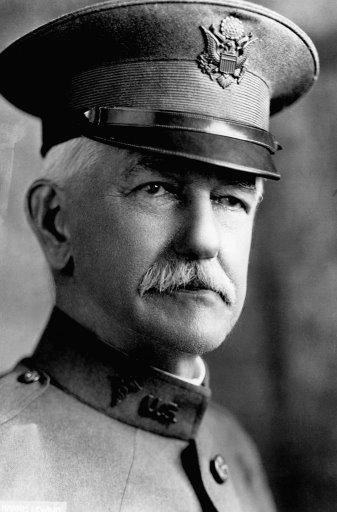 Dr. William Crawford Gorgas
Cases have been increasing since 1980s
Since the 1980s, the number of cases of yellow fever has been increasing. This is believed to be due to fewer people being immune, more people living in cities, people moving frequently, and changing climates. Other reasons for the increase have been proposed due to limitations on available insecticides, as well as habitat dislocations caused by climate change.
Vaccination is recommended for those traveling to affected areas, because non-native people tend to suffer more severe illness when infected. Protection begins by the 10th day after vaccine administration in 95% of people and lasts for at least 10 years. About 81% of people are still immune after 30 years.
SOURCES
The Iron Age August 6, 1870
Wikipedia
RELATED ARTICLES:
Mosquitoes stop growth of cities – read how – { old photographs and 1910 film}
The Can't Get Away Club in Mobile, Alabama – You'll never guess its purpose 
Some stories include:
The true story of the first Mardi Gras in America and where it took place
The Mississippi Bubble Burst – how it affected the settlers
Did you know that many people devoted to the Crown settled in Alabama –
Sophia McGillivray- what she did when she was nine months pregnant
Alabama had its first Interstate in the early days of settlement
ALABAMA FOOTPRINTS Exploration: Lost & Forgotten Stories (Volume 1)