Yankee holiday
Thanksgiving was not observed as a holiday in Alabama until 1858 when the governors of Alabama, Mississippi, Georgia, and North and South Carolina declared, Thursday, November 25th to be a day of Thanksgiving. On that day, the Daily Confederation reported that in Montgomery, Alabama that "church services were well attended, but 'the streets were almost unusually crowded with wagons, and that business houses had to work whether 'they would or not.' Our country friends overlooked the day, and came to town to trade, in great numbers. Cotton is King, and everything has to give way before his pale-faced majesty."1
"Thanksgiving was actually a Yankee holiday, birthed in New England and adorned with that region's symbols and traditions: pilgrims, turkey, pumpkins, and cranberries."2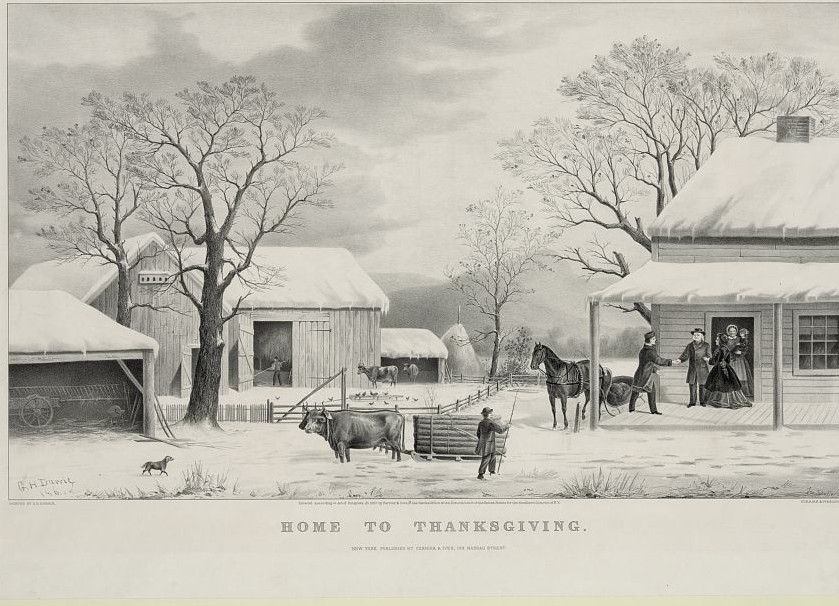 Thanksgiving Curier & Ives print 1867 (Library of Congress) 
No fixed date for the celebration
In the 1840s, Thanksgiving was celebrated across the Northeast and Midwest with a traditional Thanksgiving Day menu, but there was no fixed date for the celebration. Instead, each governor from individual states proclaimed the observance of the holiday. A fixed date came about for the holiday observance came about due to the book, Northwood: or Life North and South written by Sarah Josepha Hale, a widow with five children to raise. In her book that was published in 1841, she described Thanksgiving Day on a New Hampshire farm, and declared that the occasion "should be the same as the Fourth of July, a national holiday."3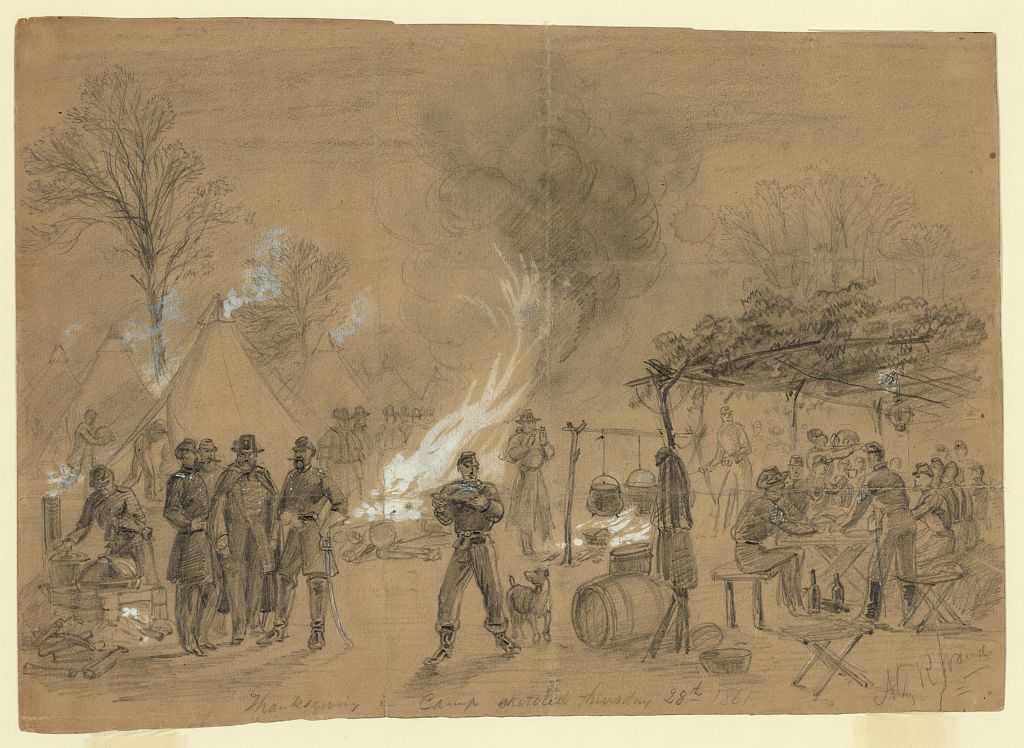 Thanksgiving in camp sketched Thursday, November, 28th 1861 by artist Arthur Rudolph Waud (Library of Congress)
Considered an abolitionist holiday
A letter-writing campaign to the nation's governors eventually resulted in a specific day set aside to observe the holiday. However, many supporters of Thanksgiving were also ardent abolitionists and some Southerners began to view Thanksgiving as a Yankee abolitionist holiday in 1853 and they refused to observe it.
In 1863, Sarah Josepha Hale continued her crusade to make Thanksgiving a national holiday. She wrote to Abraham Lincoln encouraging him "to have the day of our annual Thanksgiving made a National and fixed Union Festival." Lincoln agreed and proclaimed a nationwide Thanksgiving Day to occur on the last Thursday in November. Since this was in the midst of the Civil War, the Confederate States of America refused to recognize Lincoln's authority and Thanksgiving was not celebrated nationwide until Reconstruction was over in the 1870s.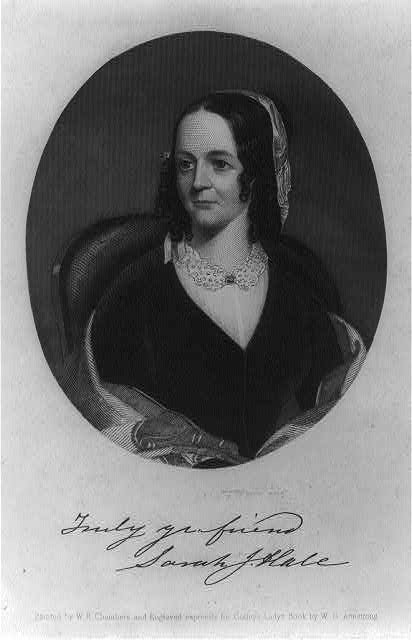 Thanksgiving – Sarah Josepha (Buell) Hale, 1788-1879, oval, half-length portrait ca. 1850 (Library of Congress)
President Roosevelt set a permanent day
Each succeeding president continued the proclamation until 1939 when Franklin Delano Roosevelt moved the holiday permanently to the fourth Thursday in November to provide retailers with more Christmas shopping days.4 On December 26, 1941, he signed a joint resolution of Congress to officially change the national Thanksgiving Day from the last Thursday in November to the fourth Thursday and the date of the holiday became official.
Because of shortages of food during the Reconstruction period in the South after the War Between the States, Thanksgiving was only celebrated sparsely.
Once Federal rule was over, Southerners began to observe the holiday with a menu much like those in New England, but by the 1890s, Southern families created their own Thanksgiving menus and traditions.
Alabama Footprints Confrontation

is a collection of lost and forgotten stories that reveals why and how the confrontation between the Native American population and settlers developed into the Creek-Indian War as well as stories of the bravery and heroism of participants from both sides.
Some stores include:
Tecumseh Causes Earthquake
Terrified Settlers Abandon Farms
Survivor Stories From Fort Mims Massacre
Hillabee Massacre
Threat of Starvation Men Turn To Mutiny
Red Eagle After The War