(Alabamians have always helped each other in times of crisis – this is one example)
The Can't Get Away Club
A local relief society organized at Mobile in 1839, during a yellow fever epidemic called The Can't Get Away Club. The club took for its model the Red Cross of Geneva. It was chartered by the legislature February 1, 1854, with John Hurtel, Nathaniel Moore, D. R. W. Davis, John T. Webb, Alfred G. Ross, John Rolston, James Y. Blocker, James W. Marsh, Jacob Reese, Martin B. Harper, Chester Root and Theodore Guesnard, Sr., as incorporates.
Organized in Mobile
During the great epidemics in the period of organization, in the fifties, seventies and as late as 1897, the club was the one organization in Mobile, ready with doctors, nurses, medicines and food for sick and hungry alike. They also performed the last offices for many victims.
During its various periods of activity the club lost many members, including doctors, clergymen and men from all walks of life. (See this letter from Rev. John Wesley Starr, Jr. written during the yellow fever epidemic that describes how much these men sacrificed)
Its funds were made up from the purses of members, and by miscellaneous contributions. No one connected with it received compensation for time or service.
Not compelled to stay
While its greatest work was confined to Mobile, it also rendered aid both in Memphis and New Orleans. Of the work of the organization the Mobile Register editorially says:
"Mobile and other cities of the South bear in grateful remembrance the name of the organization, which, as suggested by Mr. Godfrey Mertz on Thursday night, should have been 'Won't Get Away Club.' The members were not compelled to stay in the neighborhood of infectious disease and could have taken up their residence away from it until the danger had passed. But they elected to fight disease; to combat an insidious enemy that might unseen attack them in the night; that might, and did many times, attack their own families and strike down their friends.
Check out historical books and novels by Donna R. Causey
High order of courage
It requires a higher order of courage to make such a fight than to face visible danger. Happily the raison d'etre of the club no longer exists; yellow fever as a scourge is a thing of the past. The name of the organization that the disease called into being will not pass away, however. The handful of members who remain alive and those who have gone before have their names written indelibly in the annals of Mobile as types of citizens of whom we are justly proud."
Red Cross, Montgomery, Alabama 1918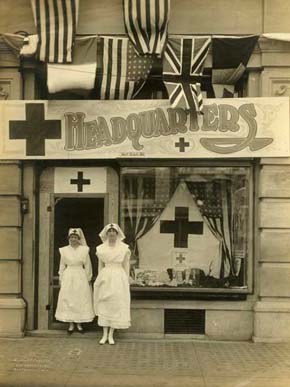 SOURCES
Hamilton, Mobile of the Five Flags (1913), pp. 234-235, Acts (1853-54), p. 393;
The Mobile Register, June 7, 1908.
ALABAMA FOOTPRINTS Pioneers: A Collection of Lost & Forgotten Stories