Journalistic Warfare: The Atlanta Constitution, the Birmingham Age-Herald and the Rube Burrow Interview
by
William Warren Rogers, Jr
A sensational headline, "Rube Talks Constitution Man Tracks the Outlaw to His Lair," dominated the Atlanta Constitution's Sunday feature section on November 10, 1880. Habitual readers of the Constitution knew of Rube Burrow. The newspaper had given considerable coverage to the South's best known outlaw over the preceding two years. The interview, complete with sketches, had been conducted by a reporter named E. W. Barrett. An enterprising correspondent, Barrett had made his reputation the preceding election year covering the Washington political scene for the Constitution.i
Over in Alabama the Birmingham Age-Herald replied to the Georgia paper's scoop with a startling expose-style headline: "Buncombe: Biting at a Bogus Burrows." In scathing words the Alabama paper ridiculed Barrett's claim. A brief but vituperative newspaper war ensued between the two largest dailies in the neighboring states.ii
Both of the metropolitan newspapers were among the foremost of Southern journals. The Atlanta Constitution had been founded in 1868 and still had the services of Managing Editor Henry W. Grady.iii The Birmingham Age-Herald had begun in 1888 as a consolidation of two papers, the Age and the Herald.iv Although the Constitution and Age-Herald were not rivals in circulation wars, each used the Burrow incident to build reader interest. Beyond that, a triumph scored against the other would build prestige over highly competitive journalistic rivals in Birmingham and Atlanta.
Most prominent outlaw
If the title of being the South's most prominent paper was debatable, the distinction of being the region's most prominent outlaw was not. Rube Burrow was, without contest, the most notorious fugitive from justice from Virginia to Texas. Rueben Houston Burrow, more familiarly known as Rube, was born in northwest Alabama's Lamar County sometime in 1854 or 1855. The fourth child of Allen and Martha Burrow, Rube grew up working on the family farm. By 1872 he was tired of the dull monotony and hard work on the farm. Like many Southern youths of the time, he was lured by stories of excitement and easy money in Texas. He and his uncle, Joel Burrow, left their impoverished Alabama neighborhood and headed West. Besides the legitimate avocation of farming and the less acceptable occupation of bartending, Burrow adopted another way of making a livelihood in Texas: train robbing.
News clipping – November 11, 1889 Atlanta Constitution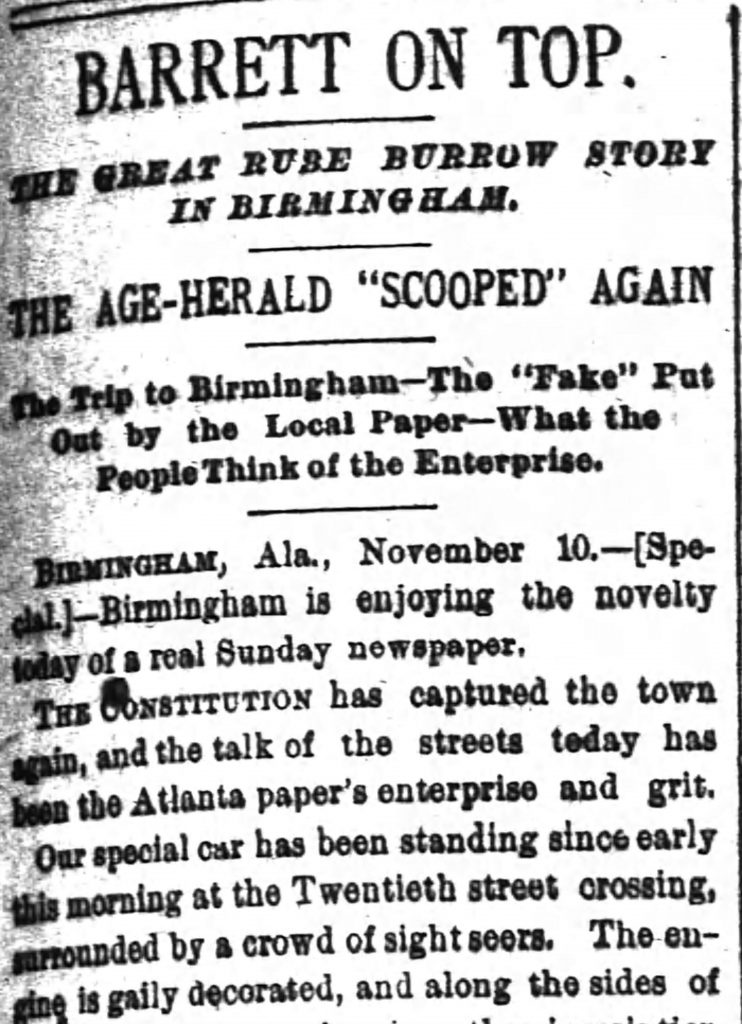 Joined a friend with Georgia connections
In 1887 Rube returned to Alabama. Whether it ever occurred to Burrow to reform once back in his home state is not clear. If so, the thought quickly passed. Rube and Leonard Brock, a friend with Georgia connections, crossed into Mississippi and robbed a train at Duck Hill in December, 1888. In July, 1889, Rube killed a postmaster who refused to give him a disguise he had ordered by mail. The senseless murder provoked Governor Thomas Seay to send a militia company to Lamar County. Two months later Rube strayed from his native region with two comrades and held up a train at Buckatunna, Mississippi.
Confined to robbing trains
After the robbery at Buckatunna, Rube sought and found refuge in Lamar County. Interspersed with small farms and dominated by timbered hills and rocky ravines, Lamar County was sparsely populated and rural. In the Alabama of the 1880s blood ties transcended respect for the law when family members were threatened. Rube's numerous relations hid him, provided the outlaw with food, and warned their wayward kinsman when detectives entered the area. Lamar County was an ideal hideout.v
Other than murder, the outlaw had confined himself to robbing trains. Railroads with their high rates and railroad officials with their arrogance were unpopular in the South. Burrow's bold and successful robberies made him a folk hero. The general public followed his exploits with interest and sympathy. After all, they reasoned, Burrow was only stealing from thieves. They liked his defiant style and enjoyed the frustration of the carrier lords.
Burrow was a celebrity criminal
It occurred to Correspondent Barrett that an interview with the outlaw would be of enormous interest. Burrow might be a criminal, but he was also a celebrity. In October, 1889, Barrett crossed into Alabama and traveled north to Lamar County. About that time, Rube was reported in nearby Blount County. Supposedly, Rube and a train robbing associate were cornered there and engaged in a running battle with lawmen. Barrett hastened to the scene.
In a staked-out farmhouse Barrett interviewed Henry Fischer, a Southern Express Company detective. During the course of the conversation with Detective Fischer, Barrett revealed his plan to interview the fugitive. After overcoming astonishment and doubt that the brash Barrett was in earnest, the detective was openly dubious. He described the outlaw as a man "shrewd though ignorant; brave, though vain; desperate though fond of notoriety," and as one always on the alert.vi Fischer doubted that the wary outlaw would consent to an interview. Still, he believed that Rube's consuming ambition was to become as famous as the western outlaws (Jesse James and Sam Bass) and the hero of dime novels. By touching Rube's vanity, Fischer speculated, he probably would talk at length. First, though, he would have to be convinced that Barrett really was a journalist, a man capable of immortalizing him, and not another masquerading detective.vii
Rube Burrow (Alabama Department of Archives and History)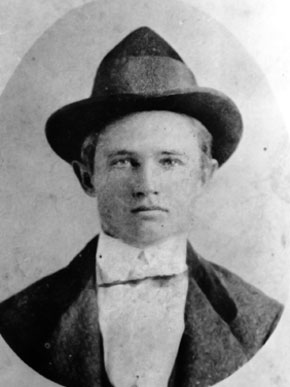 Got first-hand information
As events proved, Rube was not even in Blount County, but Detective Fischer's balanced remarks inspired the indefatigable Barrett. The interview with Fischer and other information he gathered enabled Barrett to evaluate Burrow as a man rather than as a fugitive. He returned to Lamar County and got off the Kansas City, Memphis and Birmingham train at the small town of Sulligent. Without much difficulty, he located Jim Cash, 'Uube's brother-in-law. Cash hesitated to cooperate until Barrett produced a letter of introduction from Congressman John H. Bankhead, a north Alabama solon and member of an influential family. Whatever Barrett's merits as a reporter were, he was both intrepid and resourceful. He convinced Cash to take him to Allen Burrow's country home. The inquisitive correspondent got first-hand information about Burrow during the rough seventeen mile wagon trip. Cash spoke of Rube's "good grit" and absolved him of past crimes.
At first Allen Burrow was wary of the stranger Jim Cash presented. Recently, detectives in all guises had infiltrated Lamar County. After consulting privately with Cash, Rube's father finally agreed to talk with Barrett. The unaffected, work-hardened Burrow praised his son as a boy who had been easy to raise. The elder Burrow regretted that Rube had been associated with some bad men in Texas but was adamant in denying that he had murdered anyone or had committed the various crimes attributed to him. Allen Burrow's defense was a classical apology for the prodigal son. When Barrett asked him if he had seen, Rube recently, Burrow professed ignorance. No, he did not know where his son was.viii
The entire interview and Barrett's impressions were published in a full-length Constitution feature the following week. Included in the story was an account of Burrow's life and crimes. The Atlanta paper's editors regretted that an interview with Rube had not been possible, but, considering the outlaw's reputation, they were relieved to see Barrett emerge alive from Lamar County. The return of the Constitution's journalist from the Alabama wilderness was "like the old Methodist preacher, who sent out his hat for a collection among the brethern and getting it back empty, still raised his hand in pious gratitude and said 'I humbly thank God for the return of my hat.' "ix
Reward offered for interview
Less than a week later, the undaunted Barrett returned to Lamar County. Inspired by the reader response and in the best tradition of Richard Harding Davis, Barrett was tenacious in his quest for the story. He applied the theory of universal greed by offering $200 to anyone who could arrange a meeting between him and the outlaw. Several Lamar countians interpreted Barrett's proposal as an easy way to make money. Reversing the classic situation of the city slicker victimizing the country bumpkin, the rural opportunists laid their plans. They arranged with a former deputy-sheriff, who both resembled Rube and knew his background, to talk with Barrett. In mock secrecy, the interview was elaborately staged in a desolate ravine. Barrett returned to Atlanta, sure that he had talked with the Lamar County desperado.x
Saturday afternoon newspapers in Birmingham announced at the Atlanta paper's request that a "Constitutional Special" would arrive the next morning (November 10) and provide citizens of the Magic City with "a full and interesting interview with Rube Burrows [sic]xi A special train, whatever its expense, would dramatize the Constitution's achievement. Despite earlier reports by the Birmingham Age-Herald that Barrett had been "used up by Cash" in Lamar County, it seemed that the correspondent's article would be a journalistic tour de force.xii How, Alabamians wondered, had their own state's journalists managed to be so embarrassingly scooped? Where were the Montgomery Advertiser, the Mobile Register, and, more inexplicably, the Birmingham dailies?
If Barrett was convinced that he had interviewed the celebrated train robber, the Birmingham Age-Herald was not. The Age-Herald had learned the truth about Barrett's alleged interview from, sources in Lamar County. The opportunity to upstage its Georgia counterpart was an open and irrisistable (sic) invitation. The Alabama newspaper chartered a train to Atlanta and clandestinely sent a special edition of the Age-Herald to press. A skeleton Age-Herald staff loaded the freshly printed papers, climbed aboard, and the Georgia Pacific train departed for Atlanta at 2 a.m. Sunday morning.xiii
Constitution Special train
Meantime, in Atlanta some Constitution officials, E. W. Barrett, and nineteen carefully chosen newspaper boys, readied themselves for the five-hour run to Birmingham. At precisely 3:30 a.m. the bunting draped locomotive pulled out of the Forsyth Street crossing. A colorful sign emblazoned with the words "Constitution Special" hung from the side. The train slowly gathered momentum and soon reached a comfortable pace of fifty miles per hour. Inside, the pride of the Constitution's newspaper boys — Big Jay Bird, Roxie Galloway, Coon Reynolds, and others — finished sorting papers and caught some sleep.
At an unlikely time (dawn) and place (Tallapoosa, Georgia) the converging trains met. An impromptu and unexpected meeting occurred when the two cars stopped within six feet of each other at the Georgia-Pacific depot. Barrett expressed some surprise at discovering the Age-Herald contingent and its mission to Atlanta. Pleasantries but no papers were exchanged, the trains refueled, and the "race of news" continued.xiv
The Birmingham train reached its destination first, arriving in Atlanta about 7:30 Sunday morning. Age-Herald representatives immediately delivered a copy of their journal with the compliments of "Birmingham and Her Enterprising Paper" to the Constitution's downtown office.xv Word quickly spread in the capital city, and citizens snapped up copies of the paper. The newspaper boys enjoyed the luxury of receiving as much as twenty-five cents a copy. Atlantians (sic) read with bemused curiosity the Birmingham paper's front page rebuttal. Crudely etched sketches mocking Barrett complemented the article and were the source of mirth. By ten o'clock the paper had sold out.
Before reaching Birmingham, the "Constitution Special" stopped briefly in Anniston, Alabama, to drop off three newspaper boys and one thousand copies of the Constitution. By the time the train arrived at Birmingham, a crowd had gathered at the depot. The newspaper boys never had such an easy time peddling their product. An observer commented that not even at election time had he seen papers go so fast. The gaily decorated car presented an incongruous splash of color in the drab grey of downtown Birmingham; reports estimating that 20,000 people milled around the car were exaggerated, but the crowd was large. Far from taking offense, Birmingham citizens patronized and welcomed the Constitution. Before the demand for papers was satisfied, the supply ran out.xvi
Claimed victory
In the incredible episode's aftermath both the Age-Herald and the Constitution emphatically claimed victory. The bad editorial blood that already existed between the two journals added a tinge of acrimony to an affair that was largely humorous. "Birmingham is enjoying the novelty of a real Sunday newspaper," the Constitution chided.xvii The Age-Herald, in reprisal, advised the Atlanta paper to "shinny on its own side of the line," and "keep to its own territory in the future."xviii The Atlanta paper added that "it was worthwhile to come and see Birmingham even if they hand't got what they came for — a scoop on the Age-Herald."xix
In Atlanta, the efforts of reporter Barrett drew unstinted praise. The Constitution maintained that the Age-Herald story only served "to advertise and to make more prominent Mr. Barrett's courageous and admirable piece of work."xx Barrett, himself, acknowledged that the Age-Herald had come up with "quite an ingenious contrivance with which to shield themselves from the ignominy of being 'scooped' almost at home."xxi Had the Alabama paper missed an opportunity? Not according to its editors. "If such a thing as an interview with Rube had been possible, the Age-Herald would have had it long ago.
Each paper remained convinced that it had prevailed over xxiithe other. If the Constitution realized its folly, the paper never admitted it. E. W. Barrett's career did not suffer. An almost scoop was better than no scoop at all. The episode added up to a bogus interview, a newspaper war that briefly increased circulation for both papers, and the further spreading of Burrow's fame. There was also the enrichment by $200 of some shrewd Lamar countians.
iAtlanta Constitution, November 10, 1889. A number of "dime novels" were written about Burrow in the 1890s. The best of them is George W. Agee, Rube Burrow, King of Outlaws and His Band of Train Robbers, an Accurate and Faithful History of Their Exploits and Adventures (Chicago, 1890. A scholarly work is William Warren Rogers, Jr., "Violence And Outlawery In The New South: Rube Burrow's Train Robbing Days In Alabama, Mississippi, And Florida," Unpublished Master's Thesis, Auburn University, 1979
iiBirmingham Age-Herald, November 10, 1889
iiiLouis Turner Griffith and John Erwin Talmadge, Georgia Journalism 1763-1950 (Athens, 1951), 339-340
ivRhoda Coleman Ellison, History and Bibliography of Alabama Newspapers in the Nineteenth Century (University, Alabama, 1954), 13.
vAtlanta Constitution, November 3, 1889; Montgomery Advertiser, January 26, 1888
viBirmingham News, November 12, 1889
viiiAtlanta Constitution, November 3, 1889
xBirmingham Age-Herald, November10, 1889-
xiBirmingham Age-Herald, November 9, 1889-
xiiBirmingham Age-Herald, November 8, 1889-
xiiiIbid., November 11, 1889
xivAtlanta Constitution, November 11, 1889; Birmingham Age-Herald, November 11, 1889
xvBirmingham Age-Herald, November 11, 1889
xviAtlanta Constitution, November 11, 1889; Birmingham Age-Herald, November 11, 1889.
xviiAtlanta Constitution, November 11, 1889.
xviiiBirmingham Age-Herald, November 10, 1889
xixlbid., November 11, 1889
xx Atlanta Constitution, November 11, 1889
xxiiBirmingham Age-Herald, November 10, 1889
SOURCE
The Alabama Historical Quarterly, Vol. 43, No. 01, Spring 1981