Did you know that when the capital of Alabama was moved to Montgomery in 1847, the building burned to the ground only two years later? The second session of the legislature met November 12, 1849. It had been in session one month and two days, when on December 14, the capitol building was discovered to be on fire. In three hours it had burned to the ground, leaving the walls only.
Records Saved
The fire broke out in the roof over the house of representatives and was caused by the careless projection of some of the rich pine timbers into the chimney flues. The combined efforts of the heads of the departments, the legislators, and the citizens saved the public records and other property on the basement and second floors.
Question of rebuilding
Because of the intense heat, the contents of the state library on the third floor could not be saved, and its fine collection of early documents were all destroyed. The citizens of Montgomery promptly tendered suitable buildings for the meeting of the legislature and the state officers, and public business went on uninterruptedly, although with some inconvenience. Gov. Henry W. Collier was inaugurated in the Methodist church. Almost immediately after the fire, the question of rebuilding was brought forward.
Original plan of Alabama's State Capitol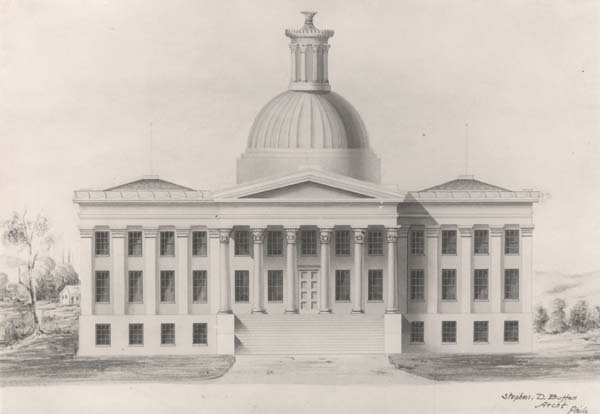 Original building
The original building is shown without a dome, and with broad steps leading up to the second floor, with entrances under the ends of the steps to the offices on the basement or ground floor. The new building was erected on the foundations of the old, but with a change in the general plan. A dome was provided, the entrance was direct to the first or basement floor, through a massive portico, supported by six massive Corinthian columns. The dignified and imposing building, as then erected, still remains with the addition of the rear and the north and the south wings. Click here to read more about Alabama's State Capitol.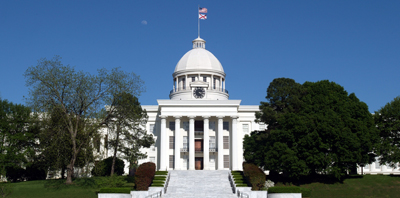 ALABAMA FOOTPRINTS Exploration: Lost & Forgotten Stories (Volume 1) From the time of the discovery of America through the time of De Soto's daring expedition, restless, resolute, and adventurous men crossed oceans in pursuit of their destiny.
Alabama Footprints – Exploration is a collection of lost and forgotten stories about the people who discovered and initially settled in Alabama.
Some stories include:
The true story of the first Mardi Gras in America and where it took place
The Mississippi Bubble Burst – how it affected the settlers
Did you know that many people devoted to the Crown settled in Alabama –
Sophia McGillivray- what she did when she was nine months pregnant
Alabama had its first Interstate in the early days of settlement
Get the Daily Update from Alabama Pioneers
Don't miss out on Alabama history, get our daily updates in your email.