This article was written around 1880 about the early days of Chambers County, Alabama by one who experienced them.
REMINISCENCES OF THE EARLY DAYS IN CHAMBERS COUNTY
By E. G. Richards1
Part VIII
Most of the present inhabitants of Chambers County have heard that as early as the years 1835 and 1836 there was a company formed composed of many of our best citizens, which was known and called the Slick Company, who took the law into their own hands and administered punishment upon whom they thought deserved it. But not many of them knew the cause which led to the formation of said company. That I will relate.
Runaway slaves and thieves hid in caves
In the years 1835 and 1836 so many negroes ran away from their owners who could not be heard of afterward, induced the belief that they were decoyed off by thieves and sold in other States. This belief was strengthened by the discovery of several caves in the upper part of Chambers and the South-eastern part of Randolph County. These were not natural caves but caves dug in very secluded places, not near any public road, some of them large enough to hold several persons, and which showed signs of having been but recently occupied for some purpose.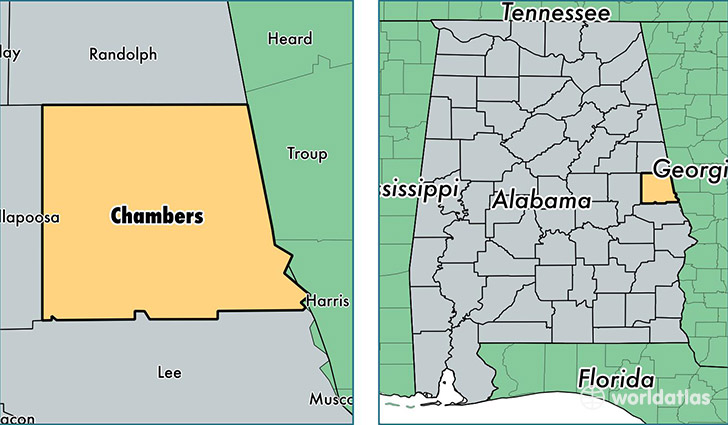 This caused a number of our best citizens, men of property and respectability, to form themselves into a vigilant company to ferret out and detect and punish the thieves if discovered. Upon investigation all concerned became satisfied that there was a gang of thieves operating through upper Georgia and Alabama, engaged in stealing negroes and horses and running them off to Mississippi and selling them, and that these caves were used by them in which to conceal stolen property, especially negroes for a short time, moving them off at night from one cave to another, until arrangements could be made to carry them off.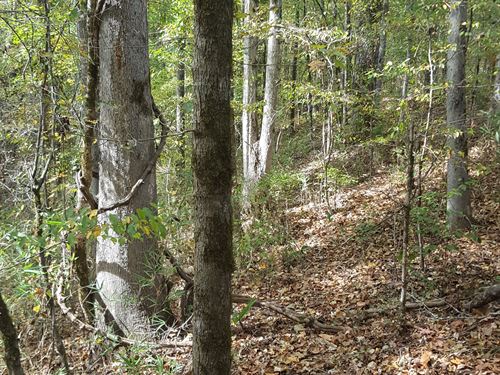 Chambers County, Alabama (Landflip.com)
Thieves enticed slaves to run away
It was found to be the plan of said thieves to propose to a negro man if he would run away from his owner and come to them, they would take him to Mississippi or some other slave state, sell him for cash and give him one-half the money, which would be sufficient to enable him to get to a free State, they promising their assistance to enable him to do so. By that means they had decoyed off many whose owners never recovered them. Upon the discovery of the above state of things, several parties were arrested and tried by the Slicks, by a court of their own. Some were found guilty of being concerned by giving aid to traveling thieves and were severely punished by whipping.
Some parties living near where these caves were found were notified to leave the country, which they did without waiting for an investigation, while a few families left without notice soon after these investigations commenced.
Thomas G. Liles, of this county, had, before this company was formed, lost a likely negro fellow. The company arrested a man by the name of McClendon in Randolph County as a suspicious character and while he was in custody and before trial a portion of the company disguised themselves and took McClendon from the guard who had him in custody. This was in the night.
They took him off, tied him to a tree and whipped him until he told where Liles' negro was in Mississippi, and Mr. Liles went immediately to Mississippi, and got his negro and brought him home.
At first, the Slicks were popular
After that whipping and confession, they gave McClendon leave of absence without further trial, on the condition he would leave this country, which terms he gladly accepted, and I have never heard of him since. Up to this period of their history, the Slicks were popular. They had doubtless rendered the country valuable service in scaring off a set of local thieves who were giving protection to a set of itinerant thieves who were passing through the country and stealing and carrying off our property. But unfortunately, they did not stop but believing there were still others belonging to the thieving gang they kept up their organization.
At the time of the Circuit Court held in LaFayette, Fall term 1837, one Herring and his wife came to LaFayette and stopped at a hotel kept by Mrs. Elizabeth Reed, a widow lady. Herring was a suspicious character, The impression at once became common that Herring had come to court to prosecute some of the Slicks for some of their acts of violence. That enraged the Slicks and it was soon proposed to arrest Herring and punish him. But the court was in session. The matter was discussed freely.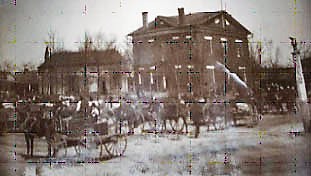 Chambers County's original (1836) Courthouse (Alabama Department of Archives and History)
They drank enough whiskey to make them believe they could arrest and punish
Court adjourned about the middle of the afternoon. By that time many of the crowd in attendance on the court, as well as some of the Slicks, had drank (sic) whiskey enough to make them believe they could arrest and punish Herring in defiance of the Circuit Court or its officers. There was over one hundred persons in town. By 4 o'clock in the evening, the gathering had become a mob, determined to arrest Herring and whip him.
This spirit prevailed, although many of the more prudent of the Slicks remonstrated against entering the hotel, as they had to do to get him out. Mrs. Reed forbid their entering the hotel. Mrs. Herring, with shotgun in hand, threatened to shoot anyone who entered the house, but the rush was made. She fired the gun, but missing the nearest man, the contents of the gun struck a Mr. Johnson who was about ten yards from her, the shot striking the forehead at the edge of his hair and scraped the skull, but did not enter, only cutting the skin on top of his head.
I saw him hunting a doctor a few minutes after. He bled freely but was well in a few days. The mob entered the house and after diligent search found Herring concealed in the garrett of the hotel.
One James E. Blan, a house carpenter in LaFayette, went and got his hand axe, and after splitting off the ceiling of the garrett of the house, he and others pulled Herring down and delivered him to the mob. Neither Johnson nor Blan belonged to the Slick company. But the former, like many others, was following up to see what the mob would do, come near being killed.
While Blan, regarding the Slicks as a popular party at that time wanted it to appear that he was one of them and a leader of the company, pushed himself forward and helped capture Herring. Herring was taken by the mob into the public square and tied to a tree in front of the courthouse door, about where the south gate of the courthouse enclosure now stands, and then received thirty-nine lashes on his bare back, well laid on with a new cowhide in the hands of John Bean, Esq., who was the first Coroner for Chambers County, and was several term Bailiff of the Grand Jury of Chambers County.
He never sought personal revenge
Herring was then discharged, with notice to leave this section of country as soon as possible, which he did. Herring never attempted to seek any personal revenge from those who whipped him nor did he bring any suit for damages, but left the State and went to Texas. But unfortunately for the Slick Company, they were sued by Mrs. Reed for the assault on her house and her guest against her remonstration.
Her attorney had the venue changed from Chambers to Montgomery County, where, on trial before an unbiased jury, a verdict for several thousand dollars was recovered of the defendants, which was collected. Many of the parties sued were men of property and could not make payment, while some who were most prominent in engaging in the mob left the country with their property without paying their part of the damages, leaving the better class of the defendants to foot the bill.
True History
The above is a true history of the original Slick Company which once existed in Chambers County, but which was dissolved by the heavy judgement recovered against them. I was living in the county when the Company was formed and when it was sued. I saw Johnson shot and Herring whipped in the defiance of Sheriff, Solicitor, and Circuit Judge. That the Slicks rendered the country valuable service for a while by running a set of thieves out of the country much sooner than it could have been done by process of law, no one can deny, but not stopping at the proper time, got themselves involved in a troublesome lawsuit and having to pay heavy damages for the violence of others, which some of them were, at the whipping of Herring, trying to prevent, but belonging to the Company were made liable.
I write the above as a caution to all who may read it against taking the law into their own hands. Better let the law take its course. Justice may be slow, but had those parties used the same diligence to detect and bring to justice the thieves they were after that they did to arrest and punish them themselves, they would have accomplished their object in a short time and have avoided the annoyance of a troublesome lawsuit and the payment of a heavy penalty. Let the law take its course. Better to execute the law than to violate it.
1HON. EVAN GOODWIN RICHARDS, author of a series of articles on Chambers County, published in the LaFayette Sun, during the year 1890, was a minister and lawyer. He was born August 26, 1807, at Northampton County, N. C., and died December 31, 1893, his last residence being LaFayette, Alabama. His father was a native of Wales, who settled in North Carolina in 1815 and removed to Madison County, Alabama. He went to the country schools of that County in 1830 and was licensed by the Methodist Church to preach. He located at LaFayette, that same year and was one of the chief promoters of the Opelika, Oxford and Guntersville Railroad, being its first President. He was also among the first to advocate the building of cotton factories in the South after the War Between the States. He was a Democrat and supported Stephen A. Douglas for the United States Presidency in 1860. Mr. Richards married Sarah Dickens Clark Webb, of Perry County, in 1835, and they were the parents of a large family of children.
FreeHearts: 2nd edition A Novel of Colonial America
Col. John Washington (ancestor of President George Washington), Randall Revell, Tom Cottingham, Edmund Beauchamp ward off Indian attacks and conquer the wilds of Maryland's Eastern shore in 17th century colonial America in this historical novel, inspired by true events.