Click http://www.alabamapioneers.com/honor-your-ancestor-on-alabama-pioneers-for-the-bicentennial/ to see how to honor your ancestor as a Notable Alabama Pioneer
Happy Birthday!
JAMES ALLAN BOYD
BIOGRAPHY AND GENEALOGY
(1826-1920)
by
Lavone Johnson Anglen
James Allan Boyd and Mary Deane Forsey were married at the age of 22 and 16 years of age on November 11, 1848. They must have been neighbors, because part of their plantation was property transferred to them, in Alabama from her father, Richard Forsey ll, and her Uncle William Stewart.
The property was transferred to him from his father, William Boyd at a cost of $1.00 when he was twelve years of age, with rights for his father and mother to continue living on the property. They lived on the plantation with 100 slaves according to his obituary. The plantation was near Huntsville, Madison Co., Alabama. In 1860, it is listed next to Ex. Governor Reuben Chapman his real estate valued at $30,000 and his personal estate at $60,000. Ex. Governor Reuben Chapman's property for the same census as $85,000. and $200,000 to $300,000 personal property. They had another home in town, that was sold before the Civil War to C. W. Strong January 01, 1861. This information about the sale appeared in a diary written prior and during the Civil War.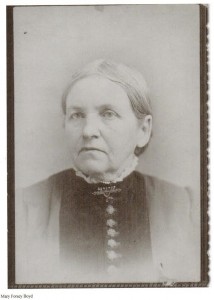 The Flint River ran through the plantation with the Appalachian Mountains in the background. The plantation had lots of flat land for raising cotton and some nice wooded area. One and one half miles from the plantation was the Bell Factory Cotton Mill. His father-in-law was the third owner of this property from 1829-1831. This property was run by slave labor Mary's father gave them 50 slaves.
In a book "With Sabre and Scalpel" by his cousin, Dr. John Allan Wyeth he described the plantation during a corn shucking. The Negroes of Huntsville were so well behaved that punishment of any kind was almost unknown. "While I knew personally every slave-owner in our county and a great many of the slaves, it so happened that I spent more time and became more intimately acquainted with the management of the establishments belonging to my cousin, Mr. James Allan Boyd in Madison County where I frequently visited, remaining for weeks at a time, and that of Dr. Stanley Harris, a retired physician who lived on and managed his own plantation near our village."
James Allan Boyd thought the South would be victorious, in the Civil War and slavery would survive. He traded and mortgaged the plantation for Negroes who were freed during the Civil War, with no payments to their former owners. The Union Army camped on the grounds and they burned the house. He lived next to Ex. Gov. Reuben Chapman and his house was burned and used for Negroes fighting in the Union Army and later for slaves who had no place to go. Family history indicates this is what happened to James Allan Boyd's plantation, because we were told it was burned and the Union Army camped on the grounds of the plantation.
James Allan Boyd mined Salt Petre for dynamite for the Civil War and raised cotton. He buried some of the family jewels, but they were discovered and dug up. There is no record, of the burning, looting or camping of slaves or union forces except for Ex. Gov. Reuben Chapman, but since he lived next door it is highly probable it happened to James Allan Boyd's too as family history has recorded. This information was in the history books of Alabama.
Newspapers were not printed during the Civil War because they were occupied by Federal Union Troops. (See Article in Early History of Huntsville, Alabama Pg. 66)(A footnote indicates the information Came from Civil War and Reconstruction in Alabama pg. 421. Other pages referenced were pg. 180, pg. 64 and pg. 108 of Early History of Huntsville, Alabama.
At the time of the Civil War James Allan Boyd was thirty-five years of age and his wife was twenty- nine years of age. They had six children at the time of the Civil War. Each child was suppose to have a nurse slave. Harriet Allan, named after her grandmother, was twelve years old; Eliza Forsey was nine years old; Thomas Knight was eight years old; and James Allan ll was one-year-old. During the war, another child Mary Deane (after her mother) was born Oct. 24, 1862. They had eleven children all together.
In the history of Henry County, Missouri, James A. Boyd is listed as born in Jackson, Alabama June 28, 1826, and is now making his home in Windsor, one of the oldest residents of Henry County, Missouri. He was reared in the Southland and became a plantation owner, using slaves to the number of 100 to perform the work of his plantation. During the Civil War he was engaged in the manufacture of salt petre for the Confederate government, salt petre being an important ingredient used in the making of gunpowder.
James Allan Boyd had some influential relatives in Jacksonville, Illinois who wanted Harriet Allan Boyd to get out of the war zone. The influential relative was Eliza Elinor Allan Smith, a niece of a brother Rev. John Allan of Harriet's. Eliza Smith's husband was David A. Smith, one of the most distinguished pioneer lawyers in Illinois. Smith was frequently associated with Lincoln in the trial cases of legal, as well as religious, circuit riders prior to his becoming President of the United States. Harriet Allan Boyd and her daughter-in-law, Mary Deane Boyd, and her seven children all went to Jacksonville, Illinois in 1863. They stayed in Mr. David A. Smith's home in Jacksonville, Illinois. The Smith's house is standing on the campus of Illinois College and it used as a Literary Club on special occasions. Harriet Allan Boyd died in this house. Mary Deane Boyd had another baby, David Marshall Boyd born Dec. 21, 1864 in Jacksonville.
James Allan Boyd left for Jacksonville Feb. 1866. He brought with him $10,000. He purchased a farm In Jacksonville for $7,000 cash for a total cost of $9,000. In his diary, he tells how he was able to move Everyone to the farm except for his mother, Harriet and his daughter, Mattie Lou, who were too sick to move. This indicates he owned another place in 1864 prior to her death. The property was a 206-acre farm. James Allan Boyd had gone North because he received information his mother was gravely ill. He went to Scottsboro to have a voucher filed.
In Jacksonville, they were no longer rich Mary Deane, his wife wanted to move from the area after the death of Harriet and Mattie Lou, her daughter. They chose Missouri. They moved to Waverly or Corder Missouri In Lafayette County and became fruit growers. They lived here for about twenty years and farmed. He built a house in Lafayette County. He was engaged in farming until 1894 according to his obituary. In the history of Lafayette County, an article about Three Groves Church mentions charter members were Mr. Boyd and his wife.
They moved to Henry County, Windsor Missouri and for a while they lived with their sons, David Marshall Boyd and John Wyeth Boyd. Their sons helped them build a home in Windsor and James Allan Boyd, Mary Deane Boyd, Harriet Boyd Hurt, and Eliza Boyd all moved into the home.
James Allan Boyd died at the age of ninety-four years of age. Mary Deane Boyd, his wife was paralyzed from a stroke and she died January 1910. They are both buried in Laurel Oaks Cemetery in Windsor, Missouri.
Children of James Allan and Mary Deane Boyd:
Harriet Allen Boyd b. 21 Sep 1849 Huntsville, Madison, Ala. d. 04 Jan 1937 Windsor, Henry or Pettis Co., Missouri m. Thomas Hurt of Ala. About 1868
Eliza Forsey Boyd b. 28 Mar 1852 Huntsville, Madison, Ala. d. 26 Apr. 1943 –unmarried
Thomas Knight Boyd b. 26 Dec. 1853 Huntsville, Madison, Ala. d. 11 Apr. 1924 Kansas City, KS. Wyandotte Co. m. Alice Victoria Starks 18 Apr. 1888 Syracuse, Hamilton Co., Kansas.
William Richard Boyd b. 09 Apr. 1856 Huntsville, Madison, Ala. d. 07 Sept. 1874 Lafayette Co., MO. –never married
Mattie Lou Boyd b. 08 Mar 1858 Huntsville, Madison, Ala. d. 27 May 1864 Jacksonville, Morgan Co. Illinois – never married
James Allan Boyd Jr. b. 01 Jan 1860 Huntsville, Madison, Ala. d. 04 Apr. 1936, Windsor, Henry or Pettis Co., Missouri- never married
Mary Deane Boyd b. Bellefonte, Jackson Co. Ala. d. 13 Oct. 1949 Aberdeen, Bingham Co., Idaho m. Frank B. Jackson 27 Sept. 1888 Syracuse, Hamilton Co., Kansas
David Marshall Boyd b. 21 Dec 1864 Jacksonville, Morgan, Illinois d. 16 Nov. 1941 Leeton, Missouri m. Ursula Frances Hudson 31 Oct. 1897
Forsey Boyd b. 27 Aug 1867 Lafayette Co., Waverly, MO. d. 28 Jul 1868 Lafayette Co., Waverly, MO. – Never married
Lindley Royal Boyd b. 22 Jun 1869 Waverly, Lafayette Co., Mo. d. 30 Mar 1947, Wichita, Sedgwick Co., Kansas m. Pearl Clark Apr. 2, 1896
John Wyeth Boyd b. 18 Sep 1873 Lafayette Co., MO. d. 27 Oct 1951, Windsor, Pettis Co., MO. m. 29 Dec. 1897 Julia Annie Allen.
Start researching your family genealogy research in minutes.

This inexpensive Ebook has simple instructions on

how to get started with FREE sources. Download

WHERE DO I START? Hints and Tips for Beginning Genealogists with On-line resources

to your computer immediately with the FREE APP below and begin your research today!
Reviews
"This book was very informative and at a very modest price. Thank you for your great newsletter and this book."
"The book was clear & concise, with excellent information for beginners. As an experienced genealogist, I enjoyed the chapter with lists of interview questions. I'd recommend this book to those who are just beginning to work on their genealogies. For more experienced genealogists, it provides a nice refresher."
Download unlimited Ebooks for FREE to your computer or other electronic devices! Click below to see how.