This unedited story has been transcribed from WPA (Works Project Administration) stories on Lowndes County from 1935.
THE WAYSIDE COTTAGE
Mr. & Mrs. C. C. Pledger and Family
Lowndesboro, Lowndes County, Alabama
The English Place conceded to be most desirable
Entered from Governmental
By Pioneer Nat Reese
Written on October 7, 1935
On the highway which connects the two "sister villages" of Lowndes is a small old cottage, a landmark of the years of long, long ago. Over a hundred suns have set since the pioneer settlers traversed several states and selected this as a homestead. He "entered" the beautiful fertile lands surrounding it from the government, developed it and making it one of the most desirable plantations in this section.
Cottage was in a picturesque oak grove
Near the highway three miles south of L – this small four-room cottage is situated in a picturesque oak grove which would be most attractive were it not stamped with neglect and poverty on all sides. There is no evidence of the life of prosperity led by the settler of pre-war date. There is left nothing to remind one of the major part he took in developing first and worthwhile affairs.
To the passer-by an old tenement house is seen, which is the home of the Tenant Farmer and family and one would at once recognize the fact that the year had not been kind to him and his. On every side the eye met evidence of carelessness. The approach was unappealing. The front where a yard once enclosed the house was overspread with weeds and a few flowers, which were a total failure, were tangled over and together. Directly in front of the porch was a "would be" sweet potato patch, which was also a failure due to the extreme dry weather. However, there were vines and vines running riot here, there and everywhere.
The lovely lawn which was one of the most charming characteristics of this picturesque location and which was used as a picnic ground in years gone by, was smothered or choked out with an overgrowth. It was littered with old cans, unsightly objects and the wrecks of two old automobiles. The porch was used to store away the piles of cotton just gathered from nearby fields.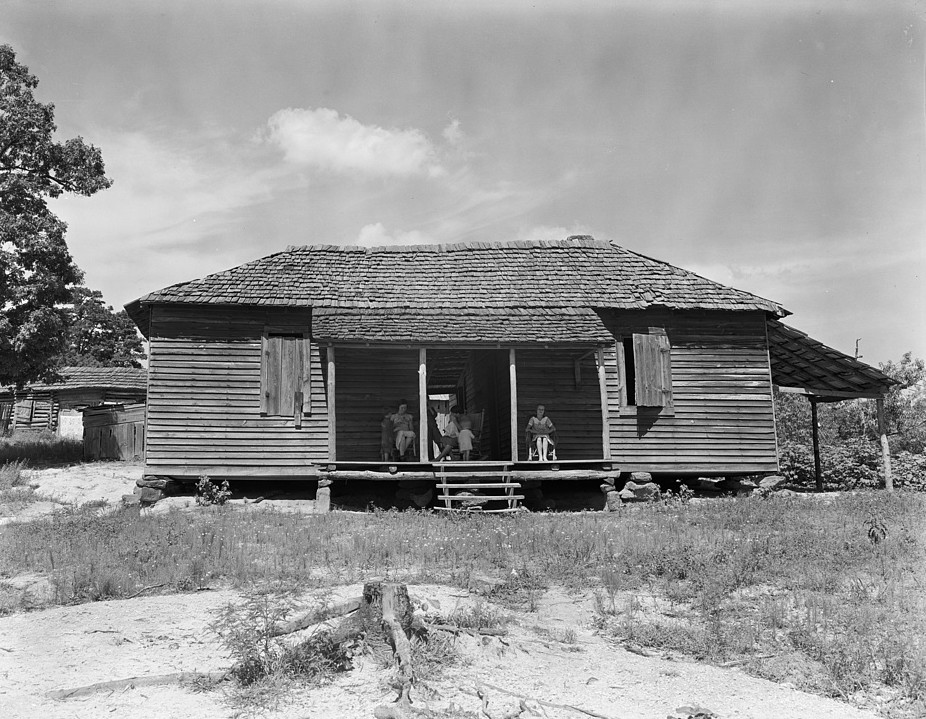 Home of cotton sharecropper Floyd Borroughs,1935 Hale County, Alabama by Walker Evans (Library of Congress)
Chairs did not have bottoms
Mrs. White was out in the garden, which was near the house and told me she would join me as soon as she could get some greens. She was picking the tender sprouts from collard plants preparatory for the midday meal, but soon came out and invited me in. First she offered me a seat on the front porch, but we soon discovered that none of the several chairs out there had any bottom so we went inside hoping to have better luck. Here we found some that seemed more certain.
Mrs. White, the mother of this home at once began to tell me of her condition which was a "near-sob-story," and she need not have gone over the grounds because it was written plainly over everything. The old house, itself, was bare, open and in bad shape – it had been moved so I was told four times and changed and patched up so that it was of the plainest type.
The flooring had large cracks in it and in some places small pieces were out. The walls had been papered with newspapers which had been torn down, leaving the walls in a most disfigured condition, and the windows were made of plank hung on hinges. The four rooms – two front rooms and two "shed" rooms contained very, very little furniture. There were five beds in all the house and a cooking stove in one of the rear rooms. It's bareness was pitiful as there was not one particle of comfort or brightness to be seen.
Family became sick with chills and fever
On the verge of tears she told that a year ago she and most of her family were down sick with chills and fever caused from a low malarial district in which they were then living.
They were employed to take charge of a Dairy for a large farmer and cattle owner in another part of the county.
They were ill and "down" most of the year and had to give up their work. Continued illness caused them to lose out completely. Nothing coming in, no money for food, clothing, medicine, etc., etc. Their condition became most desperate.
Finally, the physician told them they would surely die if they were not moved into a healthier location. The planter in whose employ they were at the time was operating the "model farm" near L – and transferred them to the present home as sharecroppers." By that she explained that they were to cultivate 100 acres of land, planting some in cotton, some in corn. The landlord furnishes the land, seed, tractor and ½ the fertilizer (which is very expensive) and the white family works the land and pays the other half of the fertilizer.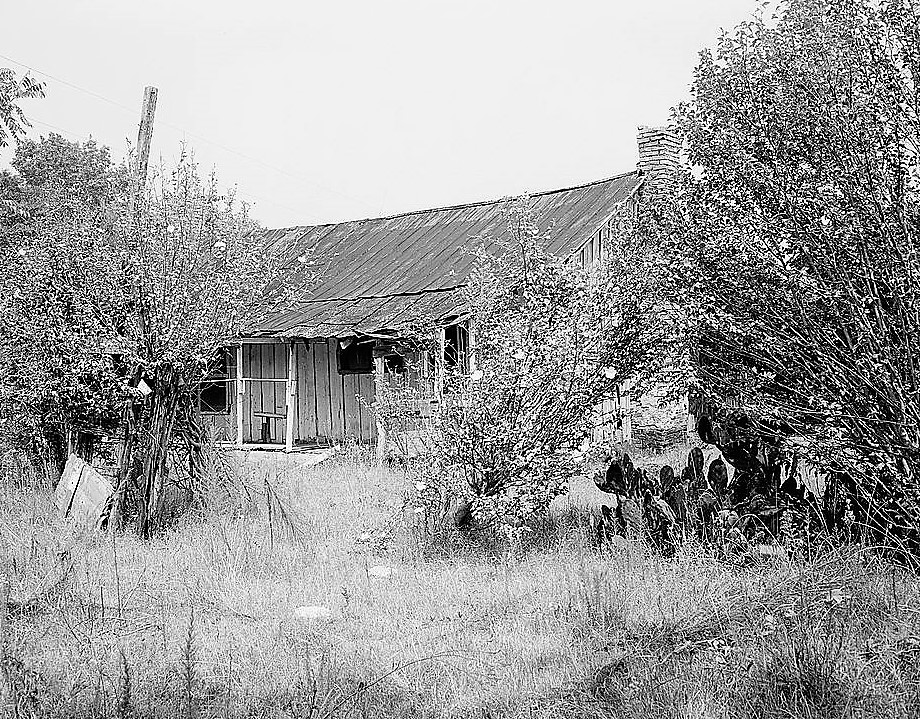 McCary Tenant House, U.S. Route 80 near Berry Lake Road, Lowndes County, Alabama ca. 1939 (Library of Congress)
Sharecropping was disappointing
But they had gotten behind, they started behind and could not work hungry, so had to get "advances" to live on which had to be paid out of their half of the "sharecroppers" profits. The prospects of a good crop looks gloomy. Too much rain when dry weather was needed and vice versa.
The farmers' trials are many, the yield seems to be disappointing. The advances will take a big slice from the profits. The crop is not harvested or sold yet. But living expenses go on and on. How will the bills for the time intervening between now and time cotton is sold to be cared for? Conditions are desperate and winter coming on. The white family consisted of 12. Father, mother and 10 children, but only 2 children are in the home at present.
Four of the children try to attend school, 2 girls whose ages are fourteen and 17, two small boys who are 8 and 10 years old, but she sadly stated that as anxious as she was for them to get an education or as much as they could, she could not see how it could be done. The entire family tilled and toiled in the field including the 17-year old daughter, still older, but over the school age.
Father had attacks of malaria
The father could not come up to his quota, as the attack of malaria has left him incapable in some ways. She went on to explain that the children would be compelled to have suitable clothing, shoes, books, etc., or discontinue school and winter was just around the corner, but she held with much tenacity the desire for them to learn. During the conversation I saw that she had received a sufficient education to speak correctly and it was evident that she had been brought up in better surroundings, however, with that, it would not have been on such high scale as her present condition was most pathetic.
She repeatedly said she wanted them to get "learning." As to preaching and Sunday School she said they never even considered it, that they had not attended since they came to Lowndes County, nearly seven years ago. However, she said she would like them to attend Sunday School, but was again handicapped with the same fact that they could not fix up like other children and said they had "pride" – too much pride to go out on Sunday, "patched up" even to worship the Lord.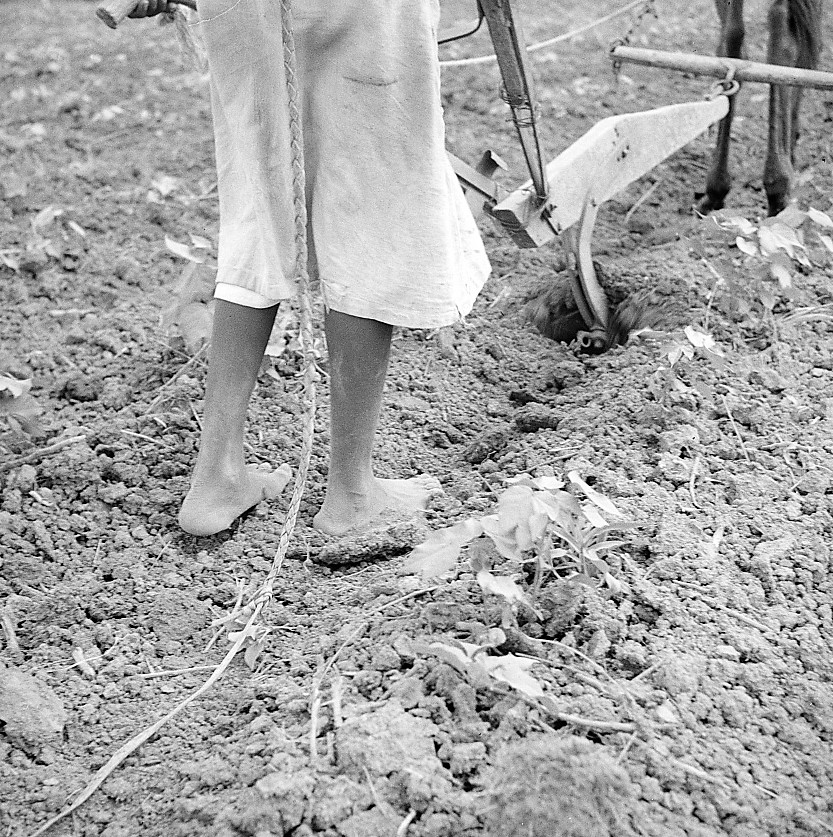 Alabama Girl plowing barefoot July 1936 near Eutaw by Dorothea Lange (Library of Congress)
They worked barefooted
She received me in a faded print dress and no hose or shoes on at all. She and the girls work in the field barefooted, as the shoes they manage to get must not be worn out every day. She asked me to make an inspection of the house to justify her statement but this was not necessary as the connecting doors were afar, or either off their hinges and the entire interior could be seen. All its bareness corroborated what she was saying. She needed 8 beds to sleep her family of 12, but only had 5 "steads," and these had insufficient mattresses and "scimp" cover.
She wanted in some way to get material for the additional mattresses and to get scraps from anyone she could to piece up "on halves". During the long winter nights after the daily duties were over this "piecing" would be done by the cheery fireside. That is one assured comfort that the farmer, the renter, even the Negro renter has. A good roaring fire by day and by night. What other comforts he may miss, he makes it up with a cheerful fire.
They looked at life differently
This type of people, do not hesitate in some things. The renter is transient. Here today, gone tomorrow. The choice trees mean nothing to them, the beautiful and caluable (sic) woodland is not considered. The axe is not spared and wood is used to warm the room at night where the covering is inadequate. If the chimney or roof is defective and the house is destroyed by the carelessness of too much fire, it is just an "excitement" in the community that day or nighty. The renter has no regrets as a usual thing. On an average he has lost nothing.
For the most part, he can move his small household goods from the one-story cottage before it falls in or in event his furniture is lost, he seeks a new home and new furniture is advanced him. Even in some instances the household possessions have been purchased on the installment plan, so the "installment man" and owner of the lost home do the worrying.
As a rule this type of people have a "make-up" in which "money worries" are not included. It matters not the name of the party to whom they are indebted or whose land they live on. If this program does not please them, they "turn on" another. They sense the fact that the extensive landowner must have labor The dollar moves but has to do so through the medium of man power. The vast tracts of farm lands does not cash in without it. The adjacent land owner waves new advances at the renter. He will get by and he knows it.
Cow is almost dry
Mrs. White, complains on and on of her hardships and is to some extent resenting it. She has one cow which is almost dry and she does not see how the cooking can be done till the cow "comes in again", to say nothing of the milk and butter for the table use that helped out the grocery bill so much. There were seven hens "on the yard" that were some help.
The family in addition to working in the field manged to have two wonderful gardens in which an abundance of beautiful vegetables of almost every desired variety were raised. There was such an abundance of these that they were too much for their own use and the "women folks" decided to cash in the over plus and they put their heads together as to ways and means. It was "lay by time" an expression used by the farmer to indicate the period of time between the completion of work till it grows and ready to be gathered. Mrs. White decides to spend the store mentioned time in canning. Thereby conserving the vegetables for the long scant winter months. But she has no canning facilities, no cans.
She goes to the courthouse and makes application for an outfit – the modern pressure canner that the rehabilitation agent lets out to farm women, but alas: for some reason her trip is vain. "Not eligible" is a sad sounding term. Many disappointed souls have had to hear many times.
Women operated on halves
However she is not daunted, she determined to can anyway, using the old long drawn-out method which means untold time, worry and work. Seeing numerous adds (sic) in Progressive Farmer where farm women operate on halves, she found the container problem solved for her. The cans are supplied by one party, (only one wishing canned fruit and vegetables) while the farm wife furnishes whatever products are to be used and the outcome or number prepared divided equally. She did a land office business. Jars and cans were sent to her from all sides. She "put up" day and night. The lot consisted of delicious tomatoes, beans, corn, soup mixtures. Lovely looking fruit, pickles, relishes, etc.
Her share was to "carry" them this winter and a fall garden was planted to duplicate, the enterprise after cotton picking was over and she realized that her crowd could consume quantities of food. But the weather and fate also played a trick. The "advance money" gave out and winter was forgotten. The lovely rows of jars on shelf after shelf were used up.
The weather was too dry. The seed in the garden did not answer the roll call. A shadow fell o'er the pictures. They're in tough till cotton is sold. They're impatiently and un-hopefully awaiting the next division which is all important. The division of the "share-cropper" meaning the payment of all expenditures first and the profits are divided between landowner and renter. As a usual thing during the year if the renter calls for money to "go on" the picture is pretty, but as day approaches he grows dissatisfied.
Girls sold surplus vegetables in village
While the canning went on during the summer time the two grown girls sold some of the surplus vegetables in the village. They rose early and gathered them, prepared the most attractive looking ones, placed them in baskets and after making themselves neat in cool, clean little cotton dresses, they set out in the cool of the morning on foot for the nearby town.
They went from house to house, selling to people who had no garden. Some were sold to housewives who were too busy at the card table to think of a garden till time to look up a menu for dinner. Others bought to help the girls who were "trying". Bright, young and deserving, who would not? Mrs. White has made repeated but vain attempts to get welfare aid, but there is some obstacle which embitters her. Her girls live a lonely life, with no recreation whatever. Apparently the life of the family is summed up in the one word "work".
The story is pathetic, her condition all too plainly pitiable and yet "difficult to take in". Something is wrong. Their working association is with as fine a character as Lowndes produces – on the square absolutely. The land is excellent. It must be ill-management. Their money ill spent or what is the answer.
Prior to statehood, Alabama was a vast wilderness with a large Native American population. It is only natural that when new immigrants from other states arrived, conflicts over the land would arise. Soon, these small conflicts exploded into war.
Alabama Footprints Confrontation is a collection of lost and forgotten stories that reveals why and how the confrontation between the Native American population and settlers developed into the Creek-Indian War as well as stories of the bravery and heroism of participants from both sides.
Some stores include:
Tecumseh Causes Earthquake
Terrified Settlers Abandon Farms
Survivor Stories From Fort Mims Massacre
Hillabee Massacre
Threat of Starvation Men Turn To Mutiny
Red Eagle After The War