Happy Birthday!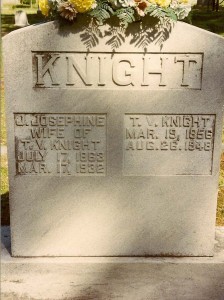 THOMAS VERDINE KNIGHT
BIOGRAPHY and GENEALOGY
(1856-1948)
Coosa & Talladega County, Alabama
Thomas Verdine Knight, of Sylacauga, was a farmer and general manager of the Sylacauga Land Improvement company. He was born in Coosa county, Alabama, March 19, 1856. In 1839 his paternal grandparents, Enoch and Farthy (Parker) Knight, came from Coweta county, Ga., and settled in Talladega county. Enoch Knight lost his life through gas in a well, and after his death the family went to Coosa county for a while, but returned to Sylacauga, where Farthy Parker Knight died in 1899, aged seventy years.
A son of this couple, James Allen Knight, came with his parents to Alabama, and there passed the remainder of his life. When the question of secession was sprung, he opposed the movement to take Alabama out of the Union, but after the war began he was for a time in the Confederate service as a gunsmith. He was also an honored member of the Masonic fraternity, and both he and his wife were members of the Methodist church. He married Martha Ann Jackson, daughter of Mark and Balzora Jackson, who came from Troup county, Ga., and to this union were born three sons and one daughter, all of whom were living in 1904.
One of the sons was Thomas V. Knight, the subject of this sketch. He was educated in the public schools, and engaged in farming and trading in real estate. He was also associated with his father in the saw mill business from 1880 to 1887. He owned several pieces of valuable property in and about Sylacauga, and in 1903 erected one of the most substantial business blocks in the town. The first floor of this building was divided into three rooms, each 24 by 110 feet, well adapted to mercantile purposes. Mr. Knight was a member of Sylacauga lodge, No. 200, Free and Accepted Masons, and both he and his wife were members of the Methodist Episcopal church. In politics he was a Republican. He was one of the most energetic businessmen in Sylacauga.
For several years he stood at the head of the Land Improvement company, which had been the means of bringing outside capital to Sylacauga for investment. Mr. Knight married Miss Josephine Wood, of Coosa county, and by 1904, four children were born to them:
Woodie Lee Knight
Chester Howard Knight
Lewis Thomas Knight
infant not named at the time of the publication in 1904.
Thomas Verdine Knight died Aug. 26, 1948 and is buried in Marble City Cemetery in Talladega, Alabama with his wife Josephine who died Mar 17, 1932 and some of their children
SOURCES
1.Notable Men of Alabama: Personal and Genealogical, Volume 1 edited by Joel Campbell DuBose
2.Find A Grave Memorial# 5923942 # 5923939
Start researching your family genealogy research in minutes.

 

This inexpensive Ebook has simple instructions on

 

how to get started with FREE sources. Download 

WHERE DO I START? Hints and Tips for Beginning Genealogists with On-line resources 

to your computer immediately with the FREE APP below and begin your research today!
Reviews
"This book was very informative and at a very modest price. Thank you for your great newsletter and this book."
"The book was clear & concise, with excellent information for beginners. As an experienced genealogist, I enjoyed the chapter with lists of interview questions. I'd recommend this book to those who are just beginning to work on their genealogies. For more experienced genealogists, it provides a nice refresher."
 Download unlimited Ebooks for FREE to your computer or other electronic devices! Click below to see how.