July 16, 1879, From the Birmingham Iron Age
Judge Milton J. Saffold, formerly of this State, died in San Francisco, Cal., on the 5th inst.
Miss Lucy Walton Rhett Horton has brought suit in Washington city against John H. Morgan, son of Senator Morgan, for a breach of promise, laying damages at $82,000.
John Hunt Morgan, Jr. from Kentucky Digital Archives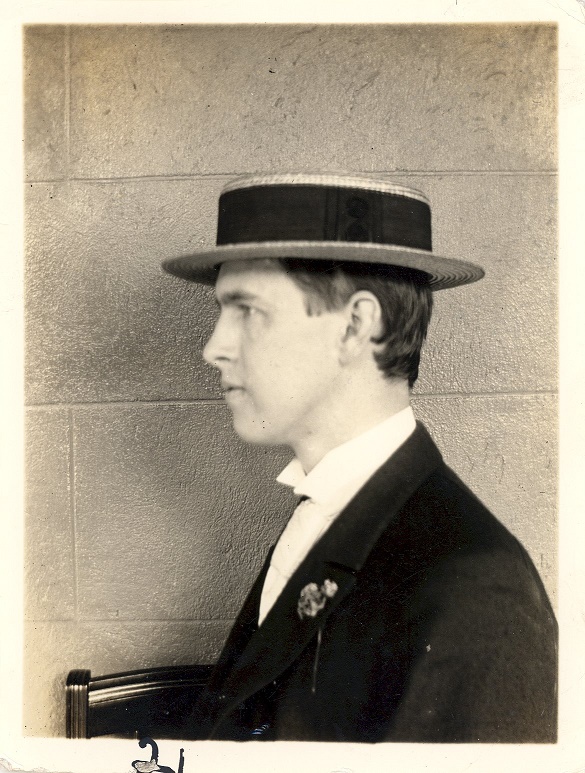 John E. Ellis, D. D. G. C., of the Knights of Pythias, accompanied by fifteen members of Jefferson Valley Lodge No. 11, K. P., of this place, went to Oxmoor on Wednesday evening last to initiate a new lodge, which was christened Shades's Valley Lodge, No. 24, and organized with a charter membership of 12. The following officers were elected, viz. W. D. Klin, P. C.; John Veitch, C. C.; Ellis Veitch, V. C.; J. S. Brooks, P.; B. F. Haynie, K. of R. and S.; W. F. Smith, M. of F.; F. C. Shepard, M. of E.; S. T. Brittle, M. at A.; W. F. Hanby, L. G.; Jas. Shannon, O. G. S. T. Brittle was also elected P. C. The Knights have fitted up conjointly a neat little lodge room. Both societies are composed of the best material, live, go-ahead men, and we wish them the greatest prosperity.
W. W. Wadsworth, who cut Paul Strobach at Mountain Creek some time since has been arrested waived the examination and given bond for his appearance at the next term of the Circuit Court for Chilton County.
KING-SNODGRASS – The bonds of matrimony were solemnized at St. Barnabas Church, in this place at 8 o'clock on the evening of the 9th inst., by the Rev. Dr. Dannister, of Huntsville, between Mr. Frank R. King of Louisiana, and Miss Fanny V. Snodgrass, daughter of the editor of this paper.
The Scottsboro Herald contains the following notice of the marriage on the 9th instant, of F. R. King, Esq. and Miss Fannie Snodgrass.
Parties indebted to the Iron Age, for Subscription, Advertising, or Job Work, are earnestly requested to settle up at once. We need money badly and must have it.
The young folks had a dance Thursday night last, at the armory of the Birmingham Rifles, which despite the exceedingly warm weather was greatly enjoyed by all.
John B. Garrett, an old citizen of Montgomery, and father of John Garrett of this city died in Montgomery last week.
At a meeting of the Board of Directors of the Birmingham Building and Loan Association, held Monday night last, Mr. W. J. Milner was elected Treasurer.
The marshal has had the street force doing some much-needed work on 2d Avenue the past week.
Mr. Hines, of this city, has laid on our table the largest Irish potatoes we have ever seen, they are certainly wonderful in size.
We had the pleasure of a call yesterday from Prof. Alonzo Hill, president of the Tuscaloosa Female College. Those who have daughters to educate will do well to consider the claims of this institution as it is one of the very best in the country.
The Misses Tegner will give a mite meeting at the residence of their father, at Elyton, Thursday evening, for the benefit of the Cumberland Presbyterian Church in this city.
Miss Mollie Anderson, one of the charming young ladies of our neighboring town of Gadsden is in the city, the guest of Miss Lucy Cobb.
Theophilus Gilliam Fowler (ADAH Q3710 ca. 1900)
Maj. Theo. G. Fowler is in the city looking after the interest of his splendid insurance company, the Mobile Life.
John W. Newball, the clever young gentleman in charge of the switch engine of the S& N road at this place, left Friday night last on a visit to his father's family in Louisville.
Jas. T. Mudd, Esq., will leave Saturday night for Crab Orchard Springs, Ky. Hope he will have a pleasant time during his absence.
Gov. Cobb and Hon. B. B. Lewis are at Blount Springs for a few days. The Governor will be in Birmingham tomorrow as a delegate to the Baptist convention.
Messrs. S. S. Holbrook, Mr. Wm. Aldrich and Dr. Hilyer of Montevallo, are up today taking a look at Birmingham. They go to Blount Springs for a few days.