Note: I discovered this article in a newspaper but could not find any more about this tragic death. Please comment below if you can provide more information.
Willie Thompson, (student) of Tuskegee was Killed
News from June 21, 1900 (Transcribed from Marion Times-Standard (Marion, Alabama)
WILLIE THOMPSON OF TUSKEGEE
Killed While With a Companion – Student of the M. M. I.
Tuskegee, June 16 – The tragic death of Willie Thompson, son of Senator C. W. Thompson, has cast a gloom over this quiet little city.
Sen. Charles Winston Thompson, father of the Willie Thompson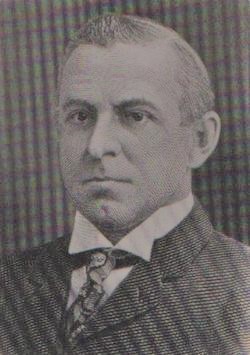 There was a dance at the Opera House last night and young Thompson accompanied a young lady. After the dance, he accompanied the young lady home and then Thompson and Earnest Padgett hitched up a horse to a wagon and started for Chehaw. This was some time after 12 o'clock. Thompson did the driving and Padgett lay down in the wagon and went to sleep.
Padget says he was awakened by Thompson's hands striking him or the report of a pistol. When he awoke he tried to arouse Thompson, but found a body covered with blood. A pistol belonging to Thompson was found in the wagon with one empty cartridge.
Headed for Tuskegee
Padgett says it was about day when he was aroused, and that instead of the horse going in the direction of Chehaw, he was headed for Tuskegee. Persons who went out this morning report that about halfway between Chehaw and Tuskegee they found where the wagon had been turned around, and only a short distance from where the turn was made, was where Padgett was aroused.
On finding that Thompson was dead, Padgett drove the wagon to Chehaw and immediately notified relatives of the occurrence. These are the facts as gathered from Ernest Padgett.
Several of the young people remembered seeing Thompson at the dance and there was nothing unusual in his manner. It is stated that yesterday Willie Thompson told one of his brothers that that was the last day he would spend on earth.
Padgett says that he and young Thompson had a small quantity of whiskey with them, but insists that while Thompson had taken a drink or so, he was sober.
Father in Randolph County
Hon. C. W. Thompson is in Randolph County in the interest of his candidacy for Congress. As yet he has not heard the news. Persons have been sent out from Roanoke and it is hoped he will be found in time to get home tonight. Both Thompson and Padgett are young boys, neither being over 18 years old. Willie Thompson was a courteous, gentlemanly boy and was well liked. He returned a few weeks ago from Marion where he had been attending the Marion Military Institute.
Marion Military Institute, Marion, Ala ca. 1930s (Alabama Department of Archives and History)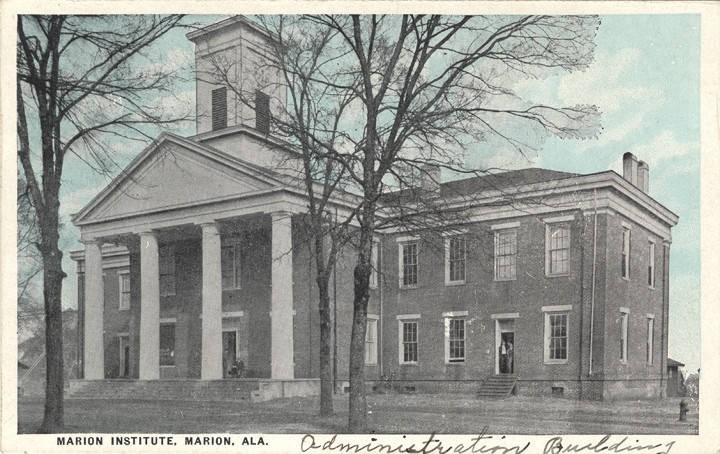 The coroner went to Chehaw, but decided to take no action until the arrival of Colonel Thompson. The funeral will occur tomorrow.
The above story was received from the Advertiser Correspondent at Tuskegee last night. Later in the night, some hours after this was written, Mr. Thompson reached home and the Advertiser was informed over the telephone through a friend that the father was not fully convinced that it was suicide, but might have been an accident and wished judgment to be withheld on that point for the present.
Additional Note
Young Thompson was a nephew of Mrs. J. B. Lovelace and a student of the Marion Military Institute the past session. He spent several weeks on a visit to Marion last summer and won many friends by his gentlemanly bearing.
ALABAMA FOOTPRINTS Immigrants includes some lost & forgotten stories of their experiences such as:
The Birth of Twickenham
Captain Slick – Fact or Fiction
Vine & Olive Company
The Death of Stooka
President Monroe's Surprise Visit To Huntsville