Eufaula is blessed with many old trees
The city of Eufaula, Alabama is blessed with many beautiful historic houses, and it also has many old trees to complement the picturesque scene.
Once, a huge oak grew squarely near the center of the city at 512 Cotton Avenue and had the distinct privilege of owning itself.  It was a favorite place for local children to play and was a landmark for the city so a local historian persuaded the city council to deed the tree to itself and through these acts it happened. It was given its freedom by the governor in 1936.
Deed recorded
The city, through its mayor, recorded a deed in 1935 which reads in part: "I. E. H. Graves, as Mayor of the City of Eufaula, do hereby grant, bargain, sell and convey unto the 'Post Oak Tree," not as an individual, partnership nor corporation, but as a creation and gift of the Almighty, standing in our midst—to itself—to have and to hold itself, its branches, limbs, trunk and roots so long as it shall live." The tree is also known as the Walker Oak.
The tree was quite old when it was deeded
The tree was quite old at the time and an iron fence donated by Dr. J. J. Houston to surround it was equally old.
It is very likely, Creek Indians met under the trees cool summer branches. It also served as an outpost of sorts for early settlers who passed by it as they traveled north over the wooden bridge that crossed Chewalla Creek.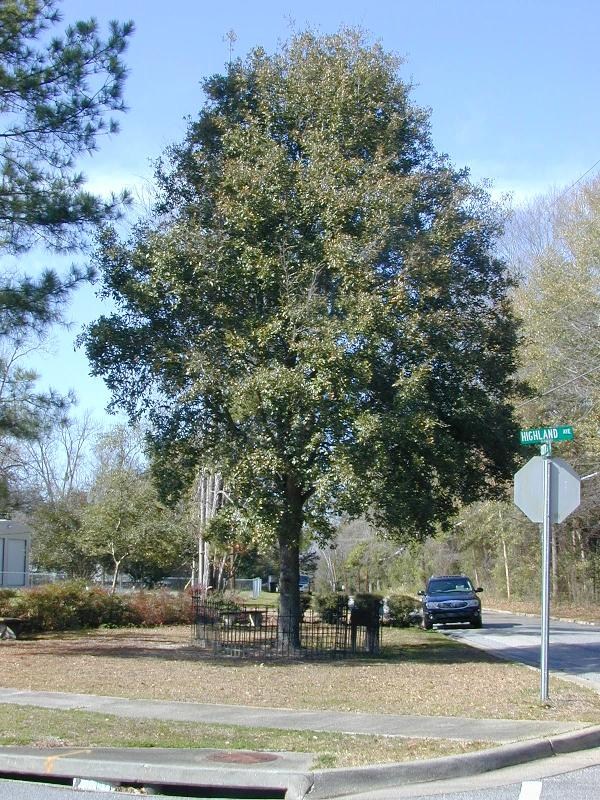 Confederate soldier owned the land
Confederate soldier Captain John A. Walker later owned the land and his children played under the magnificent tree. When Captain Walker's house burned, the tree survived and continued to withstand many storms until April 1961, when destructive winds swept through Eufaula and destroyed it.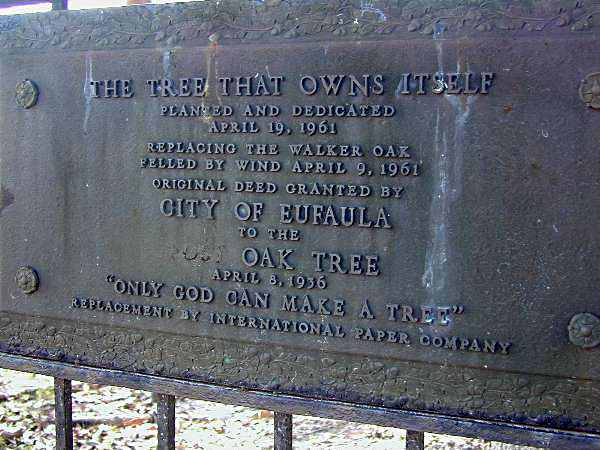 Tree was replaced
At the time, the tree was estimated to be greater than 200 years old. Since the tree owned the land,  it was replaced by another only to die again and be replaced. The tree that stands there now is not the original tree, but, it still retains its own deed to the property.
In this action packed novel depicting true events, the family saga continues with Ambrose Dixon's family. George Willson witnesses the execution of King Charles II and is forced to leave the woman he loves to witch hunters in 17th century England as he flees to his sister, Mary, and her husband Ambrose Dixon's home in Colonial American. Ridden with guilt over difficult decisions he made to survive, George Willson and the Dixon's embrace the Quaker faith which further creates problems for their existence in the New World.