(This article was prepared by the author, Thomas P. Clinton in 1916, followed by a number of other historical studies of the section treated. Mr. Clinton was a contributor to the old Alabama Historical Society, reprinted in The Alabama Historical Quarterly 1930)
EARLY HISTORY OF TUSCALOOSA
By
THOMAS P. CLINTON
From statements made to me and to others many years ago by very old people whose memory went far back into the past century, I am convinced that the territory now embraced within the city limits of Tuscaloosa was originally covered with a dense growth of cane, with an occasional oak, beech and mulberry tree.
Swamp near Tuscaloosa
One very old negro told me many years ago that he recollected when the locality about the present Bell Telephone office consisted of a very marshy swamp, and within this swamp were many wildcats and wolves, and that it was considered unsafe to visit this swamp at night without a light. But for all this danger he said it was a great place for runaway slaves to hide. Another party, Mr. Raleigh Pounds, who died a few years back, used to make the statement that when a boy he saw parties cutting wagon roads through heavy cane brakes in places now comprising the main part of town.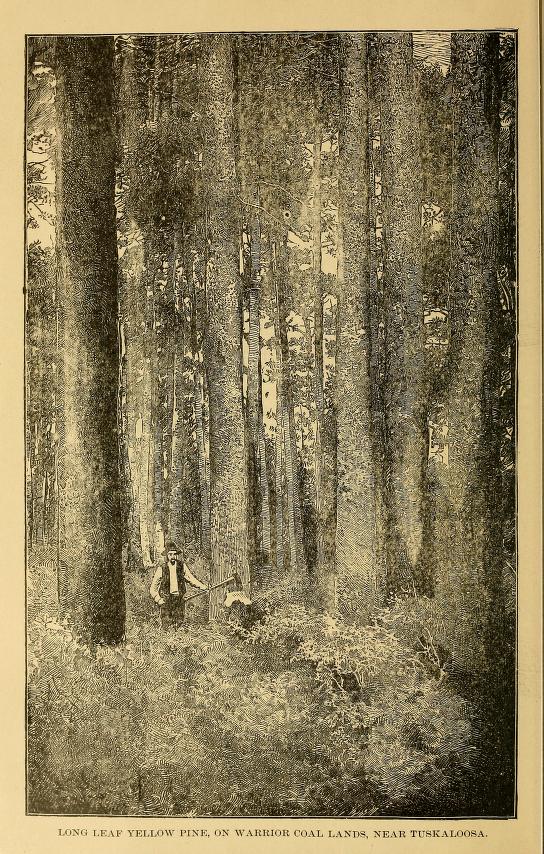 Drawing from an 1887 pamphlet of forest near Tuscaloosa (Library of Congress)
First White Settlers
And now to the question as to who were the first white visitors to this section. Of course this inquiry would be hard to answer definitely. In fact no living man can tell who were the first visitors other than the Indians; and I can only make mention here of such as I have knowledge of. Now it is generally conceded that DeSoto with his Spanish army in 1540 came no nearer to our modern Tuscaloosa than the village of Erie, in Greene county, and it is generally agreed upon that he traveled across Pickens County. But no one claims that he ever touched on Tuscaloosa County soil.
But twenty-five years after DeSoto's visit to west Alabama, another large body of Spaniards came to Alabama, and as some students in history claim, settled in the upper part of our present Monroe county. This was in the spring of 1559. This Spanish settlement was called Nanapacna, and though short lived, was the first settlement of Europeans in the Gulf States. The Governor of this colony was called Don Tristan DeLuna.
On the verge of starvation
In the summer of this year, 1559, this colony had become practically without provisions and were on the verge of starvation. It happened that among Tristian DeLuna's men were some who had been with DeSoto through Talladega County in 1540.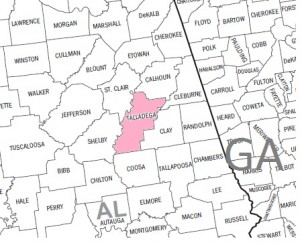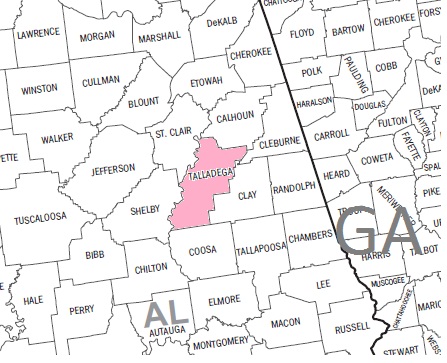 Kindly treated
They told the Governor of the colony of the plentiful supply of provisions at the Indian town of Coosa in the present county of Talladega. So two or three hundred were dispatched to the town hoping to obtain relief. They arrived at Coosa in the early part of July. They were kindly treated and sumptuously entertained by the Indians. And here the Spaniards remained, resting and feasting for three months.
Battles fought two or three miles east of Holt
About the early part of October, in order to retain the good will of their Indian friends, they agreed to assist them in any way against another Indian tribe, supposed to be the Natchez. And the Spaniards assisted their Indian friends in several hard fought battles. Now from the wording of the journals or dairies kept by some of these Spanish students and which are yet extant, some have entertained the opinion that some of those Indian battles were fought in October, 1559, near the confluence of the North River and the Warrior, or in other words two or three miles east of Holt.
This conclusion was reached by Col. H. S. Halbert who is considered an able authority, some years ago. Now if we could accept this interpretation of the Spanish journals, then very probably these Spanish soldiers in October, 1559, were the first Europeans who came near our modern Tuscaloosa. This was just sixty-seven years after Columbus' first voyage of discovery.
Old Indian Trail
If we consider the County of Tuscaloosa as well as the City, mention might here be made of the old "Squaw Shoals Trail", which in the seventeenth century ran from Fort Okfuskee, in Tallapoosa County, and on through Tuscaloosa County and crossed the Warrior River at Squaw Shoals, now known as Lock 17.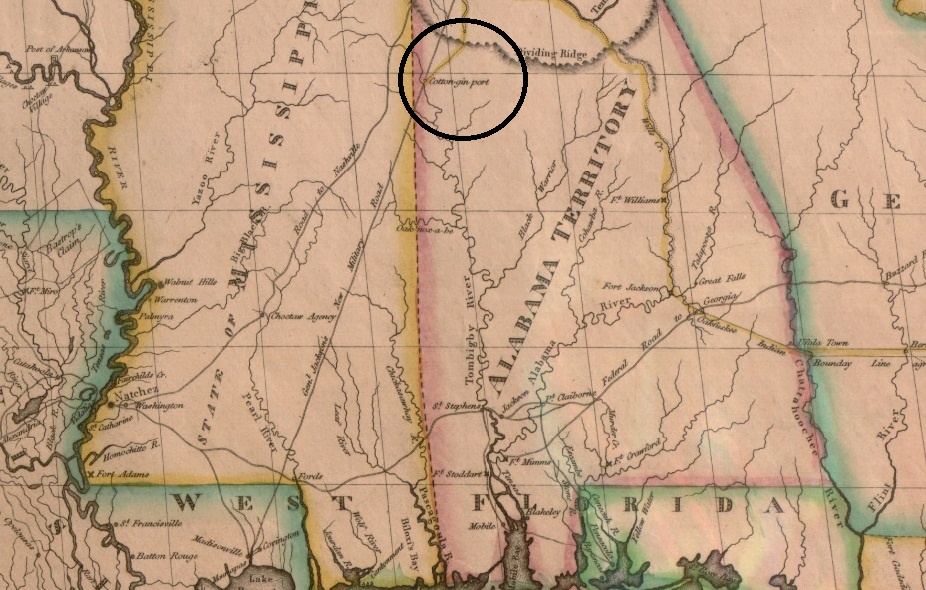 Location of Cotton Gin Port (Library of Congress)
This old Indian trail continued on to in North Mississippi. Different authorities make mention of one Colonel Welsh, traveling this route in 1698. He came all across the upper end of Tuscaloosa County that year. (to be continued)
Some stories include:
The true story of the first Mardi Gras in America and where it took place
The Mississippi Bubble Burst – how it affected the settlers
Did you know that many people devoted to the Crown settled in Alabama –
Sophia McGillivray- what she did when she was nine months pregnant
Alabama had its first Interstate in the early days of settlement
Check out genealogy books and novels by Donna R. Causey