Tuscaloosa was not united
(Partial transcription of a history of Tuscaloosa written by an older resident, Ben A. Green, in 1931 who was the managing editor of The Tuscaloosa News July 31, 1949, about early Tuscaloosa)
Rumblings of the Civil War were quite apparent in 1860 and Tuscaloosa with much-divided sentiment and forebodings cast anxious eyes at Montgomery. Tuscaloosa County's two legislators voted against secession and the city-s own mayor, Robert Blair in his second period of chairmanship was a Republican, which was regarded as equivalent to a Union sympathizer. Blair contended he voted Republican only once but he was looked upon with suspicion by the Democrats. He was a strong man and a leader, however, and actively guided Tuscaloosa in her efforts to aid the Confederacy early in the war. ……..
Years have mellowed the hearts that flamed high with the passion of conflict in the Civil War, and the haze of history has created for many the idea that a United South fought a united North and the North won. The name of ???tory is not disputed but the facts of that age show that the South was far from a united section and the North also encountered much interior resistance.
Many citizens opposed secession and war
In 1861 there was not even a united Tuscaloosa, as far as proslavery sentiment for the Confederacy was concerned. Many citizens opposed secession and war. The loyalty of Tuscaloosa city and county was never doubted, however. More than 3,900 Confederate soldiers enlisted from this county, a total almost twice the entire city population at that time. But many of them fought just because the majority willed it. They adhered to the Democratic Jeffersonian doctrine of majority rule, even if it meant their life blood.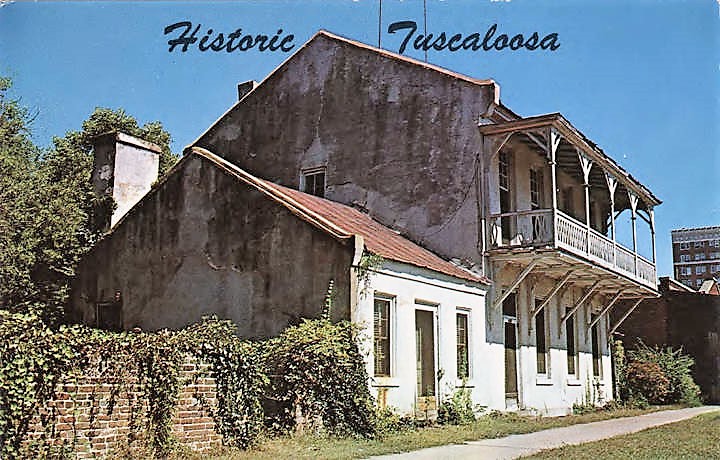 Historic old Tavern in Tuscaloosa 1960(ADAH)
Sentiment against the war was so pronounced that for a time some Union sympathizers attempted to form a federal state including that portion of territory north of Tuscaloosa and extending to the outskirts of Chattanooga. Tuscaloosa was on the very edge of this pro-Union section which Unionists wished to found as the State of Nickajack named for the famous Nickajack Cave near Chattanooga.
Civil War a jealous and economic one
Their efforts failed, chiefly because of resistance made by wealthy Black Belt planters who had millions invested in slaves. The Nickajack territory had neither cotton nor slaves, therefore had no use for the negroes and were jealous of the wealth and power given the Black Belters by slave ownership. It was another proof of the fact that the Civil War issue was primarily a jealous and economic one rather than the great moral question emphasized in "Uncle Tom's Cabin."
Tuscaloosa's city government shifted from Democratic to Republican rule five years before the invasion of Croxton's Raiders and the influx of carpetbaggers who followed the musketry. In fact, Tuscaloosa had Obediah Berry, a Republican, as mayor when Croxton arrived with his troops in 1865, Mayor Robert Lacey, a Republican, succeeded Rober Blair, a fellow party man, in 1862 but left town before his term expired. Records fail to show the reason for his departure.
Jesse C. Adams, a Democrat, succeeded Lacey but resigned July 17, 1863, and John Glascock, another Democrat served as mayor pro tem. His rule was very brief, however, and Obadiah Berry took his place as the third mayor to serve in 1863.
Check out all the books on Alabama Pioneers…
The Yazoo land fraud
Daily life as an Alabama pioneer
The capture and arrest of Vice-president Aaron Burr
The early life of William Barrett Travis, hero of the Alamo
Description of Native Americans of early Alabama including the visit by Tecumseh
Treaties and building the first roads in Alabama