Brigadier Gen. James Deshler (1833-1863)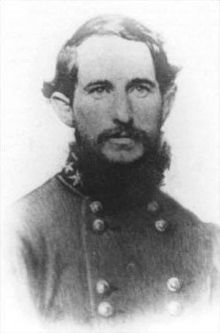 Deshler Female Institute was an educational institution, incorporated as declared in its charter, "for the sole purpose of the education of the females of the white race." It was founded by Maj. David Deshler, one of the most public-spirited citizens of Colbert County.
It was a memorial to his son, Brig. Gen. James Deshler, who fell at the head of his troops in the battle of Chickamauga. The will of Maj. Deshler provided that the square in the town of Tuscumbia, upon which his residence was built, together with all the buildings thereon should be "dedicated to the erection of an undenominational college for the educaton of white females, upon the contribution of $10,000 of bona fide stock by citizens of Tuscumbia." Maj. Deshler died December 6, 1871. However, the trustees, on May 31, 1870, had come together and organized. The secretary of state issued a charter under the general laws, September 20. 1870.
Destroyed by a tornado within two months
The main administration building was completed in 1874, and work of instruction was begun in September of that year, under P. M. Custer as principal. Within two months after the opening, a terrific tornado destroyed the school property, which interrupted the work for a time. The school was temporarily carried on in the Baptist church. The officers and faculty, aided by the citizens and Masons of the community, erected another building, and everything was put in thorough repair. In the control and management of the school the Masonic fraternity and the city of Tuscumbia exercise the largest control.
The aim of the institution is "to send forth into the world of activity, refined, cultivated, useful women, equipped for life." It has continued its work to the present, with more or less success, but without as large support as it has merited.
The Institute was a handsome two story brick building that stood on Main Street in the center of the block or square which included the residence of David Deshler.
SOURCES
Catalogues and Announcements, 1886. 1904, 1906;
Acts. 1876-77, p. 289;
Brewer, Alabama (1872), p. 191; and manuscript data in the Alabama Department of Archives and History.
As family historian, do you have friends and family ask you how to get started in family research? This is a hard question to answer in a few minutes. Refer them to the book below to help them get started in this fun hobby. Purchase several – Books make great Christmas gifts!