Where the State of Alabama Began
Washington County, Alabama was created June 4, 1800 by proclamation of Governor Winthrop Sargent of the Mississippi Territory. It is the oldest of the counties and embraced all the country between the Chattahoochee and Pearl Rivers.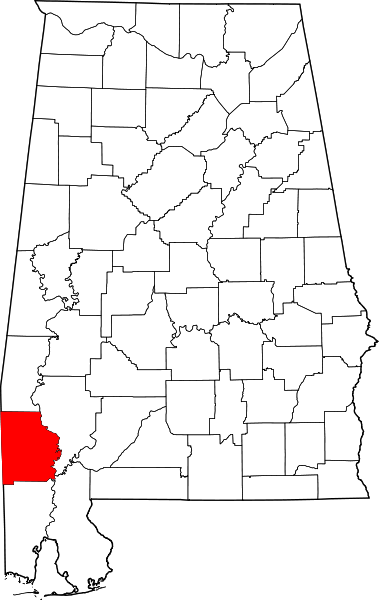 Washington County originally had an area of 300 miles one way and 88 the other. Sixteen counties in Mississippi and twenty-nine in Alabama were formed wholly or in part of its original domain. The lower part of its present area was taken from Baldwin in 1820. From 1830 to 1847 it was about 70 miles in length, but the five northern tiers of townships were taken to form Choctaw. The county originally had 26,300 square miles, but today contains only 1,081 square miles, The population according to the 2010 United States Census is 17,581
The county was named for President George Washington. The first civil courts in the county were held at McIntosh's Bluff, several miles above the junction of the Tombigbee and Alabama rivers in 1803. The site was near the American built Fort Stoddert on the Tombigbee River, about two miles east of the town of McIntosh. Today only a few foundation blocks remain on the site.
Courthouse moved several times
The first settlement within the area now known as Washington County was made at Old St. Stephens. The courthouse was next moved to Wakefield.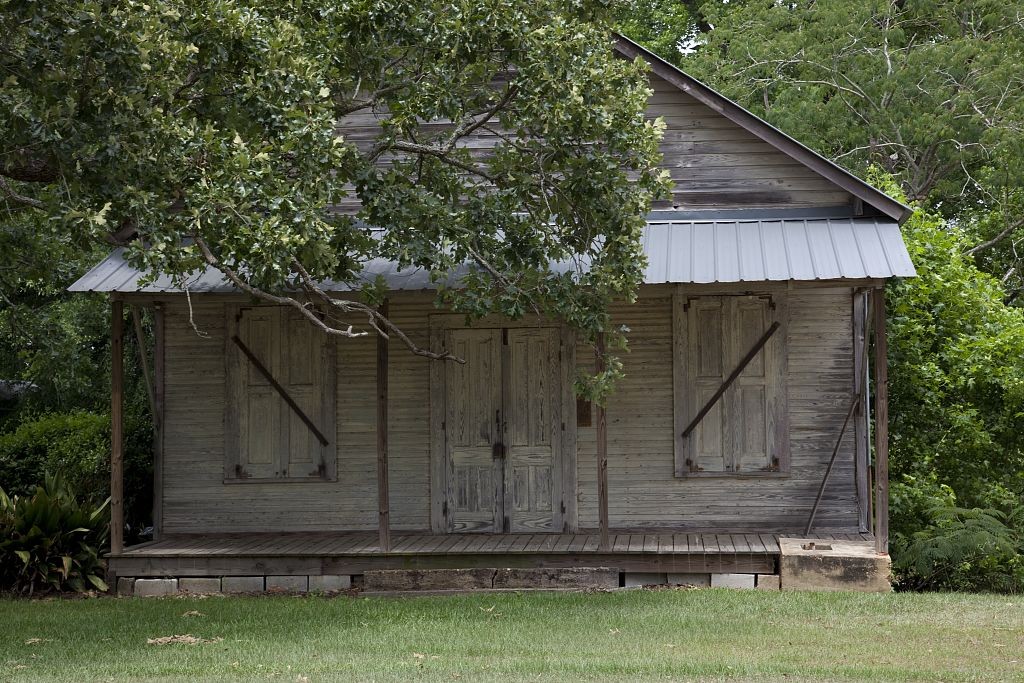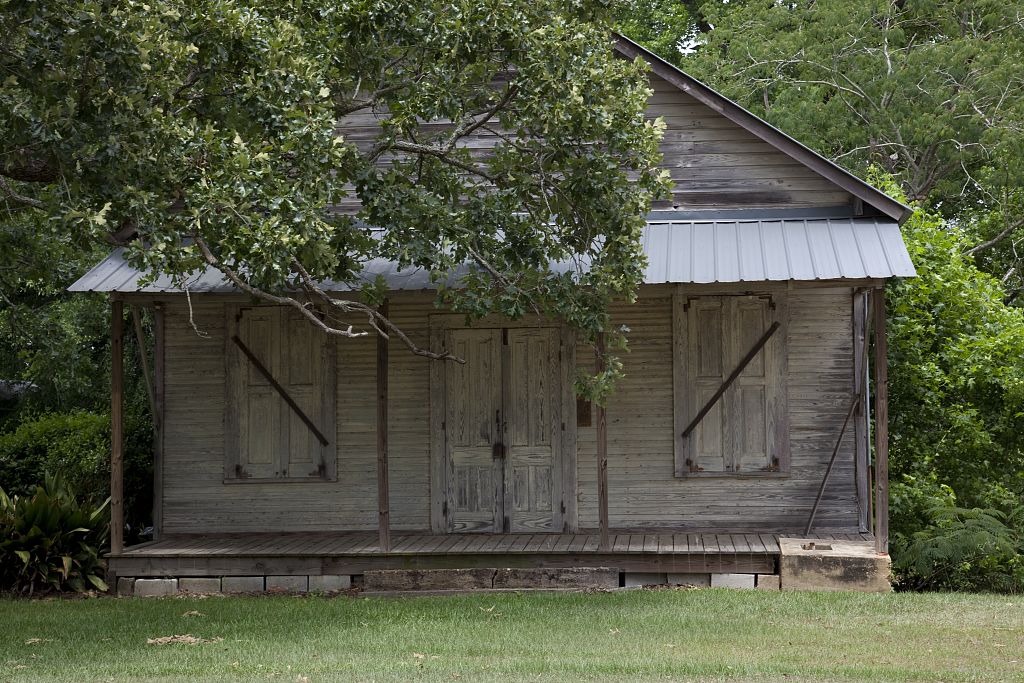 Old general store built in 1800 in Leroy, Washington County, Alabama 2010 by Carol Highsmith (Library of Congress)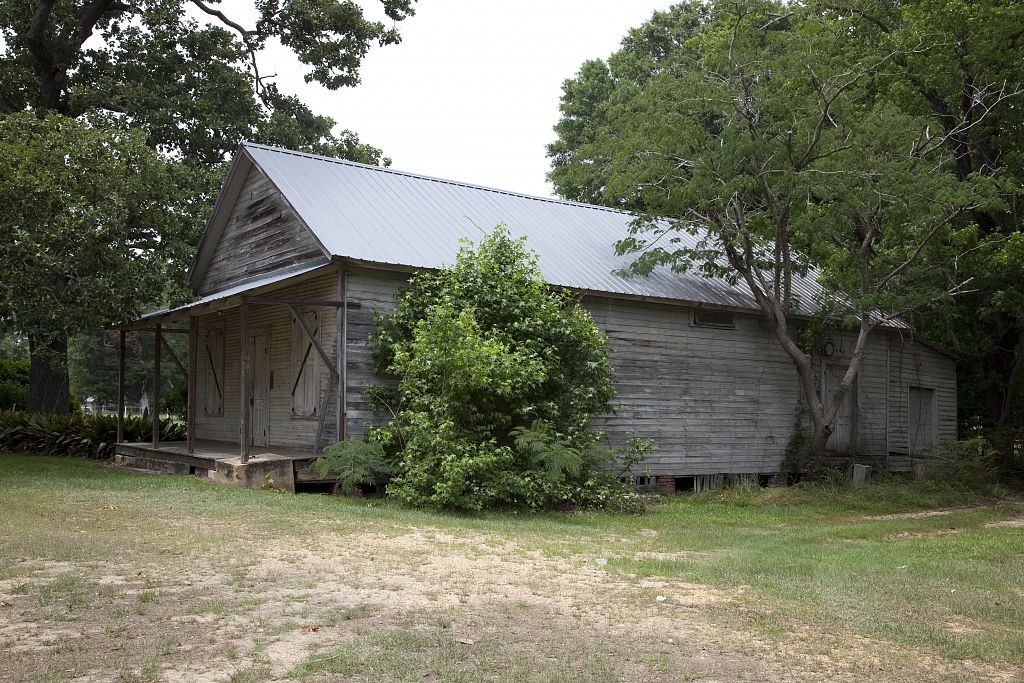 Old general store built in 1800 in Leroy, Washington County, Alabama 2010 by Carol Highsmith (Library of Congress)
When the boundaries of the county were redrawn in 1809, Wakefield became a part of Baldwin County and the Washington County courthouse was moved to Franklin in 1810. "Thus, St. Stephens became the fourth county seat, though it did not receive official designation until a "courthouse" act was passed December 23, 1815. A. P. Lipscomb, Joseph McCarty, James Thomson, Hugh Timmin, John Harris, Francis Boykin, and John Wommack were appointed in 1815 to choose a site for the courthouse. St. Stephens today is referred to as "old" St. Stephens, as it is located approximately two miles north of the present town site. It became the capital of the Alabama Territory in 1817."1
Old St. Stephens emerged as a center for political and commercial activity in the newly created Alabama Territory. By 1818 it had a population of 1,500 and boasted the location of the Territorial Legislature, a federal land office, the Washington Academy (the state's first chartered school), an Indian trading factory, the Tombeckbee Bank, a steamboat company, numerous merchants, and several physicians. It also became the location of one of the state's earliest masonic lodges, when, possibly as early as 1811, the Friendship Lodge #65 was chartered by the Grand Lodge of North Carolina.  The short-lived prosperity of St. Stephens resulted from several factors: the production of steamboats that could navigate upriver beyond St. Stephens; the acquisition of Mobile by the United States, making it the port of entry; the removal of the Alabama Territorial capital to Cahaba in 1818; the removal of the federal land office and Indian trading factory; and, finally, the spread of a yellow fever epidemic in 1819 which killed as many as 700 people and caused many others to move away from the river bank. The town was eventually deserted, and today is forested, with only tombstones and foundations remaining.2
Following the decline of St. Stephens, many of the residents relocated in a settlement named Rodney and established the courthouse there. In 1825. the courthouse was moved to Millry in the north-central part of the county. A fire in 1842 destroyed the county records and courthouse, and the county seat was then removed to Barryton. When Choctaw County was formed in 1847, Barryton was within its boundaries, and the county seat was relocated a seventh time 3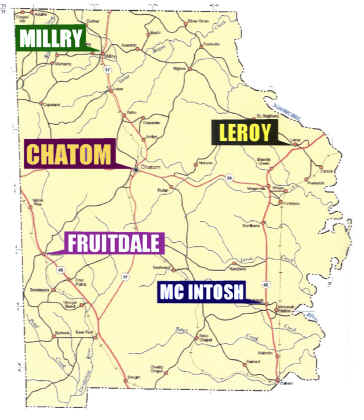 Washington County Map
"The town of "new" St. Stephens, approximately three miles south of the original St. Stephens town site, was selected in 1848 as the seat of government.  The St. Stephens Masonic Lodge No. 81 (pictured below) was built by the Washington County Commission as the Courthouse in 1853 and was used by the county for 59 years, until Chatom was made the county seat in 1907. The building was donated to the Historical Society by the Masonic Lodge and has been restored and now serves as the St. Stephens Historical museum and visitors center.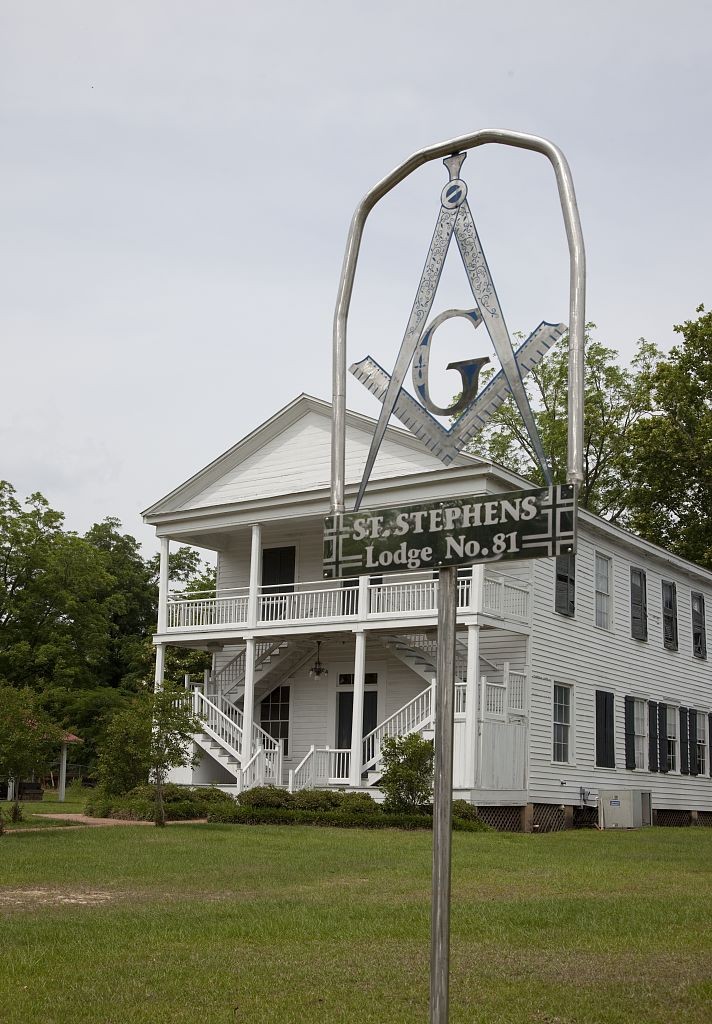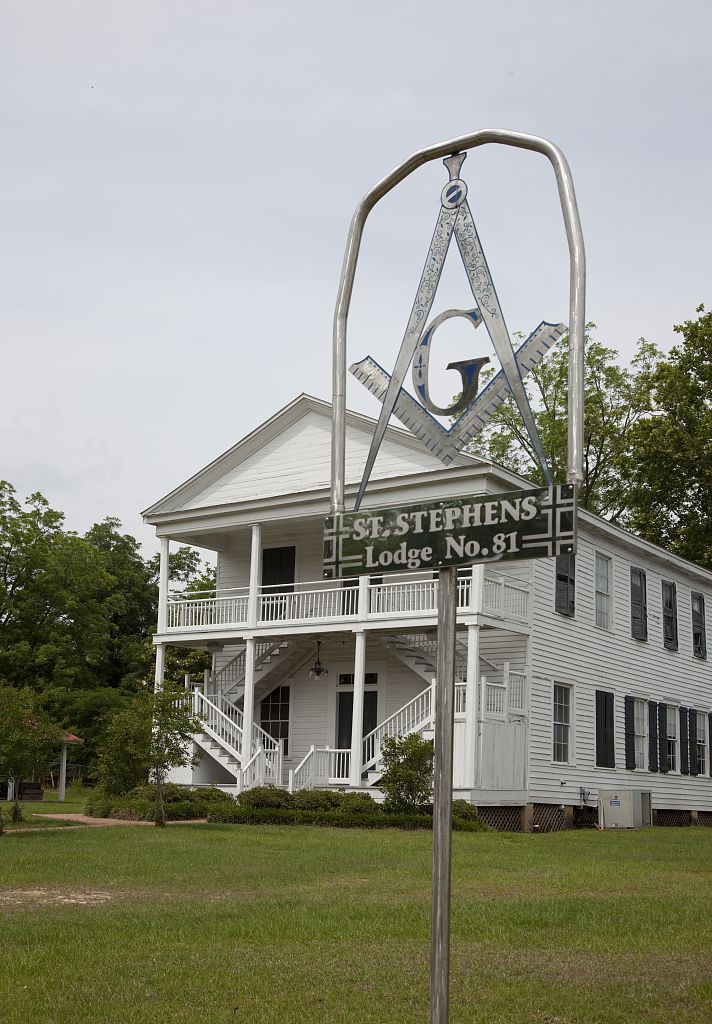 Old Courthouse at St. Stephens built in 1854 – donated by Masonic Lodge to Historical Society has been restored and is a museum and visitor's center for St. Stephen's Historical Park
Native Americans
The Native Americans found by the French in Washington County resided on the west bank of the Tombigbee and were called the Tohomees and the Nanihabas. The Tohomee village was about two miles below the mouth of Bassett's Creek, and as Mclntosh's Bluff was certainly in their territory their habitat in all probability extended from Bassett's Creek on the north to Bates' Creek on the south.
Immediately below the Tohomees were the Nanihabas, who also claimed the land opposite them in the fork of the Alabama and the Tombigbee, whence they were often called by the French "Les gens de la Fourche," the People of the Fork. Nanihaba means "hill above," and the name is still preserved in Nanahubba Bluff.
Below the Nanihaba in Mobile County and along Mobile River and its islands were the Mobiliens. These three tribes were a Choctaw-speaking people and formed a kind of confederacy, meeting every fall in a common council or congress. They were thrifty agricultural people and on more than one occasion the French, Biloxi, and Mobile procured from them' supplies of corn. The Tohomees were eventually absorbed into the Nanihabas. The consolidated tribe and the Mobiliens kept up their tribal organization until the coming of the English at which time they were practically absorbed into the bulk of the Choctaw people, as can be seen by the land cession of March 28, 1765.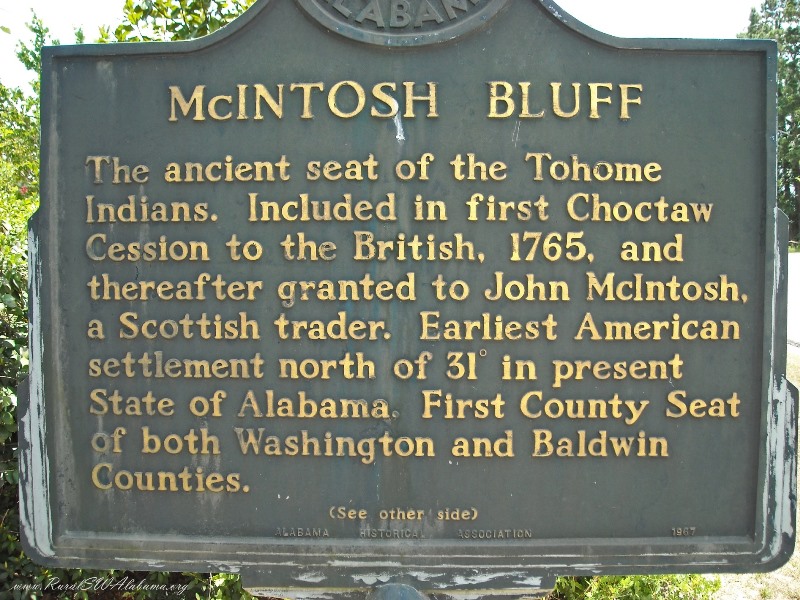 By the Choctaw cession of April 28, 1765, to Great Britain, all of what was Washington County south of the Choctaw boundary line, which ran from Hatchatipki Bluff on the Tombigbee to Buckatunna River, became an English possession. This treaty was confirmed to the United States by the treaty of Fort Confederation, October 2, 1802, when the old Choctaw boundary was marked. The part of the county north of the Choctaw boundary line was acquired by the treaty of Mount Dexter, November 16, 1805.
"On both the Alabama and Tombigbee rivers have been found numerous evidences of Native American occupancy. Urn-burial is noted in several places and numbers of objects were secured in the county, in 1905, by Dr. Clarence B. Moore. Mounds were investigated near Sinta Bogue Creek, opposite Peavey's Landing, near Bolan's wood yard, near Gaines Landing and several, yielding some very interesting results. At Three Rivers Landing, artificial deformation of the skull was noted and the custom of placing a bowl over the head of a burial placed lengthwise was met with too, this latter custom being for the first time found east of Arizona. At Choctaw Bluff and Barlow Bend on the Alabama, numbers of stone relics have been secured, at points indicative of former town sites. At or near St. Stephens was a Choctaw crossing place, near which was a town called Habuckintopa."
Even though the U. S. government removed most of the Choctaw and Creek to the Indian Territory (now Oklahoma) west of the Mississippi River in the 1830s, some Native Americans remained behind and became United States citizens. " In 1979 Alabama recognized the MOWA (Mobile and Washington County) Band of Choctaw Indians. Its members are concentrated along the border of Mobile and Washington counties."
Historic Events in Washington County
On February 19, 1807, about five miles west of Mclntosh's Bluff, Capt. Edmund P. Gaines, commandant of Fort Stoddert and a file of soldiers met and arrested Col. Aaron Burr, ex-vice president of the United States. He was kept in honorable captivity at the fort for over two weeks then sent to Richmond, Virginia where he was tried and acquitted of treason against the United States.
"During the Civil War, Washington County furnished a Confederate infantry company, known as Wilson's Guards, in honor of L J. Wilson, who sponsored the company and presented its officers with engraved swords. The company was recruited in St. Stephens in December 1861 and January-February 1862 and mustered at the Washington County Court House. It fought as Company A of the 32nd Alabama Infantry Regiment, organized in Mobile in April 1862 and later consolidated with the 58th Alabama."5Lumbering and the turpentine industry ranked for some time as the leading industries of Washington County, Alabama. There is an abundance of fine limestone near St. Stephens.
Today, there are various artifacts and historical papers housed in the museum in the basement of the county courthouse in Chatom. The Washington County Museum preserves the history of the county with many collections. The showpiece is a 750-year-old Native canoe that was discovered on the Tombigbee in 1973. Other exhibits include antique cooking utensils, vintage clothing, military memorabilia, and equipment used in the timber and turpentine industries.
Post Offices and Towns – Revised to July 1, 1919, from U. S. Official Postal Guide. Numbers indicate the number of rural routes from that office.
Acquilla.
Bigbee.
Burbank.
Carson.
Chatom (ch).
Copeland.
Cortelyou.
Deer Park.
Escatawpa.
Fairford
Frankville.
Fruitdale.
Hawthorn.
Healing Springs.
Hobson.
Koenton.
LeRoy.
Mclntosh.
Malcolm.
Millry
Rutan.
Saint Stephens.
Seaboard.
Sunflower.
Tibbie,
Toinette.
Uniform.
Vinegar Bend—
Wagar
Yarbo.
Yellow Pine.
Delegates to Constitutional Conventions.
1819—Israel Pickens; Henry Hitchcock
1861—J. G. Hawkins;
1865—William H. Coleman.
1867—J. J. Gilder.
1875—Robert A. Long (colored).
1901—Dabney Palmer; E. P. Wilson
Senators
1819-20—William Trotter.
1822-3—Francis W. Armstrong.
1824-5—James Taggert.
1825-6—William Crawford.
1826-7—Willoughby Barton.
1828-9—Jack F. Ross.
1829-30—James B. Hogan.
1832-3—James B. Hogan.
1835-6—James F. Roberts.
1838-9—Theophilus L. Toulmin.
1839-40—Girard W. Creagh.
l842-3—Girard W. Creagh.
1845-6—B. L. Turner.
1847-8—Girard W. Creagh.
1849-50—C. M. Godbold.
1851-2—Lorenzo James.
1853-4—William Woodward.
1855-6—Thomas McC. Prince.
1857-8—William Woodward.
1861-2—Turner Reavis.
1865-6—John T. Foster.
1868—J. T. Foster.
1871-2—J. T. Foster.
1872-3—S. Walton.
1873—S. Walton.
1874-5—S. Walton.
1875-6—S. Walton.
1876-7—E. S. Thornton.
1878-9—E. S. Thornton.
1880-1—Henry Ware. 1
882-3—Henry Ware.
1884-5—W. H. Evington.
1886-7—W. H. Evington.
1888-9—J. R. Cowan. 1
890-1—J. R. Cowan.
1892-3—L. W. McRae.
1894-5—L. W. McRae.
1896-7—Isaac Grant.
1898-9—Isaac Grant.
1899 (Spec.)—Isaac Grant.
1900-01—W. D. Dunn.
1903—William Dixon Dunn.
1907—Norman Gunn.
1907 (Spec.—
1909 (Spec.)—Norman Gunn.
1911—B. D. Turner.
1915—T. J. Hollis. 1919—T. J. Bedsole.
Representatives
1819-20—John Everett; J. Thompson.
1820-1—James Taggert; B. H. Smoot.
1821 (called)—James Taggert; B. H, Smoot.
1821-2—James Taggert; J. Thompson.
1822-3—James Thompson.
1823-4—Josiah D. Lister.
1824-5 ______Ruffin.
1825-6—James G. Lyon.
1826-7—Ptolemy T. Harris.
1827-8—Ptolemy T. Harris.
1828-29—Ptolemy T. Harris.
1829-30—John Fitts.
1830-1—Ptolemy T. Harris.
1831-2—Ptolemy T. Harris.
1832 (called)—Alexander Trotter.
1832-3—Alexander Trotter.
1833-4—Erasmus G. Callier.
1834-5—Joseph McCarty, Jr.
1835-6—Joseph McCarty, Jr.
1836-7—John H. Owen.
1837 (called)—John H. Owen.
1837-8—John H. Owen.
1838-9—James G. Slater.
1839-4 0—William Smith.
1840-1—S. S. Houston.
1841 (called)—S. S. Houston.
1841-2—S. S. Houston.
1842-3—B. L. Turner.
1843-4—B. L. Turner.
1844-5—Thomas McC. Prince.
1845-6—Thomas McC. Prince.
1847-8—James S. Malone,
1849-50—B. L. Turner.
1851-2—B. L. Turner.
1853-4—G. W. Gordy.
1855-6—James White.
1857-8—James B. Slade.
1859-60—James White.
1861 (1st called)—James White.
1861 (2d called)—James B. Slade.
1861-2—James B. Slade.
1862 (called)—James B. Slade.
1862-3—James B. Slade.
1863-4—T. P. Ashe.
1864 (called)—T. P. Ashe.
1864-5—T. P. Ashe.
1865-6—George C. Yonge.
1866-7—George C. Yonge.
1868—
1869-70—J. R. Waldrop.
1870—William W. Bassett (resigned).
1871—William H. Coleman.
1871-2—W. H. Coleman.
1872-3—William Stribling.
1873—William Stribling.
1874-5—W. Stribling.
1875-6—W. Stribling.
1876-77—G. M. Mott.
1878-9—W. C. Stribling.
1880-1—T. J. Mason.
1882-3—Joseph Gresham.
1884-5—J. M. Pelham.
1886-7—W. C. Stribling.
1888-9—H. M. Posey.
1890-1—John Gordon.
1892-3—B. T. Turner.
1894-5—B. D. Turner.
1896-7—B. D. Turner.
1898-9—George W. Sullivan.
1899 (Spec.)—George W. Sullivan.
1900-01—W. Frank Porter.
1903—Hiram Mounger Posey.
1907—Perry Edwards.
1907 (Spec.)—Perry Edwards.
1909 (Spec.)—Perry Edwards.
1911—J. D. Boswell.
1915—R. E. Blunt.
1919—R. E. Blunt.
SOURCES
Owen, Thomas McAdory. History of Alabama and Dictionary of Alabama Biography. Chicago: S. J. Clarke   Publishing Co., 1921
Encyclopedia of Alabama
PreserveAlabama.org
1National Register of Historic Places – United States Department of the Interior – National Park Service
2Thomas McAdory Owen, History of Alabama and Dictionary of Alabama Biography. (Chicago: The SJ. Clark Publishing Company, 1921)
3National Register of Historic Places – United States Department of the Interior – National Park Service
4National Register of Historic Places – United States Department of the Interior – National Park Service
5National Register of Historic Places – United States Department of the Interior – National Park Service
7Jackson, Masonry in Alabama: a Sesquicentennial History 1821-1971. (Montgomery, Alabama: Brown Printing Company, 1970), 12-17; and Daniels, 'National Register."
Find out more about Alabama Freemasons in