(This is a great story about John Hunt, founder of Huntsville, Alabama. It is sad that his gravesite was ignored for many years.)
The Mystery of John Hunt
By Tom Carney, Editor "Old Huntsville"
For well over a hundred years, John Hunt, the founder of Huntsville, has been shrouded in mystery.  Where did he come from?  Where and when did he die?  Was he the illiterate backwoodsman that history has made him out to be?
John Hunt was born in 1750 in Fincastle County, Virginia, to parents of Irish and Dutch descent.  His family first immigrated to America in 1635 and after living in New Jersey and Maryland moved to Virginia around 1730.  The family appears to have been fairly prosperous.  In 1752, records show that a man by the name of Thomas Foster was appointed con­stable in the home of John Hunt, Sr.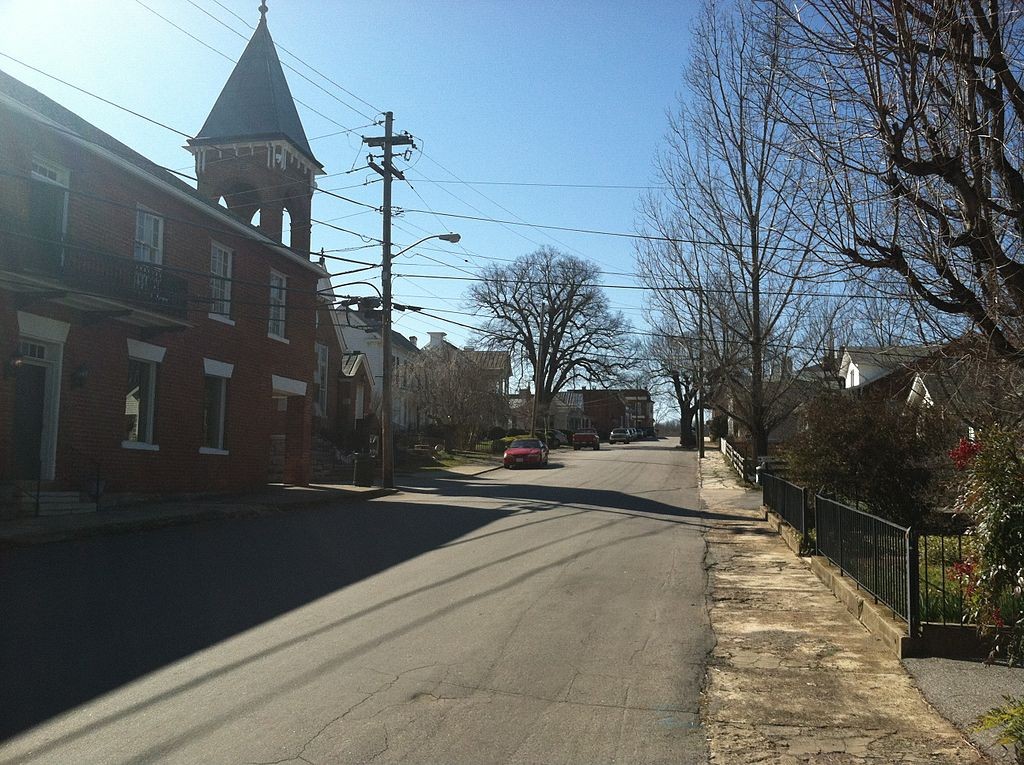 Among the families living in Fincastle County were the Acklins, Holbrooks, and the Larkins.  Many of these families would later play prominent roles in the early development of Huntsville.
In 1769, John Hunt married the daughter of William Holbrook, a close friend of his father.  The following year the Holbrook family moved to Hawkins County, North Carolina, and John moved with them.  Within a few years the Larkins, and Acklin families had joined with them in the new settle­ment.
With the advent of the Revolutionary War, many of the settlers took up arms to fight for their new country.  Many historians would later contend that John Hunt served as a captain during the war.  This mistaken claim would later lead to confusion in trying to establish Hunt's early years.  In fact, Hunt's only military service consisted of several months enlistment as a private under Captain Charles Polk of the Company of Light Horses, in Salisbury District, North Carolina.
Although John did not see much service, records seem to indicate that his father was a member of the Colonial army while his uncle served as a Colonel in the British army.
Short service periods of a few months were common in North Carolina as the settlers had crops and Indians to deal with and could not be gone for long periods of time.
At the end of his short military career, Hunt returned to his home in Hawkins County.  Young John and his wife probably lost several children at childbirth, as it was not until eight years after their marriage that they had their first recorded child.
In 1779, John Hunt was appointed a lieutenant in the state militia, serving as a paymaster.
John Hunt Becomes Sheriff
As the young community grew in size, the North Carolina government began to realize the need for some type of civic jurisdiction.  John Hunt had established himself as a leader of the community and in 1786 was appointed the first sheriff of Hawkins County.  It was required at that time for a sheriff to post a bond as a prerequisite to taking office.  The bond, signed by John Hunt and four sureties, can still be seen at the North Carolina Archives, located in Raleigh.
In 1789, when North Carolina voted to ratify the Constitution, John Hunt was a delegate at the convention.
One year later, in 1790, when North Carolina ceded the lands west of the Allegheny Mountains, William Blount, the newly appointed governor of the territory, made John Hunt a captain of the militia.  The duties of a captain in the militia and a sheriff had many similarities–they were both charged with keeping the peace, and as Hunt's term of sheriff had just expired, he was a logical choice.  As he was also the first and only sheriff at the time, he was probably the only choice.
Gov. William Blount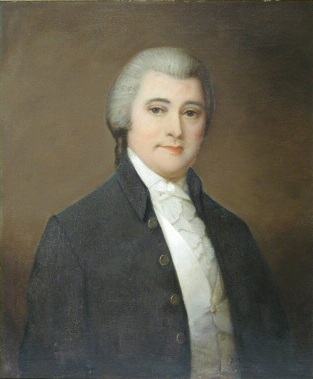 Everyone living in the territory had heard stories about the new, rich land lying across the Clinch River.  This was Indian land and supposedly protected from settlement by the treaties with the federal government.  Many families, ignoring the treaties, began to move into the new lands.
John Hunt, along with the Acklins and Larkins moved across the river in the mid 1790s into an area known as the Powell River Valley.  Years later this community would become known as Tazewell, Tennessee, and John Hunt would be recognized as the founder.
Many stories have been written about the romantic fron­tiersmen who were bitten with wanderlust.  Legends have us believe that the early pioneers kept moving to escape the con­fines of civilization, constantly moving to see what lay over the next mountain range.
Nothing could be further from the truth.  In reality, greed was the motivating factor.
In Tennessee, Alabama, Georgia, and many other states, vast areas had been set aside as Indian territories.  Although federal law supposedly protected these areas, it did not prevent "squatters" from settling.  These squatters knew that it would only be a matter of time before the government recognized their rights and then they could gain possession of large tracts by simply paying a registration fee.  If they settled on the right land, with a little luck, they could become wealthy.  Basically it was a get-rich-quick scheme that worked for many people.
The other alternative was to wait until the lands had been "opened" for settlement and bid for them at auction.  Few pio­neers could afford to acquire prime land in this manner.
John Hunt had carved a respectable homestead out of the wilderness when he learned, to his dismay, in 1797, that President John Adams had sent 800 federal troops to evict the settlers.  In an attempt to stall his eviction, and probably using his title of Captain in the Tennessee State Militia to help his cause, he wrote the newly elected governor, John Sevier, asking for help.
On November 25, 1797, Governor Sevier wrote Hunt:
"Yours of yesterday I am honored with and am sincerely sorry for your embarrassed situation, and would 1, to God, I had it in my power to render you relief.  You may assure yourself that everything will be done for you that is possible for me, but it is in the president's own power to do whatever he may think best on this very important and alarming occasion.  I hope in three or four weeks to hear from Congress and whether or not anything is likely to be done in your favor.  In the meantime, I earnestly beg the people, for their own interest, to conduct themselves in a peaceable, orderly, and prudent manner."
Shortly afterwards, the squatters' claims were recognized.  By 1801, the land John Hunt had settled became part of Claiborne County.  When the new community held its first elec­tion, David Rodgers was elected sheriff, but was unable to post bond.  Hunt was elected in his place.  There were no facilities for the new government in Tazewell, so the first term of court was held in the home of John Hunt. (This log cabin later became the first school in Tazewell.)
The sheriff was not only responsible for keeping the peace, but also for administering justice.  A book describing the early days of Tazewell included the following description of the sheriff s duties:
"A whipping post stood between the jail and courthouse.  As near as I remember, it was made similar to two ox yokes, the one below fastened in a frame and turned upside down; the one above to fit down and form two holes large enough to confine the head and neck.  Debtors were taken out two at a time and the duty of the sheriff was to whip them until they would promise to go to work and pay their debts."
Not exactly a job for the fainthearted.
John Hunt appears to have been living a fairly contented life.  He had recently given land for a church and was a well-respected figure in the community.  His daughter, Elizabeth, had married Samuel Black Acklin, the son of his old friend, Samuel Acklin.  The newly married couple made their home with John and the rest of the family.
Busy time for Hunt
This was a busy time for Hunt.  Besides serving as sheriff, he was also heavily involved in land speculation and running a stagecoach inn.  Bishop Ashbury, in his travels through the south, spoke of staying, and preaching, at Hunt's Tavern.
Even though the Hunt family had prospered, John was already looking to the future.  Hunt, along with the Larkins and many other families, had staked everything on Tazewell's future.  The town simply refused to grow.  The land was poor for farming and the community itself provided no incentive for commerce.  The only thing the town had going for it was its close proximity to the Cumberland Gap, "gateway to the western lands."
By the time Hunt's term of sheriff was up on September 1, 1804, he had already made plans to leave Tazewell.  For the previous six months he had been selling off land holdings that he owned in Tazewell and the adjoining areas.
Popular legend tells us that he went south in search of a big spring he had heard stories of. Again, the truth is much simpler.  There were already rumors that territory belonging to Indians in what is now North Alabama would be opened for settlement.  Anyone already living there would probably be able to exercise their squatters' rights by paying a small registration fee.  Everyone else would have to purchase their land at a public auction, which by its very nature tended to drive land prices up.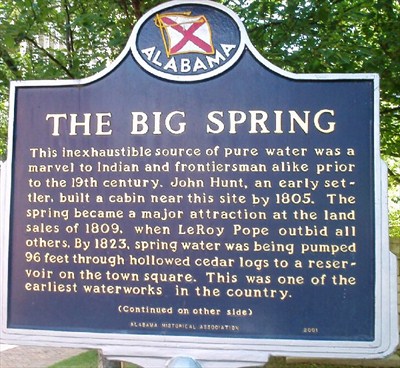 John Hunt was determined to have squatter's rights.
Hunt's Station Becomes Center of Community
Early in September 1804, John Hunt and Andrew Bean left their cabin in East Tennessee and struck out into the wilds on foot (not on horseback, as many historians have claimed).  They traveled in a southwestward direction, guided only by the sun and the stars.  Almost a month later they arrived at the stream of water now known as Beads Creek, at a spot near where Salem, Tennessee, now stands.  At that place they made camp for several days in order to make observations and in­vestigate the surrounding country.  According to legend, it also became necessary to replenish the larder.  Their unerring rifles soon procured several bear and fat deer, the choice parts of which were jerked and packed for future use.
Traveling further south the explorers came upon the newly completed cabin of Joseph Criner near the Mountain Fork of Flint River.  Criner and his brother, Isaac, were the first white settlers in this area.  According to later accounts given by Criner, Hunt and Bean spent the night and inquired about land further south.  It was at this time that Hunt first heard of the big spring.
The next morning, Mrs. Criner made bread for their journey and the men left to seek out the big spring.
John Hunt and Andrew Bean were not the first white persons to reach the spring.  Earlier, in 1802, John Ditto had built a crude shack there and camped for a short while before moving southward to the Tennessee River, where he opened a trading post.  When Hunt arrived, he found the beginnings of a cabin that Samuel Davis had started.  Unfortunately, Davis, in his haste to return to Georgia for his family, left the cabin unfinished and when he returned found Hunt had completed the cabin and was living in it.
The cabin was a rough one-room affair.  People searching for it today will find only a parking lot across from the present-day Huntsville Utilities.
The area where John Hunt settled would be beyond com­prehension to a resident of Huntsville today.  The area above the bluffs, where the courthouse now stands, though reason­ably flat, was a maze of thick vines and bushes.  Below the spring, toward Meadow Gold Dairy, was an endless swamp inhabited by bears, geese, and rabbits.  Where Huntsville Hos­pital is now located was a thick hardwood wilderness teeming with deer.
After hastily completing the cabin (frontier law did not recognize a squatter's claims unless a home was built on it), Hunt and Bean turned their sights north.  Bean had decided to settle near Salem, Tennessee, and Hunt returned to Tazewell for his family.
The Big Spring, basis of street plan in Twickenham (renamed Huntsville)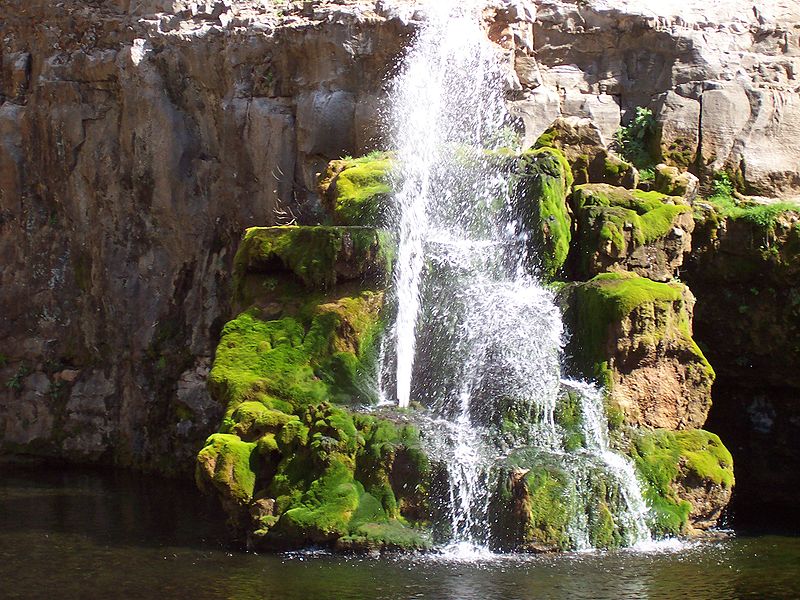 The early spring of 1805 found Hunt occupied in selling off the remainder of his land around Tazewell and making preparations to move his family to the "Big Spring." Other families, upon hearing of John's upcoming departure, also made plans to move.
Accompanying Hunt when he returned to the spring was his wife and three of his sons–William, George, and Samuel–as well as members of the Larkin and Black families.
It was early summer, 1805 when Hunt returned with his family.  He spent most of that summer clearing and fencing a small field, which lay in what is now the best part of the city of Huntsville, running from Gates Street as far south as Franklin.  The land was exceedingly fertile and produced bountifully in return for little labor.  William would recall years later how he had killed a bear between the present location of the First Alabama Bank and the courthouse while clearing the field.
The brave old pioneer, scout, and hunter was now happily fixed.  His farm gave him employment during the spring and summer.  Hunting, fishing, dressing meats and skins, and prospecting occupied his time in the fall and winter.
Neighbors were few and far between
Other pioneers were coming in and settling in other parts of the county.  Neighbors were few and highly valued in those primitive days.  When the proper time arrived in the fall, all the hunters for miles around went out together to lay in their stores of meat for the year.  Whenever a settler died, his family continued to share in the proceeds of the hunt.  When a division was made, a proportionate share of bear and deer meat was always taken to the families of widows.  These rough men knew charity as well as courage.  Legend has it that John Hunt was always foremost in providing for the poor and helpless.  One Christopher Black, an Irishman, who assisted Hunt in removing his family from East Tennessee, was famous for delivering game to the fatherless and the widows.
Hunt's Station, as the spring was now called, was fast becoming the center of the community.  More and more settlers were pouring into the valley.  Much evidence suggests that Hunt, who had already enlarged his cabin, ran a public house at this time.  A public house was where a traveler might get a meal or purchase a few basic supplies.  This probably explains the persistent rumor today that Hunt operated a shop that sold castor oil.
In 1807, his daughter, Elizabeth, moved to Huntsville from Tazewell along with her children, husband, and five slaves.  They had been delayed from joining Hunt until they could dispose of the inn.
Elizabeth and her family moved in with Hunt in anticipa­tion of the land sales. Congress had already called for a land sale, with squatters being given preemptive rights to one section of land each.  With the Hunts occupying the best land in the county, it seemed as if their fortunes were made.
Unfortunately, when the sales were held it was discovered that John Hunt had not registered his claims.  The wealthy planter LeRoy Pope outbid the other purchasers and ended up with legal title to all of John Hunt's dreams.  Hunt was forced to move from his beloved Big Spring.
With all the prime land in Huntsville already taken, Hunt purchased a quarter section of land far outside of town, paying eighty dollars as down payment.  This parcel was located approximately where the old airport on South Park­way is now.  Hunt's daughter and son-in-law purchased the adjoining land.
Leroy Pope mansion built 1815 by George Steele located 405 Echols Avenue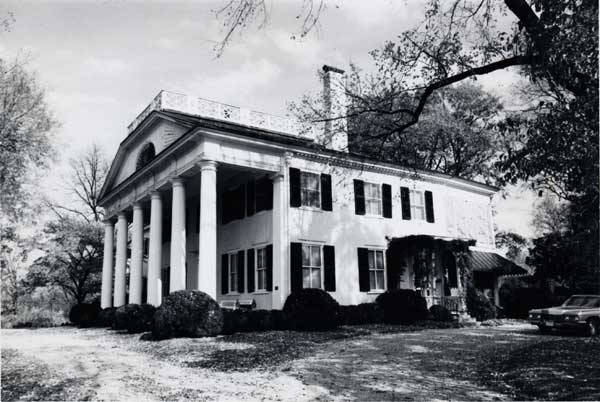 Pope had forced the name of Twickenham upon the new community, but many people resented the fact that he had bought Hunt's land.  One of the first actions the new city government took was to change the name to Huntsville, in honor of the intrepid pioneer.
Sold land to Absalom Looney
The next few years of Hunt's life are well documented.  He joined the Masonic Lodge, served on juries and was ap­pointed coroner.  In 1809 he sold his land to Absalom Looney.  By selling this land, he also lost the right to vote or serve on juries in the very city that he had founded.
According to the law of that period, a man could not do any of the above unless he was a landowner.
An old man by now, Hunt moved in with his daughter and son-in-law.  In 1820, Hunt, probably prompted by his grandson who was studying law in Huntsville at the time, applied for a Revolutionary War pension.  He was turned down because the unit he served with was not considered a part of the Continental Army.
Like old men everywhere, Hunt probably spent his last days recounting tales of when he was young and adventurous, hopefully surrounded by his grandchildren.
On February 27, 1822, John Hunt died at the age of 72.  He was buried in the Acklin graveyard, now known as the Sively graveyard, a short distance from where he spent his final days.
Ironically, the grave of John Hunt, the man who founded Huntsville and who settled on some of its most beautiful land, lies unmarked, just a few feet from the city dump. According to a long time city employee much of the land around the small cemetery was graded and used in the construction of the new city stadium.
"Ol' John Hunt," said the employee, "is now probably playing third base at Joe Davis Stadium."
Additional information:
The story of John Hunt being buried in the Sivley Cemetery is my relatives.  The Sivleys are related to me.  My grandfather's mother on my Daddy's side was a Cherokee and a Sivley.  They camped with John Hunt on the banks of the everflowing springs in downtown Huntsville, Al.  The also came down the Tennessee River by flatboat and some of the Sivley's were born on the flatboat before getting to Huntsville.  Huntsville Library has a lot on the Sivleys.  The graveyard where they are buried is by the city dump and if not for one of the Sivley's being recognized by the the city and the gov't, we would not have the nice metal fencing around all the graves. I know the Sivley grave was recognized with a medal and Honors, which made the city clean it up and do improvements to the small cemetery.
Sincerely,
Mary Elizabeth (Elliott) Barrington
Audio of a story of John Hunt
You Tube link
https://www.youtube.com/watch?v=L3fUjq2KI-Y
Faith and Courage: A Novel of Colonial America Inspired by real people and actual events, the family saga of colonial America continues with Ambrose Dixon's family. Faith and Courage presents the religious persecution of Quakers in Pre-Revolutionary War days of America intertwined with a love story.