Catoma Creek Falls near old Montgomery, Alabama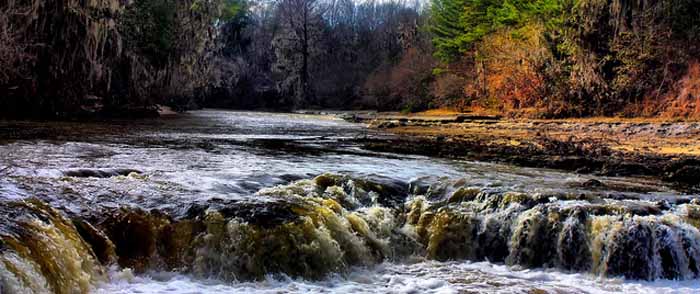 Wheeling, Winn Parish, Louisiana
November 27th, 1858.
To J. J. Hooper, Esq:
Dear Sir:
My health has been bad of late — so much so, that I have been unable to write. I sent you a few days back a little document containing some corrections of errors in my printed letters. You will find that in the hand-writing of my son, Thomas, and I believe without date. Your paper makes its appearance occasionally, and I find many good things in it, besides much useful information. But I am truly sorry to find it the messenger of so much sad intelligence. I learn from it, that my old acquaintances, (and I think they were my friends,) Col. A. J. Pickett, Ex-Governor Bagby, and Col. Charles McLemore are no more.
Col. Pickett I knew when a small boy, at the time when his father emigrated to Alabama, I think in 1818. I was then in the prime of manhood. Col. Wm. R. Pickett settled in Autauga county, near Hayne's Bluff — the bluff taking its name from its original owner, Col. Arthur P. Hayne. That portion of country between Autauga creek and the mouth of Coosa river, just before, and at the time, and a little while after Col. Wm. A. Pickett settled in Alabama, was occupied by more intelligent, sensible, practical, and I may say talented men, (not to be professional men,) than any portion of South Alabama which I was acquainted with.
Dr. Bibb made the finest political speech I ever heard
Among them was Dr. Bibb, the first man I ever heard make a political speech. I think it was in 1804, at Elbert Court House, Georgia. I was too young to understand anything of politics at that time; but I remember hearing the speech and recollect the man, and knew him from then until his death.
I also recollect that at the same time Bibb's step-father, William Barnett, made a short speech. They were both Senators in Congress after that, and I think at the same time. Boling Hall was one among many other intelligent men who settled in Autauga county at an early day.
There was also Phillips Fitzpatrick, one of the earliest settlers of Autauga; and if being raised on the frontiers of Georgia at an early day had deprived him of an education, he was certainly under as many obligations to his maker for native intellect as any man I have known, living or dead.
I have differed with Col. A. J. Pickett as to history
You will discover from what I have written, that I differ from Col. A. J. Pickett in some things relative to the early history of Alabama, and more particularly that of the Creek Indians. Notwithstanding I have differed from him as to history, I agree with all who knew him, that he was a high-toned gentleman, and his loss is much to be lamented.
Col. Pickett possessed to a great degree a trait that is seldom, if ever, possessed by any but the best of men — that is, too great confidence in the honesty of mankind. That no doubt has been the cause of some things appearing in his history which a few of us old ones know to be incorrect. He has lived to inform himself, and to instruct his fellow man, and never (as I have heard) engaged in the political broils and troubles that have agitated the country in his time. That of itself is enough to make his memory revered by all who knew him.
Met Governor Bagby in 1819
My acquaintance with Governor Bagby commenced, I think, in 1819. In that year and the year after, I had business that called me to Claiborne frequently, and on one of my stays at that place, I was introduced to Mr. Bagby by a lady acquaintance of mine, a Miss Emily Steel. She afterwards married R. Bagby.
In June, 1820, I, in company with an Englishman by the name of William N. Thompson, visited Claiborne. Thompson was going to Mobile on horse-back, and I remained at Claiborne until he returned; I spent much of that time in company with Governor Bagby. About the time Thompson returned to Claiborne, a steamboat called the Cotton Plant, I think, made its appearance at the lower landing.
Invitation to attend a party on board the boat
The Captain gave a general invitation to the citizens of Claiborne to attend a party on board the boat. I, with many others, both male and female, attended the party. We danced on the hurricane deck. The fiddler was one Tom Paxton, who played for me when I taught the first dancing school that was ever taught in Montgomery county.
It was at the house of one Isaac Lansdale, near the mouth of Catoma Creek. Capt. John Martin was one of my pupils. The party closed on the boat, and all hands returned to town. I put up at a house kept by John M. Flynn. Gen. Sam Dale was my room-mate. The Englishman, Thompson, also boarded with Flynn. Bagby boarded at a house kept by three brothers, all gamblers — John, Henry, and Robert Carter. Bagby invited Dale, Thompson, and myself to supper at the Carter house one night.
After supper, some speaking or debating
After supper, it was proposed to have some speaking or debating on the propriety of Congress calling Gen. Jackson's conduct in question for his march into Florida a year or two before that. One Laurence Wood was called to the Chair, and Bagby made the first speech, one of the finest I think I ever heard from so young a man, or I may say boy — for he was not grown, and wore a very boyish appearance.
There was one James Pickens who made the next speech, He took the same ground that Bagby had taken pretty much; justifying Jackson's course, under the circumstances; and also contended that our relations with Spain made it necessary for Congress to do something, or at least say something, in order to appease Spain. Bagby seemed well pleased with Pickens' speech, which was delivered in fine style, and showed much good sense on the part of the speaker.
Unbecoming remarks about Henry Clay
The next thing in order was to drink some liquor, and while drinking, a man by the name of Burwell Brewer made some uncalled for, as well as unbecoming remarks about Henry Clay, of Kentucky, and Tom Cobb, of Georgia. Brewer's remarks offended Bagby, he [Bagby] being a great admirer of Mr. Clay. He swore the speaking should stop, and mounted upon the speaker's, or chairman's table with decanter in one hand and a tumbler in the other; he was ordered down, but he threw the decanter at one man and the tumbler at another, and a fight ensued in which Bagby seemed to have but few friends I, with the leg of a small table, succeeded in warding off several severe blows that Bagby would have received, as well as cuts from knives, which were made at him. Dale, who was out when the fight commenced, hearing the noise, ran in, in company with three others, Flynn, Reading and Hailstock. With their assistance we got Bagby out of the house, and carried him to Flynn's.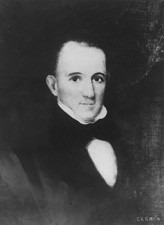 Gov. Arthur P. Bagby
Angry words passed
By some means, or from some cause, angry words passed between Flynn and Reading, and not long after that, Reading killed Flynn. But for the very determined resolution of Dale, I think Bagby would have been killed that night; for there were some very determined men among those who were opposed to him — among them, I understood, was the man Pickens above alluded to. He was a stranger to me; but I learned he would not give an insult, nor was he ever known to receive one and let it go unpunished.
Ever after that, when I met with Arthur P. Bagby, he would express great friendship for me. While the seat of government was kept at Cahawba, I resided near Selma; and during one session of the Legislature, the Englishman, Thompson, called at my house and I accompanied him to Cahawba.
While there, we met with Bagby; he invited us to his room, which was at Davy White's hotel. On our entering the room, we met with Sam Dale, Nick Davis from Limestone, James Jackson, from Lauderdale, Matt Clay, I think from Madison, Phil. Fitzpatrick, from Autauga, Jew Davis, from Mobile, better known as "The Original George."
We were about to have another Claiborne affair
Liquor, anecdotes, songs and loud laughter went round until late at night — all hands as happy as they would have been at a camp-meeting. The show was about closing, and all in fine spirits and the best of humors, when Phil. Fitzpatrick unfortunately wanted a little more fun, and whispered to Dale that he did not understand some remarks which had been made by some of the gentlemen present, and that he [Dale] ought to have the matter explained; and for all Dale had known Phil from his childhood, and had witnessed many of his tricks, there was too much liquor aboard for good judgment to have its sway.
Dale rose up, closed the door, and swore no man should leave the room until an explanation was made, and that it should be made very promptly, or he would frail the last man in the room. The rest being pretty much in Dale's fix, did not know what to say. Clay said that he would quit the room; Dale stood at the door and demanded an explanation; from that their coats were thrown off, and we were about to have another Claiborne affair of it, when Phil. spoke to Dale and told him that he had fallen on a plan to have the matter settled and that he [Dale] had more courage than any one of the crowd, and was obliged to quit winner. That satisfied Dale, and the show closed. The next morning it was like an Indian quarrel — all charged to whiskey.
We traveled to Tuscaloosa
For the last eight or ten years of my stay in Alabama, I do not recollect to have seen Gov. Bagby but once. In June, 1840, I had a son at school in Tuscaloosa, and there was to be a Whig convention there. I concluded to visit both; and on my route to Tuscaloosa, at a place in Autauga county, I fell in with the Englishman, Thompson, — and here let me remark, that he was a man of fine intelligence. I had then known him twenty years; our first acquaintance was near a place then known as Dardenoil, now called by many Dardanell; it is in Arkansas.
He and myself traveled together to Tuscaloosa. My health was not good, and on my arrival at Tuscaloosa I found my son sick; so, I could not hear all the speaking. But on the day that Judge Hopkins was to speak, I, with my friend Thompson, went to the log cabin. Hopkins spoke.
No speech surpassed Judge Hopkins
I heard many speeches in 1840, made by good speakers; I heard Mr. Hilliard in his best days; I heard Dixon H. Lewis, at Clayton, in Barbour county; I heard Judge Berrien and Mr. Preston, at Macon, Ga., besides hundreds of the little short stock, who deal alone on borrowed capital, and are often very profuse with it; but none did I hear that surpassed Judge Hopkins, if, indeed, any equalled (sic) him. If there could have been the smallest particle of modesty squeezed into the most noisy demagogue, and he forced to have heard that speech, he would have hung his head at hearing so many truths, and they uttered in a manner that the most common capacity could understand them and know their importance.
After the Judge closed, and Mr. Morrisett, from Monroe county, — who had been a soldier under Gen. Harrison — made a few remarks, Thompson and myself left for our rooms. On our way, in front of Duffie's hotel, some one called me; I turned, and found it was Gov. Bagby. He seemed glad to see me, and remarked — "You and the Englishman still travel together; now, if you had Dale, the crowd would be complete."
He then asked me if I was a Whig. I answered him, "if there was a better one on earth than myself, it was only because he had more sense." He then made the same inquiry of Thompson, if he was a Whig. Thompson said he was. The Governor then asked us if we were not wrong. I replied to him, "Governor, you perhaps can judge better of that yourself, as you have been on all sides." He reddened a little in the face, and remarked to Thompson: "You know, Thompson, that Tom Woodward and Sam Dale are privileged men with me."
Vacancies which occur by the death of Gov. Bagby not easily filled
That was the last time I ever saw Governor Bagby. He was a man of fine sense and good heart. It was often said of him, that he was a bad manager in money matters, and did not accumulate wealth. But he could have done so, no doubt, had he wished it at any time; though, like a man of sense, he chose to live well on what he made, and never, like many others, cared to have large sums lying by him, merely to hear fools say that he had it.
Vacancies which occur by the death of such men as Alabama Governor Arthur P. Bagby, are not so easily filled in Alabama or elsewhere, in the present day; and the people of Alabama, as well as many other States, seem to have foreknown this for some time back, and have accustomed themselves to putting men of much less calibre in the highest places. Like the Atlantic Cable, such will make a show, and do to talk about; but, when thoroughly tried, the system will not be found to work well.
Col. Charles McLemore was no ordinary man
Now for my friend, Col. Chas. McLemore. The Chambers Tribune speaks nothing but the truth, when it says, "he was no ordinary man;" and if Chambers has not been left an orphan, the orphan's friend has left Chambers. I knew him when he was a little boy; his father died when he [Charles] was very young, leaving him and another, Frank, to make their way through the world as best they could.
Charles McLemore was most emphatically what the world terms a self-made man. He was endowed by nature with a fine intellect, and with that great share of moral honesty which has marked all of his family whom I have known, (and I have known many of them.) He raised himself to what you have seen and know of him. I am unable to say anything that could raise Charley McLemore any higher in the estimation of those who knew him, than the position he occupied at his death.
When I left Georgia, and made Alabama my home, Charley was a little boy; I think he then lived in Jones county. Some twelve years afterwards, I met an intelligent young man at an Indian Council at Oweatumpka-chee, or Falls of Little Uchee Creek, (where my old friend and camp-mate, Col. Henry Moffett, afterwards erected some mills.)This young man was Charles McLemore I there renewed my acquaintance with him.
Council in fall of 1832
What I am now going to relate will be remembered by many now living. The Council was in the fall of 1832. Some Cherokees had been invited or requested by the whites to attend the Council, in order to encourage the Creeks to emigrate.
John Ridge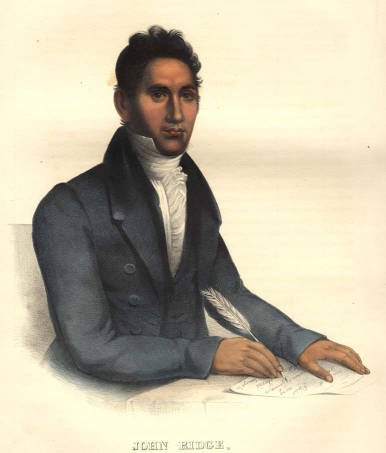 Among the Cherokees were Old Ridge, and his son, John Ridge,(who has been killed since by the Ross family in Arkansas,) Davy Van, and others. The Creeks were soured, and I knew it — for I lived within two miles of the head chief, and knew his feelings, and communicated them to Col. Crowell. He soon discovered the great disinclination the chiefs had to going into Council, and used every exertion to prevent liquor being brought into camp. But by some means, some negroes belonging to a half breed, Joe Marshall, got some whiskey into camp.
There was an order for it to be destroyed, and the whiskey was poured out on the ground, which seemed not to suit the tastes of some whites as well as Indians. It appeared that a white man had hired the negroes to carry the whiskey to camp, and it was proposed to flog the negroes; but Marshall objected, stating that the white men were to blame. A general fight commenced with the Indians themselves, and a great many whites left the camp, not knowing but that a general massacre was to take place. Marshall's party was the weakest, and seemed to be giving way.
I remarked to McLemore, who was standing by me, that Marshall was a good man, and had been a great friend to the whites in the Creek war, and that I disliked to see him backed out; that was enough — Charley walked into the thickest of it, among knives, clubs, and everything else. Wherever he went, he opened their ranks, and Marshall soon quit winner. That was Charles McLemore. I have seen some trouble, and think I know something of men; but there is not one in a hundred who would have risked so much and showed the daring that McLemore did that night, and under such circumstances. Peace to the good and brave.
Yours, &c.,
T.S.W.
Do you need some guidance in your genealogy search? Save time and avoid pitfalls in your research. This book provides simple, no-nonsense instructions to help you get started. Many FREE research links included. Where Do I Start is filled with Hints and Tips to begin your family genealogy research and acquire Genealogy information.
WHERE TO FIND – online resources, experienced genealogists will not be aware of many of these.

COURT RESEARCH – how to do courthouse research, where to find birth, death, social security records free online.

EIGHTY – ONE QUESTIONS – you should ask your elderly loved-ones before it's too late.

TIPS ON BREAKING DOWN THE WALL – Everyone faces some difficulties in research, often called a 'brick wall' but WHERE DO I START? provides suggestions for overcoming them.
WHERE DO I START? Hints and Tips for Beginning Genealogists with On-line resources